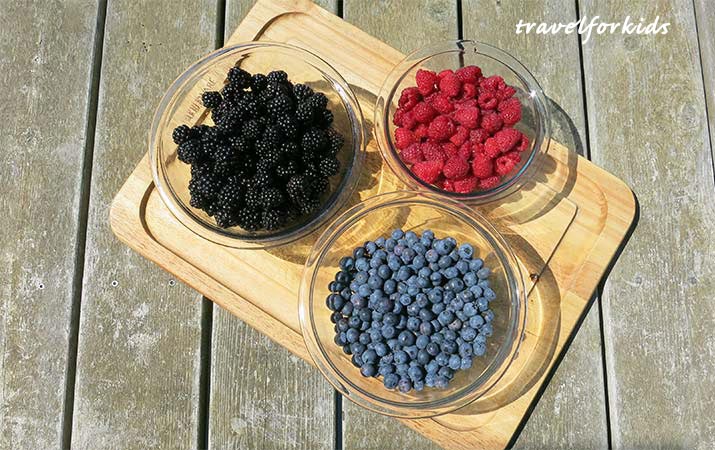 Last weekend, we drove to Apple Hill, nestled along Highway 50 on the way to Lake Tahoe.
We came to pick blueberries.
In autumn we go to Apple Hill farms for apples and pumpkins, but there's also a summer berry picking season in the Sierra Nevada foothills.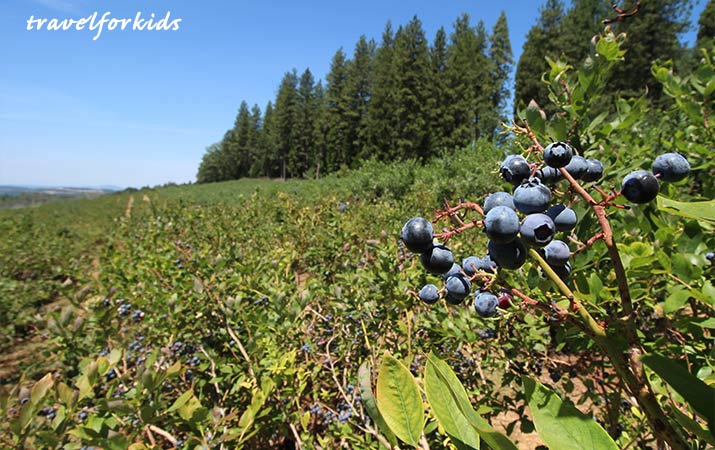 Last winter California had the best rainfall. As a result, according to the farm where we picked our blueberries – "this year was a super-crop."
When we arrived at Rainbow Camino Ridge blueberry patch, we were given a big yellow bucket, smaller blue buckets were available for little ones.
Picking blueberries at this farm was perfect for kids of all ages. Sme bushes were over 6ft tall, but there are plenty of low hanging branches for toddlers to pull off juicy sweet berries.
Older kids can go pick on their own down the rows of berry bushes, shouting "Marco, " and echoing "Polo."
We picked five pounds of blueberries, some to eat fresh, others to make into crumble, ice cream, pie.
U-pick Farms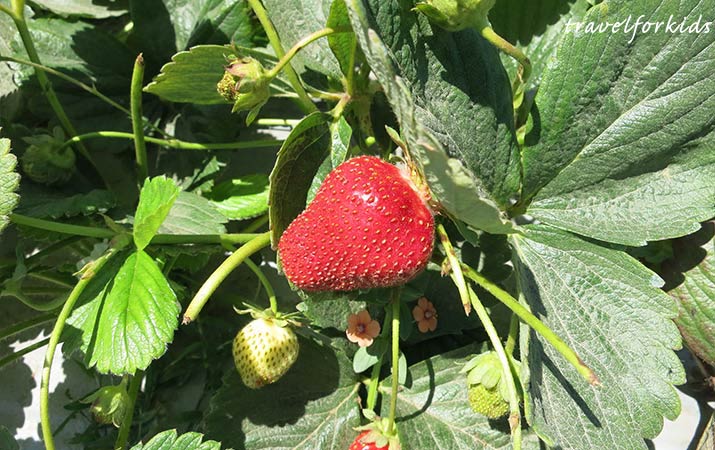 It's a treat for kids and parents alike to taste a fresh-picked berry, warm in the summer sun.
Here's a short list of u-pick berry farms around the United States, places to start.
Pick up brochures or ask at your farmers market about the growing season berries in your area.
Gizdich Ranch, Watsonville California
Strawberries, boysenberries, blackberries
Rainbow Camino Ridge, Camino California
Blueberries – June to Mid July
Topaz Farm, Sauvie Island Oregon
Raspberries, marionberries, blackberries, boysenberries
Graymarsh Farm, Sequim Washington
Loganberries, blueberries, raspberries, strawberries
Honey Pot Hill Orchards, Stow Massachusetts
Blueberries
U-pick farms, Acadia National Park area Maine
Blueberries, strawberries
Recipe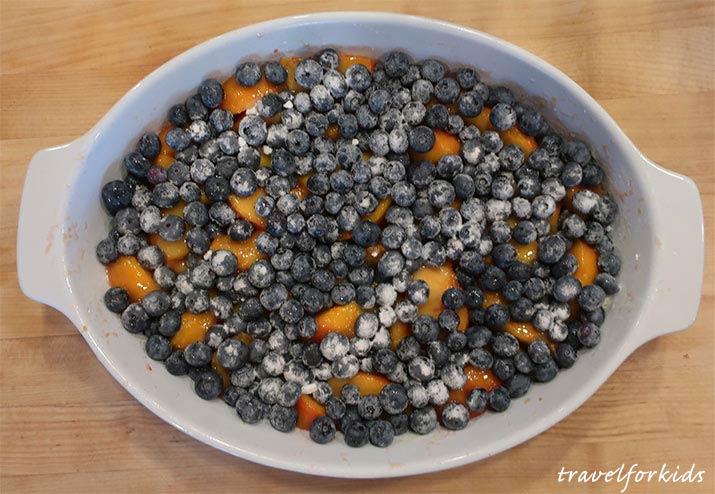 Needless to say, some fresh berries never make it to dessert. But for those that do, here's a recipe.
Blueberry & Peach Crumble
1 pound blueberries (could be more than a pound)
2 or 3 pounds ripe peaches
¾ cup sugar, plus 3 tablespoons sugar
1 cup sifted flour
1 tsp baking powder
1 tsp salt
1 egg
6 tbsp unsalted butter, melted
1 tsp cinnamon
Butter a 12x9x2 inch baking dish. Preheat over to 375 degrees.
Wash, drain and dry the blueberries.
Blanch the peaches in boiling water (for about 15 seconds for ripe peaches, to loosen the skin), then peel. Slice each peach into 6 – 8 wedges (large chunks).
Place the peaches in the baking dish. Cover with blueberries. Sprinkle with two table spoons of sugar.
In food processor, put in flour, ¾ cup sugar, baking powder and salt. Add unbeaten egg. Pulse gently, then mix until all the dry ingredients are incorporated into a dry meal. Don't over mix.
Spoon the topping over the berries, make an even layer. Topping won't cover everything completely, that's okay.
Drizzle the melter butter over the topping.
Mix cinnamon with remaining 1 tbsp sugar, sprinkle on top.
Bake uncovered for 15 minutes. Increase temperature to 400 degrees, bake for 12 to 15 minutes until topping is lightly browned. Serve hot out of the oven.
Tip: Crumble can be prepared in advance. Refrigerate, then take it out half hour before baking, to bring crumble to room temperature.
Recipe adapted from Maida Heatter.