When schools are closed and kids are at home, a fun family activity is cooking – you get to eat the results!
Here are easy to make recipes from different countries – Thomas Jefferson's macaroni and cheese, Saint Patrick's Day chocolate potato cake, pasta al pomodoro tomato sauce with simple ingredients, Scottish-English scones, Mexican wedding cookies.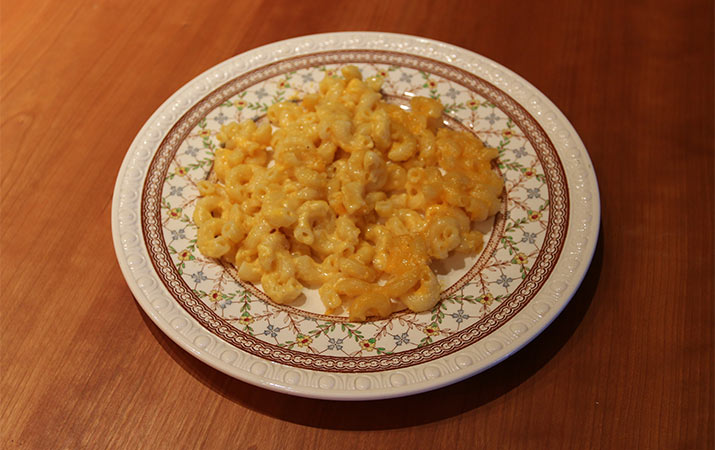 Thomas Jefferson traveled around Italy, and brought back this recipe and a pasta maker.
Thomas Jefferson Macaroni and Cheese
2 cups dried elbow pasta
1 tbsp salt
2 cups half-and-half
2 tbsp butter
2 tbsp flour
1/4 tsp Tabasco sauce (optional)
1/2 tsp salt
Fresh ground pepper
1/2 cup grated Swiss cheese
1 1/2 cups grated sharp cheddar cheese.
1/2 cup grated cheddar cheese, for topping.
Heat oven to 350 degrees.
Bring large pot of water to boil. Add 1 tbsp salt, then pour macaroni into the boiling water. Cook following the directions, until pasta is al dente. Drain in a colander, then put pasta in a large bowl.
Warm half-and-half in a glass measuring cup in the microwave. In a saucepan, melt butter, whisk in flour, and whisk for about a minute. Add the half-and-half, and stir until sauce thickens. Add Tabasco, salt and pepper. Remove the saucepan from the heat.
Stir in the Swiss cheese until it melts into the sauce. Stir in the grated cheddar cheese. Sauce should be smooth and thick.
Add the sauce to the pasta, mix well, pour into a greased 9 x 10 inch pan. Sprinkle the remaining cheddar cheese on top.
Bake in the oven for 30 minutes. Let cool slightly, then serve.
Recipe from Thomas Jefferson for Kids by Brandon Marie Miller.
For Saint Patrick's Day, we made this cake. Adding a mashed potato is a secret ingredient for this delicious dessert.
Chocolate Mashed-Potato Cake
1 large baking potato
2 cups sugar
1 3/4 cups cake flour
1 1/2 tsp baking soda
4 ounces bittersweet cooking chocolate, chopped in small pieces, melted
4 ounces unsalted butter, softened
1 tsp vanilla extract
2 large eggs
3/4 cup buttermilk
Chocolate glaze
4 ounces bittersweet cooking chocolate, chopped in small pieces
1/3 cup half and half or cream
Preheat oven to 350 degrees. Grease and lightly flour a large bundt or tube pan, and set aside.
Peel the potato, cut into small cubes. Place cubes in small saucepan, cover with water. Bring to boil, cook until potato is tender (about 15 – 20 min.). Drain the water, using a hand masher, mixer, or fork, mash the potato until there are no lumps, and mashed potato is nice and smooth. Measure out ¾ cup for the recipe.
Put sugar, cake flour, baking soda into electric mixer bowl, and mix on low speed, about 1 minute. Add the potato, then melted chocolate, butter, and vanilla, and mix on low speed until combined. Raise speed to medium, and beat until fluffy, about 2 to 3 minutes.
Whisk together eggs and buttermilk. Slowly add eggs and buttermilk to the batter. Scrape the bowl well, and scape batter into the pan. Bake for 50 min. to 1 hour, until a toothpick inserted comes out clean.
Allow cake to cool in pan for 20 minutes, when turn out on the rack.
Cake is fine as is with a little sifted powdered sugar on top, or make the glaze.
Place chocolate and half-and-half in small pan over low heat. Stir to melt chocolate, do not let it boil or simmer. Stir until half the chocolate is melted, remove pan from heat and stir until glaze is smooth. With a spoon, mound the glaze on the top of the cake with a spoon.
Note: In photo, we iced the cake all over, but that's a bit fussy and not necessary.
Recipe from Food52.com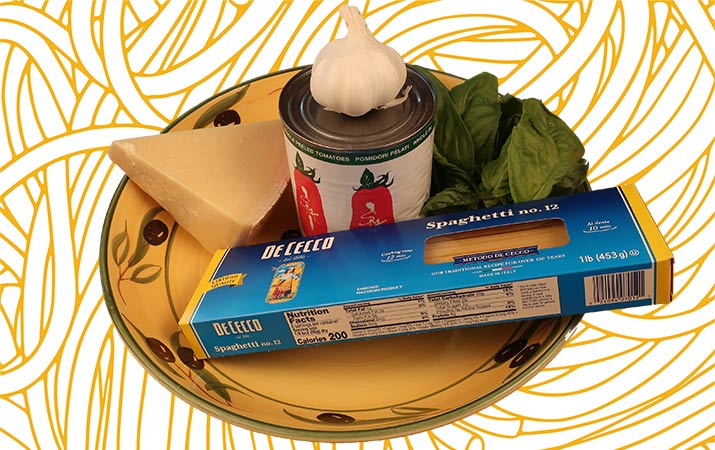 Try making your own tomato sauce for pasta with these five ingredients.
Spaghetti with Tomato Sauce – Pasta al Pomodoro
1/4 cup extra virgin olive oil
3 garlic cloves smashed
10 Italian basil leaves, chopped
1/2 tsp crushed red pepper flakes (to taste)
28 ounces canned whole tomatoes
1 lb spaghetti
2 oz parmesan cheese, about ¾ cup
Tip: If you don't have fresh basil leaves, use dried basil to season the sauce.
Make the sauce:
Puree canned tomatoes in a food processor until smooth.
Put olive oil and garlic in a large sauce pan over medium heat.
Cook stirring, until garlic is golden, then remove garlic from pan and discard.
Add half the basil and red pepper flakes, then the tomato puree. Simmer the sauce until reduced by half. Add remaining basil leaves, taste and adjust seasoning with salt and pepper. Keep sauce warm.
Cook the pasta:
Bring a large pot of salted cold water to a boil.
Drop the spaghetti into the boiling salted water, and cook stirring frequently, until the pasta is done. Drain, add sauce, and mix all together. Toss some parmesan cheese over all.
Serve immediately, and pass additional parmesan cheese at the table.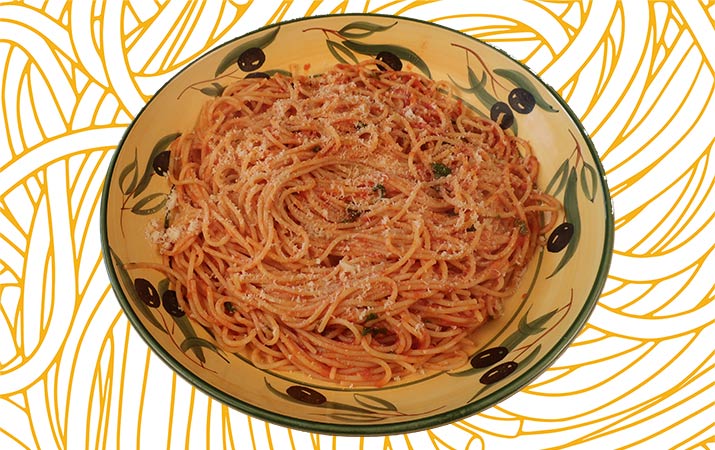 Recipe from Pasta by Christopher Boswell. This is one of our favorite cookbooks, with many tasty and easy recipes from kitchen of the American Academy in Rome.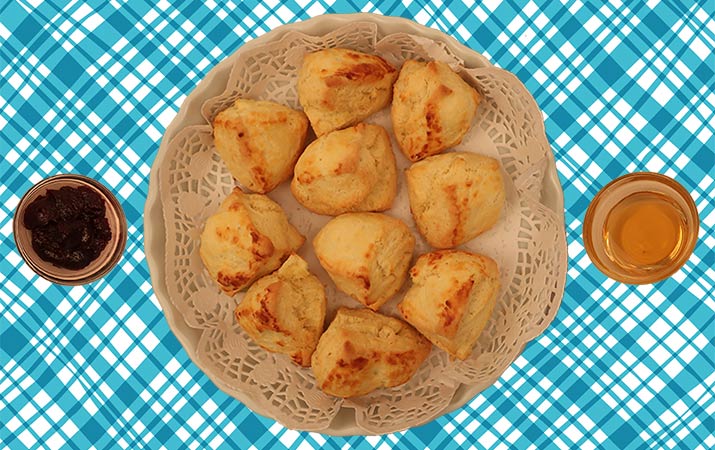 Scones, popular in Scotland, England and Ireland are often served as an afternoon treat (tea time), but we make them for breakfast on weekends.
Scones
1 tbsp baking powder
1/2 tsp salt
2 tbsp sugar
2 cups flour
1/2 cup cold butter (one stick)
2 large eggs
1/3 cup milk or cream
Jam and honey
Preheat oven to 400 degrees.
Put all the dry ingredients in food processor, pulse a few times to mix everything up.
Cut cold butter in slices (about 8), and pop into food processor. Pulse food processor for 30 seconds to cut in the butter, don't overdo it.
Add eggs, then milk. Pulse short on-then-off, on-then-off, until it comes together as a soft dough.
Turn dough out onto a floured board, and knead very lightly.
For large scones, divide the dough into two pieces. Roll each piece into a round circle, about ¾ inch high, cut into four triangular pieces. This makes 8 scones.
For "kid-size" scones, divide the dough into three pieces. Roll out each piece and cut into four triangles, this makes 12 scones.
For "mini" scones, divide the dough, roll out each piece, cut into four, this makes 16 small scones.
Brush the tops of the scones with egg wash, or milk, or melted butter and sugar. Tip: Sometimes we use multi-colored sprinkles.
Put the scones on baking sheets lined with parchment paper (if you don't have any parchment paper, don't worry).
Bake until golden brown.
For large scones, bake 15 – 20 minutes.
For "kid-size" scones bake 13 – 15 minutes.
For "mini" scones, bake 11-14 minutes.
Eat scones with lots of honey and jam.
This our family recipe.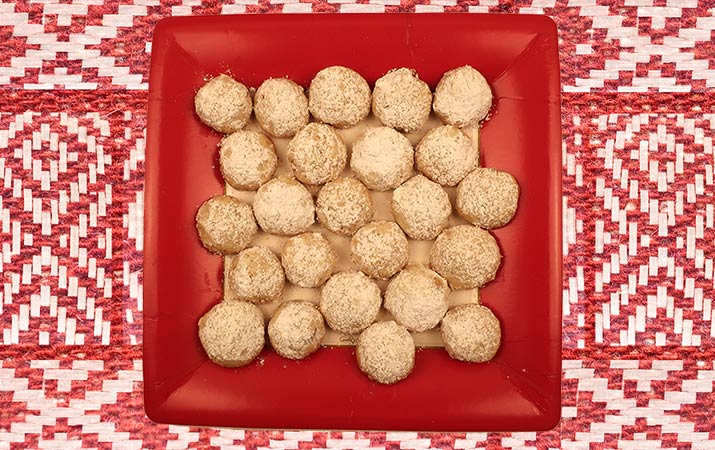 Mexican wedding cookies are also called polvorones. This cookie is enjoyed throughout Central and South America, and Spain.
Mexican Wedding Cookies – Polvorones
1 cup (2 sticks) unsalted butter, at room temperature
1/2 cup sugar
2 cups flour
1 cup finely chopped walnuts
1/2 cup powdered sugar, plus more for serving
With electric mixer, beat butter until light and fluffy. Add the sugar and beat until well blended. Beat in flour, chopped walnuts.
Divide dough in half, forming each half into a ball. Wrap separately in plastic, and chill until cold, about 30 min.
Preheat the oven to 325 degrees.
Working with half of the chilled dough (keep rest in refrigerator), take 2 teaspoons roll into a ball. Arrange balls on baking sheet, spacing 1/2 inch apart.
Bake the cookies until golden brown on the bottom, and just pale golden on top, about 18 minutes. Cool the cookies 5 minutes on the baking sheet. Toss cookies in the powdered sugar.
Transfer sugar-coated cookies on a rack to cool completely. Cookies can be prepared two days ahead. Store in an airtight container at room temperature.
Sift additional powdered sugar over the cookies before serving
Recipe adapted from A World of Cookies for Santa by M.E. Furman, Susan Gal.