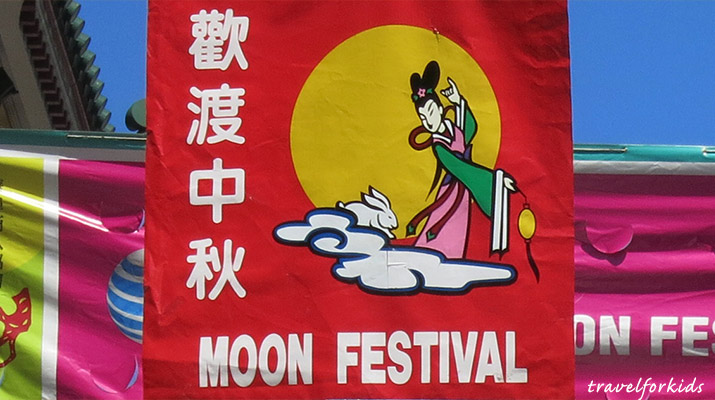 The Mid-Autumn Moon Festival is coming up Sept 10, 2022.
This holiday, celebrated throughout Asia, is fun for families – kids stay up to see the full moon and eat special sweets. Go out on Sept 21 and look for Jade Rabbit and Lady in the Moon.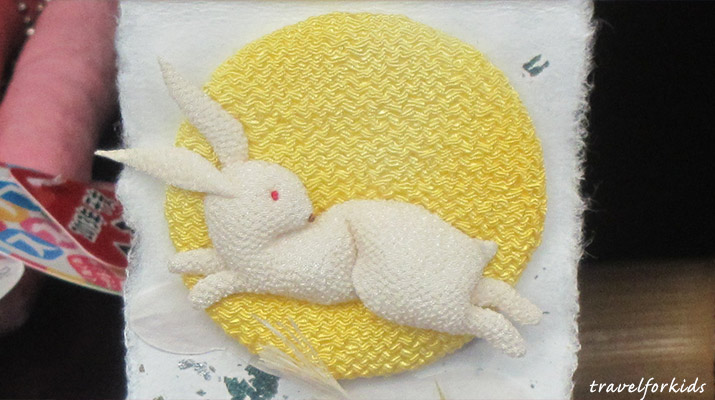 There are many Asian stories about the full moon, but one of our favorites is the Jade Rabbit. When three moon immortals came to earth, they turned themselves into poor old men and asked for food. The Fox gave them berries, the Monkey provided fruit, but the Rabbit offered himself. The immortals, touched by the Rabbit's kindness, took the Rabbit to live with them in the moon.
Fun Food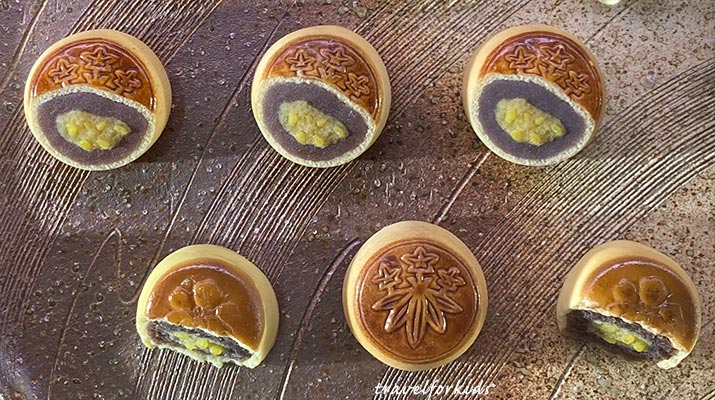 To celebrate, we go into San Francisco to buy sweets and enjoy the festival fair on Grant St. in Chinatown It's a long line at the Golden Gate Bakery, but buy freshly made egg custards, and mooncakes with coconut/nuts and lotus seeds inside (photo at top).
We also go to the Japanese sweet shop, Kitchoan Minamoto, to buy yuzu bunnies and Hangetsu half moon wafers.
Children's Books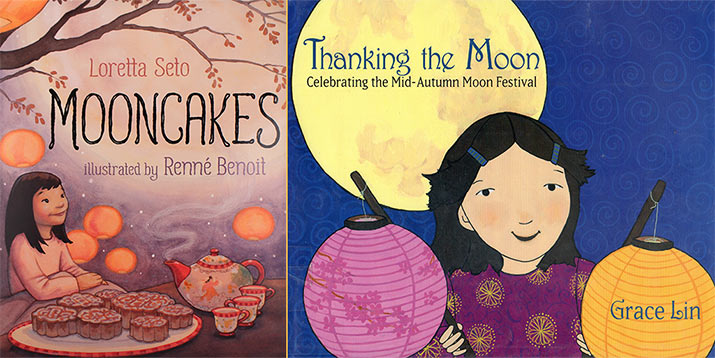 Here's children's books to read about the Mid-Autumn Moon Festival (we'd like to put pomelo hats on our heads too):
The Mid-Autumn Festival is a beloved celebration – a family has a nighttime picnic, they light paper lanterns, drink round cups of tea, eat mooncakes, and admire the moon glowing in the sky. (Picture book)
Mooncakes by Loretta Seto, Renne Benoit.
"Tonight I am allowed to stay up late. Soon there will be mooncakes to eat, sweet and chewy." And parents tell stories of the moon – Jade Rabbit and the moon magicians, Hou-Yi who saved the earth, and a woodcutter eternally chopping down a tree on the moon. (Picture book)
The Shadow in the Moon by Christina Matula, Pearl Law.
As a family celebrates the Mid-Autumn Festival, Ah-Ma (grandmother) tells her granddaughters the story of the Spirit and Lady in the Moon. A courageous archer Hou-Yi is given a magic potion of immortality. When a thief tries to steal it, the archer's wife Chang'e drinks the potion to keep it out of evil hands, and is transformed into an Immortal Lady in the Moon. The archer misses his wife so much, but every year he looks up to see her shadow in the moon, and puts out fresh fruit and mooncakes, her favorite foods. (Picture book)
Our Moon Festival by Yobe Qiu and Christina Nel Lopez.
The Moon Festival celebrated in three countries – Singapore, Vietnam and Japan.
Zhong Qiu Jie – In Singapore, families eat extra-luck fish, roasted duck, mooncakes, and visit gardens filled with glowing lanterns.
Tet Trung Thu – In Vietnam families light incense and put moon cakes on the family altar, watch water puppet shows and lion dances.
Tsukimi – In Japan, haiku poems are read, special sweets are dango rice dumplings, food offerings to the moon for a good harvest. (Picture book)