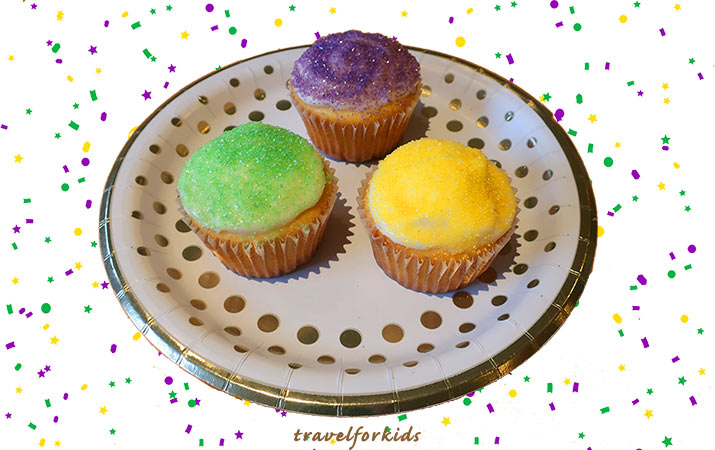 For Mardi Gras, King Cake is a local treat in New Orleans, a lovely raised-dough cake, decorated with white frosting, and purple, green, yellow sprinkles, the colors of Mardi Gras.
Based on the King Cake, these King Cupcakes are easy and fun to make, delicious to eat!
Cupcakes
1 cup sugar
1 2/3 cups flour
1 ¼ tsp baking powder
½ tsp salt
6 tbsp butter, softened
2/3 cup milk
1 tsp vanilla
2 eggs, room temperature
Frosting
3 tbsp butter, softened
4 oz cream cheese, room temperature
½ tsp vanilla extract
2 cups powdered sugar
1 – 2 tbsp milk, to make icing easy to spread
Purple, green, yellow sprinkles
Preheat oven to 350 degrees. Line muffin tin with muffin cups.
In a large mixing bowl (for mixer), add sugar, flour, baking powder and salt. Whisk together.
Add butter and beat on low speed, until mixture looks crumbly (butter even distributed).
Combine milk and vanilla, pour into mixing bowl. Beat on low speed 30 seconds, then increase speed to medium and beat for 30 seconds. Scrape the bottom and sides of the mixing bowl.
With mixture running at low speed, add 1 egg. Increase speed to medium and beat for 30 seconds, add second egg and beat for 30 seconds. Scrape sides of bowl, then beat until batter is smooth.
Use ¼ measuring cup, scoop batter into prepared muffin tin.
Bake 22 – 25 minutes, until the cupcakes are domed and light golden brown around the edges. Toothpick inserted in center will come out clean.
Place cupcakes on rack to cool completely before icing.
To make frosting, in a small bowl, combine butter, cream cheese, vanilla, and beat together until light and fluffy.
Gradually add powdered sugar, beating well.
Add milk, little at a time, until frosting is easy to spread.
Spread frosting on each cupcake, decorate with purple, green, yellow sprinkles.
Store at room temperature or refrigerate for several days. Also, wrap well and freeze.
Makes 12 cupcakes.
More about Mardi Gras and Carnival, plus children's books, on Travel for Kids.