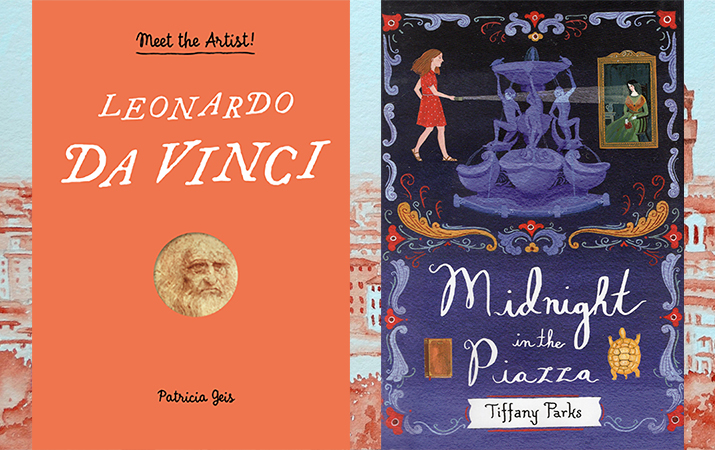 Here's new children's books about Italy – mystery adventure set in Rome, pop-up biography of Leonardo da Vinci, Magic Tree House visits a Roman legion camp, three books about Renaissance artists, inventors and thinkers, and more.
Midnight in the Piazza by Tiffany Parks.
Mystery adventure with Beatrice, an American girl just arrived Rome, and her new friend Marco. She explores the city, between Italian lessons and eating gelato, and discovers a legend about a 16th century Turtle Fountain in her neighborhood. When Beatrice spots someone stealing the bronze turtles off the fountain, she's soon following clues leading to a cursed noble family, ancient palazzo, unhappy duchess, and contemporary art thieves. (Chapter book)
Leonardo da Vinci: Meet the Artist by Patricia Geis.
Pop-up biography of Leonardo da Vinci, from apprenticeship in Florence to his brilliant drawings of the human body and mechanical inventions, famous portraits and paintings, design for colossal horse, robots and ideal city. (Activity book)
Warriors in Winter (Magic Tree House) by Mary Pope Osborne.
Jack and Annie travel back in time to a Roman legion camp in 172 AD, during the reign of Marcus Aurelius. They learn about camp life, march with the Roman warriors, meet the emperor and give him a silver coin with clues about an upcoming battle. (Easy reader)
The Glassmaker's Daughter by Dianne Hofmeyr, Jane Ray.
In Venice, a glassmaker builds a glass palace, offering it to whoever can make his daughter Daniela smile. A mask maker, opera singer, acrobat, lion tamer all fail, but then a young glassmaker creates a very special gift, and Daniela smiles and laughs. Delightfully illustrated, captures the magic of Venice. (Picture book)
Follow Me Around Italy by Wiley Blevins.
Ciao! Take a trip around Italy with Fausto – food (all those different pasta shapes), myths, history, traditions, Christmas and Carnival celebrations, school, sports (soccer most popular), games, fast facts. (Picture book)
Renaissance for Kids by Diane C. Taylor.
Three books about Renaissance artists, inventors and thinkers, with projects. Good for older kids.
Good introduction to five Italian Renaissance artists and their enduring legacy – Botticelli, Michaelangelo, Raphael, Leonardo da Vinci, and Titian, with history projects and looking closely at paintings. (Illustrated chapter book)
Explore the works of five Renaissance inventors, including three Italians – Leonardo da Vinci, Leon Battista Alberti, Galileo Galilei, with hands on projects to make, experiments to do. (Illustrated chapter book)
Learn about two innovative men from Florence – Filippo Brunelleschi, who designed the dome for the Florence Cathedral (Duomo), and Niccolo Machiavelli, philosopher who wrote about Renaissance politics, plus history projects. (Illustrated chapter book)
Of course, find many more children's books about Italy, Rome, Florence, Venice,Pompeii on Travel for Kids.