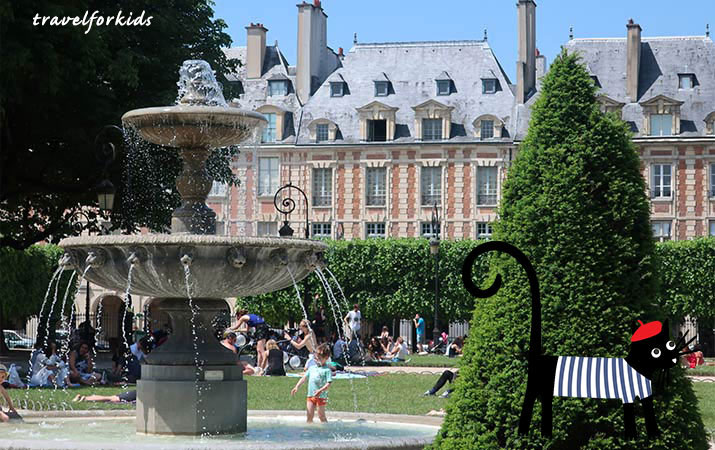 One of our favorite places to stay in Paris is the Marais neighborhood.
And what fun it is – everything we need is close at hand – supermarkets, boulangeries (bakeries), laundromat, cafes for snacks, casual restaurants, delightful shopping, convenient hotels or apartments, easy access to the Metro.
A famous landmark in the Marais is the Place des Vosges.
In the 17th century, King Henry IV created the square, surrounded by thirty nine buildings, and since the king had a pavilion here also, it was called the Place Royale. In 1798 Napoleon renamed it the Place des Vosges.
The Place des Vosges is noted for the beautifully preserved seventeenth century brick and stone buildings, but on a summer day, it's a great spot for families.
In the center of the square is a fountain, where toddlers can dabble their toes. On the grass, families spread out their blankets and picnic lunches. Under a shady grape arbor are also benches where you can also eat an impromptu lunch in the shade (we brought our sandwiches and drinks from a local shop in the neighborhood).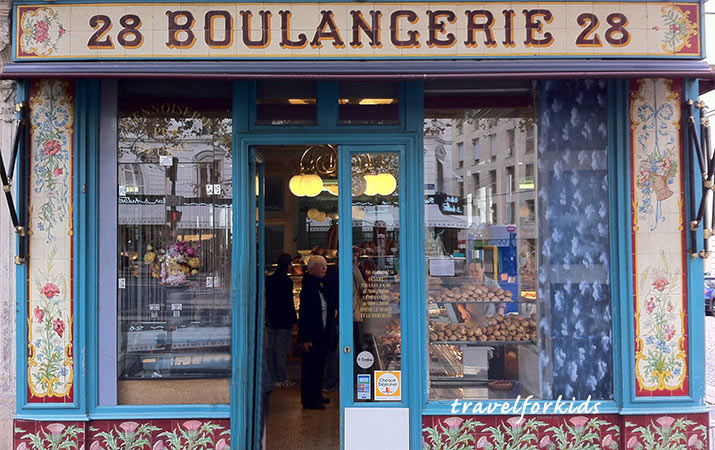 Boulangeries (bakeries) typically have bread (pain), plus breakfast pastries, and other baked goods such as sandwiches, quiche, and fruit tarts. There's plenty of excellent boulangeries in the Marais, but our favorite is Boulangerie 28 (Maison Landemaine), located at 28 Boulevard Beaumarchais.
Every morning we zipped over for buttery croissant, puffy brioche and pain au chocolat (like a rectangular croissant, with dark melted chocolate inside). Also for breakfast we bought fabulous yogurt from Normandy in tasty flavors such as lemon (citron), raspberry (framboise), strawberry (fraise) and salty caramel (sel caramel).
In the glass case on display were sweets such as eclairs, millefeuilles (layers of puff pastry and creamy fillings), raspberry or lemon meringue tarts.
Boulangerie 28 is also the spot to pick up sandwiches – classic jambon beurre (ham with butter), ham and cheese, chicken, or vegetarian on a baguette, and different kinds of quiche for picnic lunches.
Best of all, Boulangerie 28 is open daily! If you're staying in an apartment, stop in every day to also try different kinds of bread – soon you'll know the difference between pain de mie, pain de compagne, pain "Maison".
Tip: This is a popular boulangerie, crowded and very busy. Everything is labeled, so decide what you want to buy, before it's your turn in line. If or aren't sure how to pronounce the names of things, just point at the desired baked goods.
A stop at the supermarket is well worthwhile – pick up bottled water and cold drinks on a hot day (so much cheaper than vendors on the street), and other snacks that the kids like. Of course, if you're staying in an apartment, convenient supermarkets are a big help, so you don't have to lug groceries any distance.
Also, supermarkets such as Franprix and Monoprix have inexpensive takeout sandwiches and salads, grab and go, take your lunch outdoors.
On Rue Saint Gilles is a G20 supermarket, Monoprix is on 71 Rue Saint-Antoine, Franprix has several locations in the Marais: 103 Boulevard Beaumarchais, 135 Boulevard Saint-Antoine, 6 Boulevard du Temple.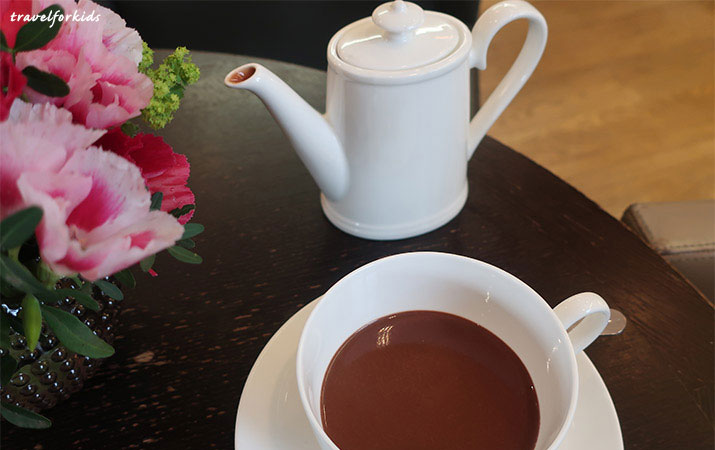 Neighborhood cafes will have hot chocolate (chocolat chaud), so in the cold weather, during a busy day of sightseeing it's always an occasion to pop into a cafe, relax, and try yet another hot chocolate.
For a special hot chocolate, served in a hot chocolate pot, visit Chocolaterie de Jacques Genin. (133 Rue de Turenne). Wonderful in summer too.
What can we say. The minute we arrive at our hotel, we start looking for a laundromat. The Laverie Libre Service Boulevard Beaumarchais was the one we used – it was an excellent laundromat, not crowded, packets of soap were available, and the easy to use payment machine makes change, no need to hoard coins for the washer or dryers.
The Marais has several laundromats, Laverie Libre Service on 96 Boulevard Beaumarchais, Laundry Laundromat 2 Impasse Guemenee, Laverie Libre Service 10 Rue de Jouy, Laundry Self Service 80 Rue des Archives.
Tip: If you're staying in an apartment with a washing machine but no dryer, go to a self-service laundromat to dry clothes.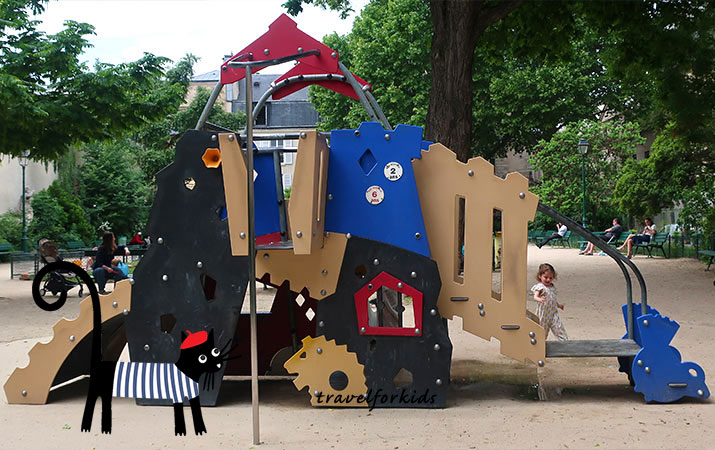 In the Marais are several charming playgrounds, perfect for toddlers, or spot to have a picnic.
Square Leopold Achille
Rue Payenne and Rue Parc Royal
Large grassy area, benches, play area with climbing structure and sand play area.
Square du Temple – Elie Wiesel
64 Rue de Bretagne
Large playground with slides, climbing structures, lots of grass, and benches.
Square Charles-Victor Langlois
6 Rue des Blancs Manteaux
Play area with slide, bouncy things, sand play area, benches
Anne Frank Garden
14P Impasse Berthaus
Climbing structures, benches, blooming trees in spring.
Family Hotels and Apartments –
Check out Travel for Kids list of Paris family hotels and Paris family apartment rentals to find our choices for where to stay in the Marais.
Hotels and apartment rentals are selected for amenities such as rooms in hotels that sleep 4, or apartments that sleep 6 or more, babysitting services, mini-fridges in rooms, proximity to restaurants, supermarkets, laundromats, and parks with playgrounds.
Tip: If you're staying in an apartment, along with supermarkets listed above, on Boulevard Beaumarchais, also try the market at Maison Plisson, with charcuterie, cheese, fruits and vegetables.