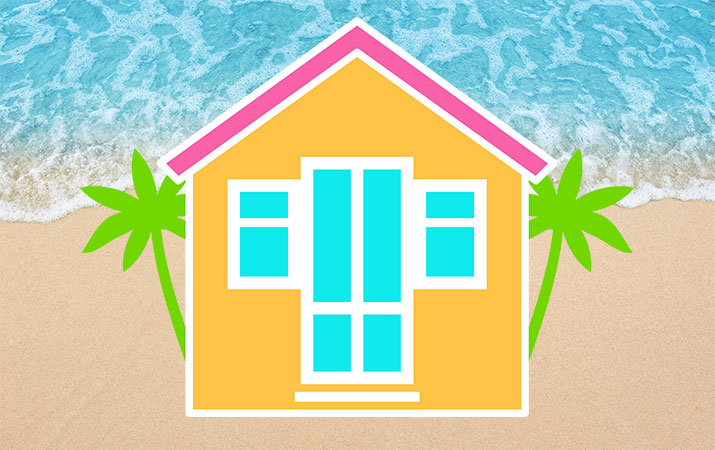 San Diego and La Jolla, Del Mar, Encinitas, Carlsbad beach towns are famous for white sand beaches and warm sunny weather.
Renting a house at the beach is ideal for families this summer.
Families are a social bubble, and now if adults and grandparents are vaccinated, it's safe for families to vacation together again. You can cook at home, instead of eating out in restaurants with long waiting lines, the beach and other activities are largely outdoors.
Beach vacation rentals are stocked with amenities, such as beach chairs and towels, boogie boards, sand toys, coolers and umbrellas, outdoor shower to rinse off all the sand, washer and dryer. We've also selected properties with easy access to our favorite beaches.
Here are typical reviews:
"Our family really enjoyed our week long stay! We loved the large backyard. We loved the short walk to the beach."
"Can't wait to return and watch the kids build sandcastles and ride the boogie boards."
Check out our lists of best family beach rentals and find information about each beach area.
San Diego – Mission Beach
Our favorite San Diego neighborhood for beach rentals is Mission Beach – it has both beach and bay.
On the west side of Mission Beach is a miles long sandy beach and waves for boogie boarding and surfing. On the east side is Mission Bay.
Mission Bay has grassy areas and picnic tables, bike around the bay, and swim in the warm water (no waves). Bay is also perfect for water sports, rent kayaks, pedal boats, sail boats, motor boats and go out on the water.
Nearby attractions are SeaWorld and Belmont Park. San Diego Zoo, Balboa Park and Old Town are a short drive away.
On Mission Blvd. are cafes, restaurants, sushi, hamburgers, Mexican, coffee, ice cream, sandwich shops, markets (Mission Market, Ralphs, Beach Market).
La Jolla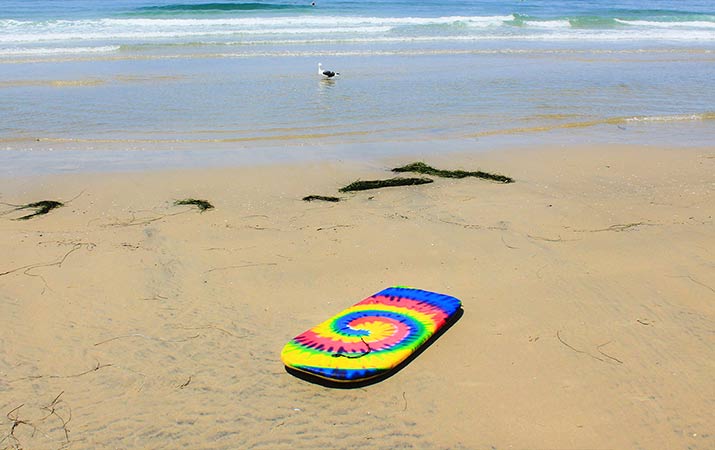 La Jolla is fun for kids year round – snorkel, swim, kayak, look for sea lions and harbor seals, visit a sea cave and Birch Aquarium up on the hill.
La Jolla Shores beach is a jewel – little ones can play on the flat sand beach, older kids will boogie board and snorkel, learn to surf, or go kayaking and paddleboarding. Tidepools are fun to explore, look for crabs and sea anemones, sometimes there are leopard sharks in the water.
Kellogg Park, next to the beach, has playground and swings, grassy area and picnic tables.
Along Avenida de la Playa are restaurants, cafes, coffee, ice cream, food markets (Corner Mercantile, La Jolla Shores Market, Neighbor-Saver Market) and shops to rent kayaks and bikes, arrange surf lessons.
Del Mar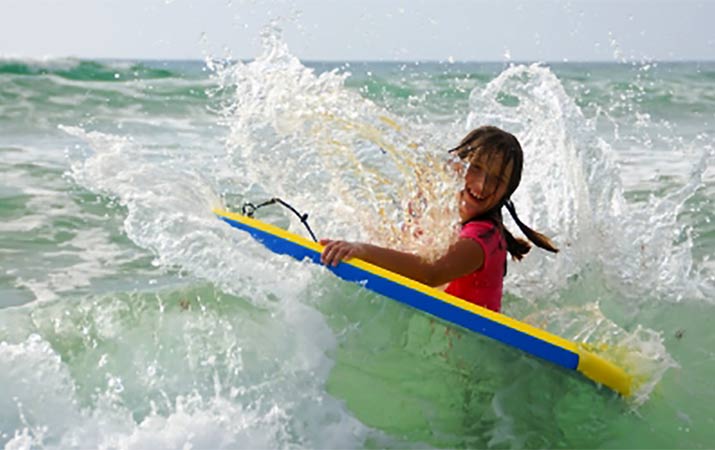 Del Mar beaches are classic southern California, lifeguards all year, and a feeling that summer never ends.
Del Mar City Beach goes all the way from Powerhouse Park miles north to San Dieguito River flowing into the ocean. The beach also extends south for miles, all the way to Torrey Pines State Beach.
Powerhouse Park is one of the most idyllic playgrounds, with grassy area and snack bar, situated right next to the ocean. Children can swing on swings to sounds of waves breaking.
If you have teens along, 15th St. has a good surf break.
Along Camino del Mar are restaurants, coffee, bakeries, ice cream, restaurants, cafes, supermarkets (Whole Foods, Gelson's) on Via de La Valle.
Encinitas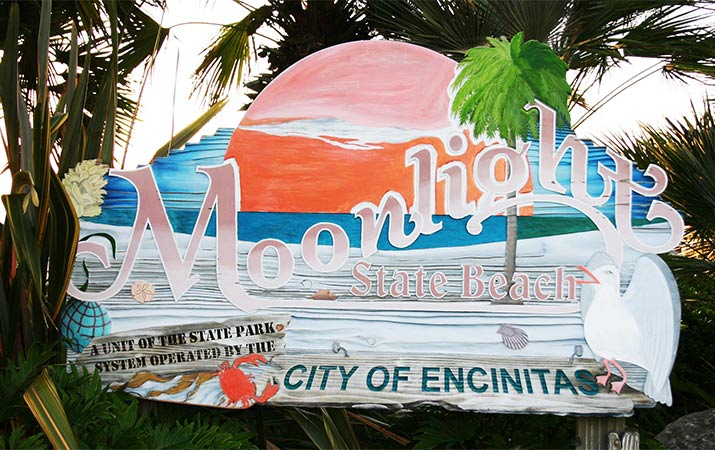 The primary attraction in Encinitas are the beaches, especially Moonlight State Beach.
Moonlight is a perfect family beach with easy access, lifeguards, picnic tables, playground and snack bar. Perfect for boogie boarding, and kite flying when the wind is blowing.
This is a great place for kids to learn to surf. Encinitas Surf Lessons offers lessons for kids throughout summer to Labor Day, and kids surf camp, wetsuits and boards are provided.
Teens who know how to surf will want to try the reef at "Swamis" beach.
Along the Coast Highway are cafes, juice bars, coffee, ice cream, taco stands, restaurants, on Encinitas Blvd find fast food and supermarkets (Lazy Acres Market, Sprouts Farmers Market, Trader Joe's).
Carlsbad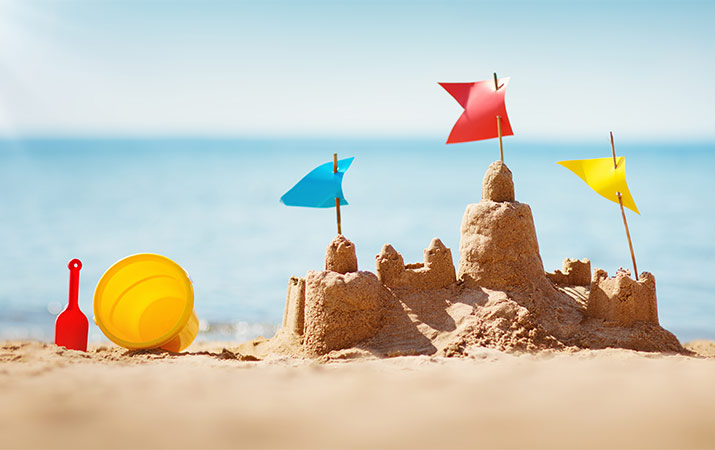 Carlsbad has beautiful beaches, and attractions of Legoland California, Legoland Water Park, and flower fields in spring.
Both Carlsbad State Beach and Carlsbad City Beach are long sandy beaches, and kids can easily spend all day playing in the water. Easy stairway access to both beaches, grassy areas, lifeguards.
The Carlsbad Lagoon (water is calm and protected) is perfect place to kayak, go pedal boating, paddleboarding, or have fun with those big aqua cycles.
Tip: It's a fun day trip from Carlsbad to visit San Diego Zoo Safari Park in Escondido, about 40 minutes away.
On Carlsbad Blvd and Carlsbad Village Dr. find restaurants, cafes, coffee, ice cream, juice bars, pizza, Mexican, bakeries. Convenient supermarkets are Prontos' Gourmet Market (Roosevelt St.) and Von's (Tamarack Ave).
Beach fun at La Jolla Shores
Tip: Editors note: Growing up in San Diego, my earliest memories are sand and waves, and long summer days when my brothers and I only came out of the water when our parents called us in.