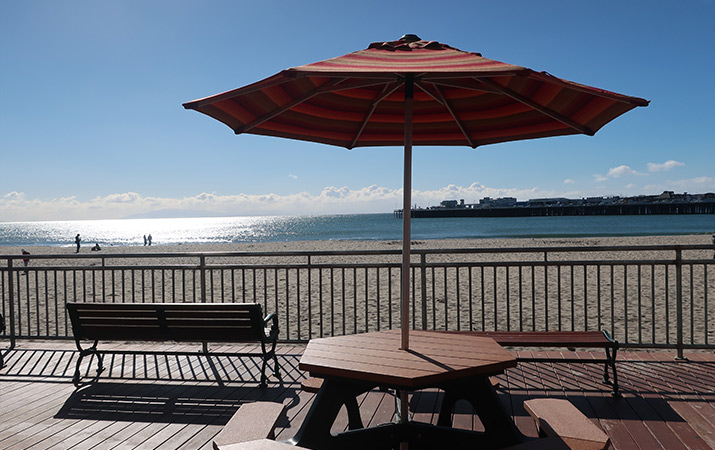 Santa Cruz on California central coast was our destination for Presidents' Day weekend.
In February it could be rainy, but last weekend it was gloriously clear, though not warm enough to hop in the waves.
In the winter months, it's a great time for kids to enjoy seeing the marine life – sea otters, harbor seals, seal lions – and the Santa Cruz Boardwalk seaside amusement park is year round.
Elkhorn Slough – Moss Landing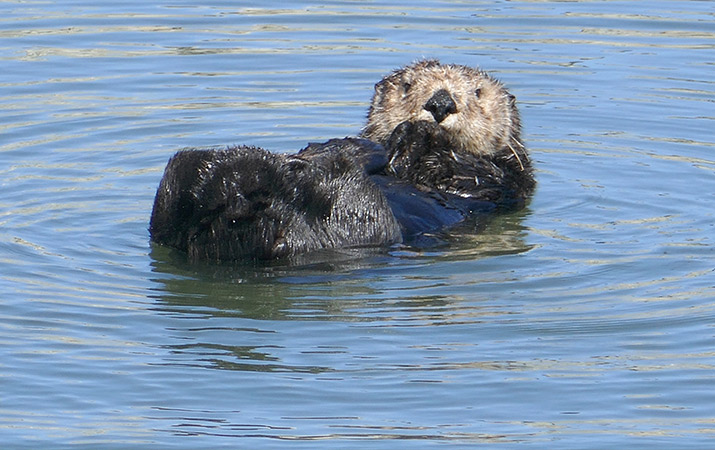 On our way to Santa Cruz, we stopped at the Elkhorn Slough and Moss Landing.
Elkhorn Slough is a hidden gem, you might miss it driving down on Highway 1 from Santa Cruz towards Monterey, but it's well worth a stop to see sea otters, California sea lions, harbor seals, pelicans, snowy egrets, many shore birds in the estuary.
Elkhorn Slough Safari, a two hour electric boat tour, is one of our "must do's," but if you're short on time, at Moss Landing State Beach (take the Jetty Road exit), on the east side look for sea otters in the water. Tip: Bring binoculars to see the otters close up.
Santa Cruz Beach Boardwalk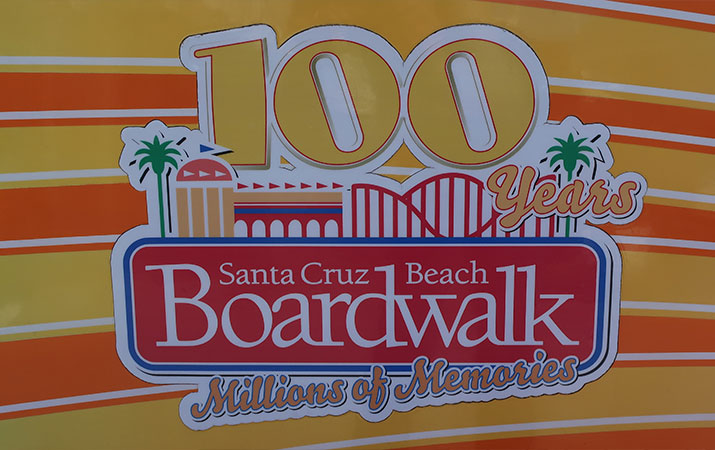 Families have come to the Boardwalk seaside amusement park since 1907, and there's always something new, along with classic rides, such as the Giant Dipper roller coaster and Looff Carousel.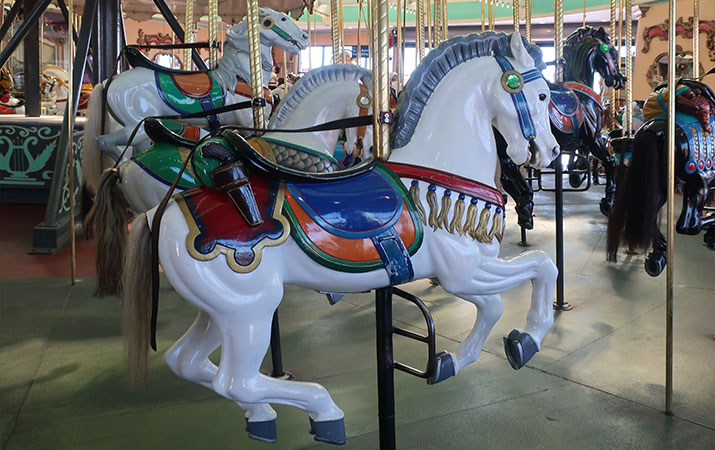 Toddlers, teens, parents, adults always have fun riding this historic carousel (in operation since 1911). The beautifully carved wooden horses, each horse is unique, with real horse hair tails.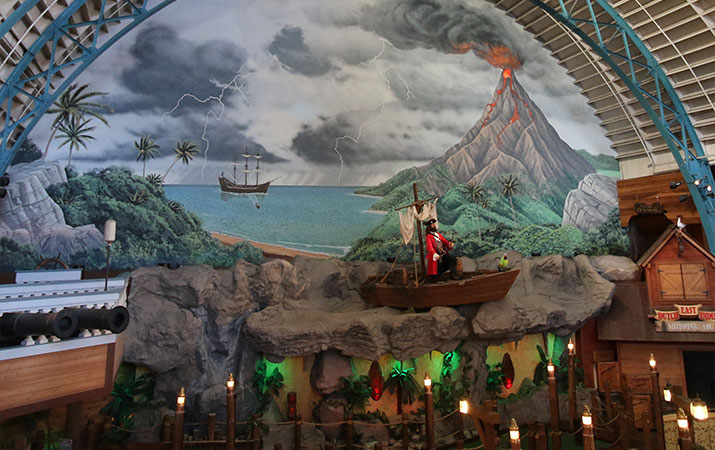 What can we say – if there's a miniature golf course, we have to play. Buccaneer Bay (located in Neptune's Kingdom) is a two story, 18 hole mini golf course with a pirate theme. Open daily, as the course is indoors, perfect for a foggy or bad weather day.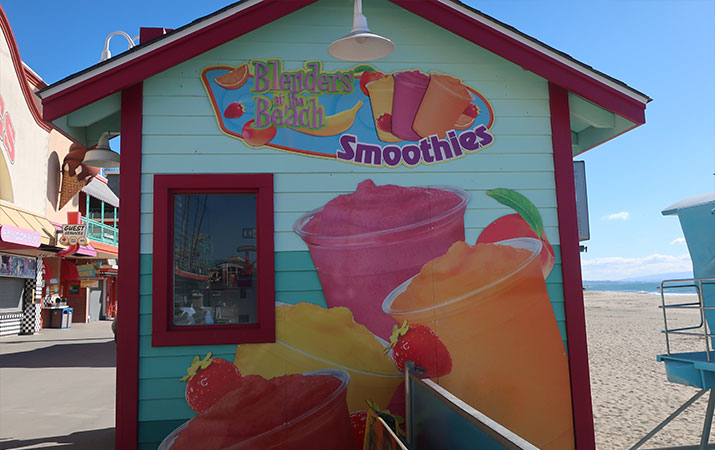 Plenty of choices for food at the Boardwalk – hamburgers, pizza, burritos, rice bowls, churros, fried artichokes (local specialty), colorful lollipops, salt water taffy, root beer floats, ice cream sundaes, and also healthy snacks, such as fruit and yogurt smoothies, and fresh fruit cups.
The Boardwalk is located right on the beach, and in the warm weather, kids can go swimming, boogie boarding, learn to surf. Cowells Surf Shop across from the wharf rents boogie boards, wet suits in kid's sizes, the store next door has beach toys and buckets. Even in the winter, kids can run around barefoot on the beach, and play in the sand.
Santa Cruz Wharf
Monterey Bay teems with marine life – just walk out onto the wharf to see California sea lions, hauled out on the little dock. Look for harbor seals bobbing in the water and sea lions swimming together ("porpoising").
How to tell a harbor seal from a California sea lion?
Harbor seals are spotted, chubby and blimp-shaped, have short fins (especially the hind fins), and rarely make sounds. Sea lions have little ear flaps, make loud barking noises, have long flippers, are colored solid gray, brown, or light tan.
Both California sea lions and harbor seals haul out, pull themselves onto the sand, or a nearby dock. It's hard work diving in the ocean for food, and they need to rest and warm up.
To find out more about Monterey Bay, stop into the Monterey Bay National Marine Sanctuary Exploration Center on Pacific Ave, one block north of the wharf. Hands-on exhibits, movie about the bay, center is free, closed Mon. and Tues.
A weekend isn't enough time to enjoy all the fun things to do with kids in and around Santa Cruz. There's also Natural Bridges State Beach tide pools, Seymour Discovery Marine Center, ride the steam train, hike through the redwoods, pick your own strawberries in summer.
Find out more on Travel for Kids Santa Cruz.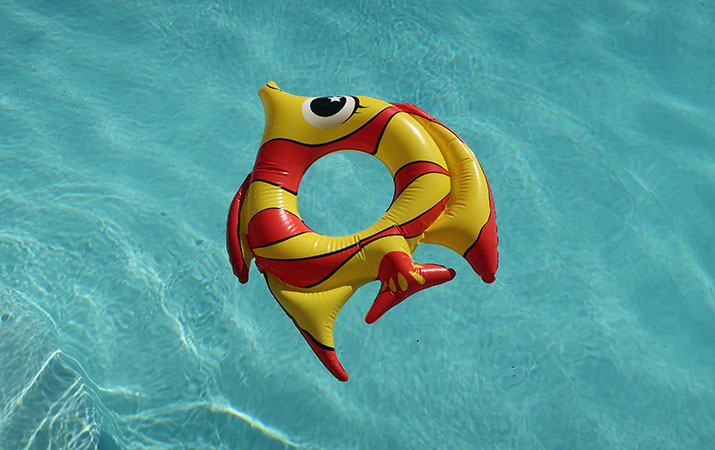 And you'll need a fun place to stay.
Check out our list Santa Cruz family hotels, all styles and prices, near to fun things to do with kids. Hotels are selected for their amenities such as swimming pools and jacuzzis, on-site restaurant with children's menu, coin-operated laundry.