In London, kids will have fun exploring the Golden Hinde II, full-size replica of 16th century ship Sir Francis Drake sailed around the world.
Before going a self guided tour, check out the golden deer figurehead on the bow, and on the stern, red Tudor rose with letters E R for "Elizabeth Regina" (Queen Elizabeth I), female deer (hind), and lion to scare away sea monsters.
On board the Golden Hinde, kids can take the helm, turn the wheel and imagine piloting the ship through fierce storms of the Strait of Magellan or attacking a Spanish treasure galleon off the coast of Peru.
Wander through the gun deck, lined with plenty of shiny black cannons, on the main deck see Drake's cabin (comfy looking bed and brightly painted chest in black, red and yellow), and Great Cabin with spacious dining table, where Drake entertained captured Spanish captains, serving dinner on silver plates.
Tip: The Golden Hinde is located at St Mary Overie Dock, Southwark, near the Old Globe Theatre and Borough Market.
So many fun things to do in London, you'll need a fun place to stay. Check out Travel for Kids hand-picked list of London family hotels and London family apartment rentals.
Voyage around the world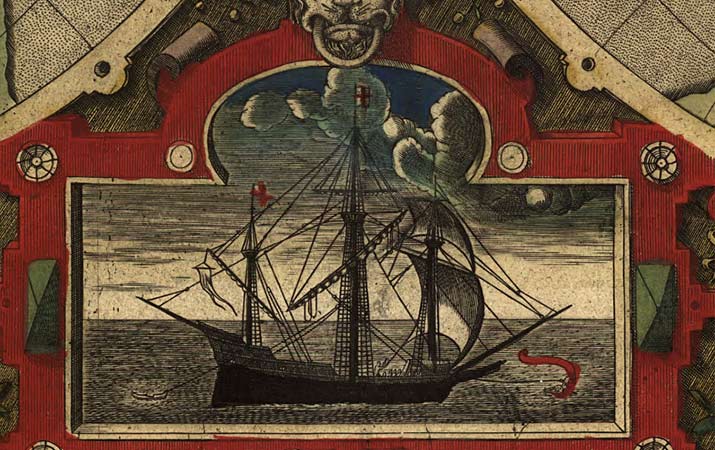 Sir Francis Drake's voyage around the world is extraordinary. Queen Elizabeth I secretly commissioned Drake to discover a route across the South Pacific, sail around the world, and plunder Spanish treasure galleons.
A captured Spanish captain described Drake as "one of the greatest mariners that sails the sea, both as a navigator and as a commander."
The Golden Hinde (originally named Pelican) was well-designed for a long distance voyage – it had a sturdy hull, could sail in shallow water, and was a fast ship.
The ship was armed with eighteen cannons, long guns, crossbows, swords, pistols, pikes, longbows, plenty of gun powder, and stocked with water casks, provisions such as biscuits, dried beef, codfish, dried peas, cheese, wine and beer. The crew included, along with sailors, cook, carpenter, blacksmith, surgeon, shoemaker, tailor. And a small orchestra.
Drake departed from Plymouth on Dec. 13, 1577.
From England Drake sailed south to Morocco, crossed the Atlantic to Brazil, sailed down coast of South America, through the Strait of Magellan, and into the Pacific Ocean.
Now Spanish waters, Drake set his sights on the treasure galleon, Cacafuego, on its way to Panama.
Off the coast of Peru, Drake captured the ship and and transferred the Cacafuego treasure – tons of gold, silver, jewels – to the Golden Hinde. Drake let the Spanish captain and crew go, then sailed up to Costa Rica.
Drake continued north up the coast of North America, pursued by the Spanish who hoped to retrieve their treasure. But, they didn't catch El Draque, "the Dragon."
At some point Drake spent a month on the coast of California or the Pacific Northwest preparing his ship for the long voyage across the Pacific Ocean.
In the next report, the Golden Hinde was spotted in the Moluccas (Indonesia) in November 1579. Drake stopped at the Spice Islands, where the sultan supplied him with a cargo of cloves, and other valuable spices.
Drake sailed the Golden Hinde through the Indian Ocean, around the tip of Africa, arriving in Plymouth on Sept. 26, 1580.
Queen Elizabeth I met with Drake, and spent hours hearing about his adventures. She received a big chunk of treasure, Drake and his men were also richly rewarded. On April 4, 1581, the Queen came on board the Golden Hinde docked in London, and knighted Drake – now Sir Francis Drake.
Details of Drake's momentous voyage were kept secret, his captain's log books disappeared, never to be found.
For more about Sir Francis Drake, also visit the following destinations:
Victoria and Albert Museum, London
While in London, stop into the Victoria and Albert Museum to see the famous Drake Jewel (also called the Armada Jewel).
Queen Elizabeth I gave this jewel to Drake, a double cameo, decorated with a large pearl and semi-precious stones. Inside the jewel is a miniature portrait of Elizabeth, and her emblem, the phoenix. In a 1591 portrait, Sir Francis Drake wears the jewel on a belt around his waist.
Tip: Find the Drake Jewel in the "Britain 1500 – 1760" gallery at the museum.
Plymouth, England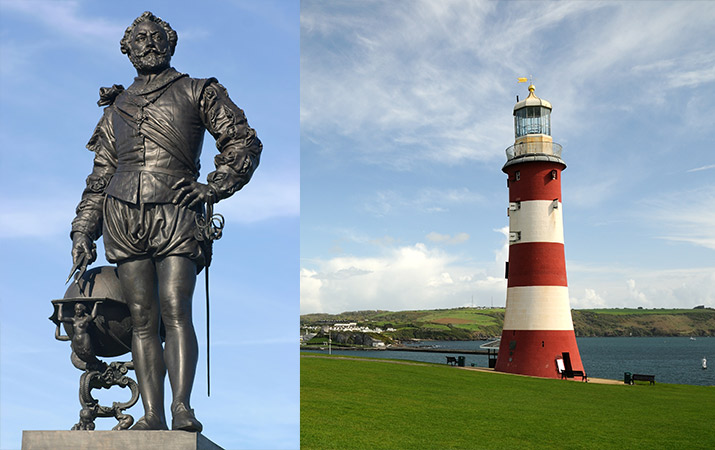 In 1577 Sir Francis Drake set sail on his historic voyage from Plymouth, and returned almost three years later, his ship intact and loaded with treasure.
At Plymouth Hoe is a red and white striped lighthouse, plenty of grass to run around, and a statue of Drake, commemorating his journey around the world.
Tip: According to legend, in 1588 Drake played bowls on Plymouth Hoe when news of the approaching Spanish Armada arrived. Drake and his buddies continued playing their game.
Drakes Bay, Point Reyes National Seashore, California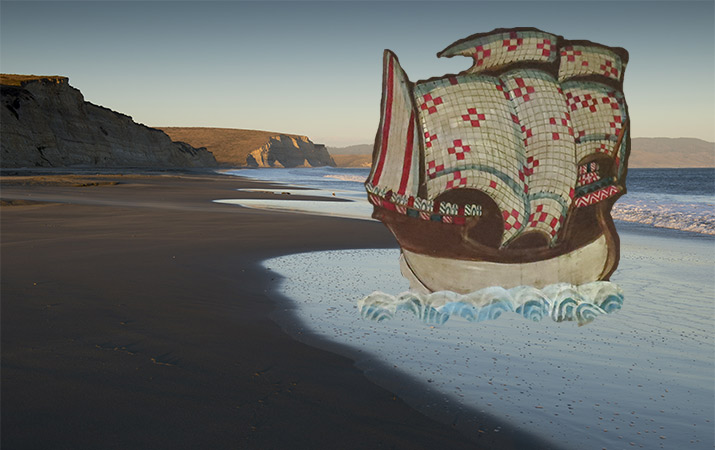 In 1579, from New Spain (Mexico) Drake sailed north, perhaps up to British Columbia, in search of a northwest passage across North America.
In July, he returned south, found a sheltered bay, which he named "Nova Albion" (New England). Drake needed to bring the Golden Hinde onshore, to scrape off the barnacles and seaweed, and prepare for the trip across the Pacific Ocean.
Journal entries by Drake's crew describe Nova Albion with white cliffs and a long spit around the bay. It's a strong possibility that Nova Albion is Drakes Bay at Point Reyes National Seashore in northern California.
Whenever we visit Point Reyes, flying kites at Drakes Beach or walking down Limantour Spit, we imagine there's a 16th century wooden ship on the far horizon, sailing to Asia.