In summer, the Pacific Northwest beckons – it's time to explore Washington's Olympic Peninsula with kids.
Our favorite place to stay is Sequim (pronounced "skwim").
Sequim is near the entrance of Olympic National Park – snow-covered peaks, meadows and mountain goats, sparkling lakes, and mossy rain forests. In and around Sequim, there are miles of beach, bike trails, U-pick berry farms, supermarkets and organic vegetable stands, vacation rentals. Everything you need for a wonderful family vacation.
Tip: The Pacific Northwest can be rainy, even in summer. Sequim is in the rain shadow – when it's raining on the Hood Canal, it's sunny in Sequim.
Fun things to do with kids in Sequim:
Dungeness Spit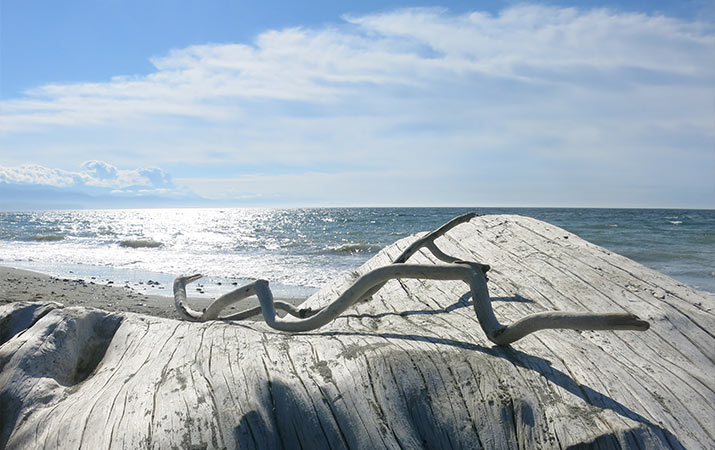 In the Dungeness National Wildlife Refuge, walk through forests to Dungeness Spit, a long narrow beach extending for miles into the Strait of Juan de Fuca.
On the long sandy beach, kids can play for hours, building forts in the bleached driftwood, piling up smooth stones, looking for treasures from the sea washed up on the beach. Teens can stretch their legs hiking to the lighthouse at the end of the spit (five miles).
Wildlife – In the forest, you'll see squirrels and deer resting in the shade, down on the beach, shore birds run around in the sand, look for harbor seals in the waves, turkey vultures or majestic bald eagles, soaring in the air.
Dungeness River Audubon Center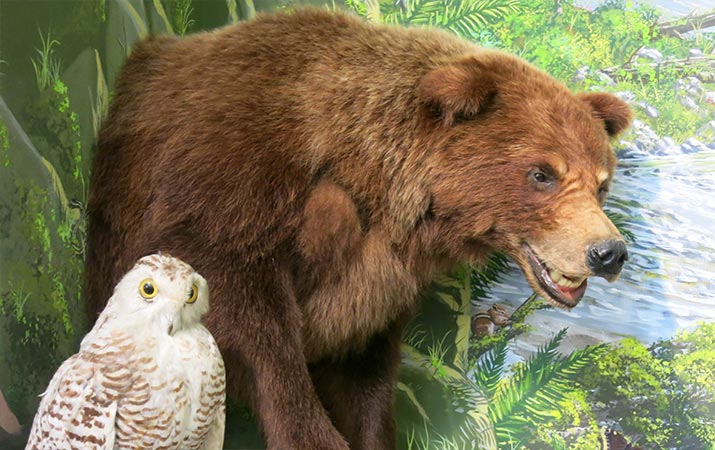 Located in Railroad Bridge Park, the Dungeness River Audubon Center has an excellent exhibit of Olympic Peninsula wildlife (taxidermy animals). We discovered the diversity of many different birds, such as bald eagles, owls, and tufted puffins, along with the Olympic marmot (unique to this area), river otters, black bears and beavers.
On the ceiling, look up to see a spotted owl, about to pounce on a flying squirrel. Flying squirrels live in old-growth forests, and spotted owls hunt for them.
Bike Trail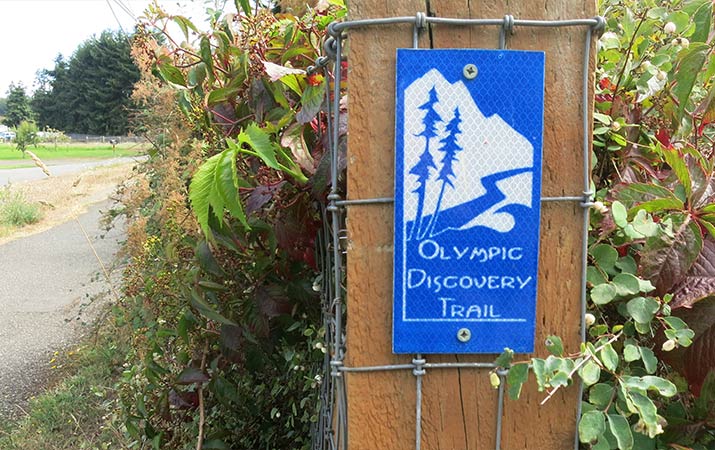 The Olympic Discovery Trail goes from Sequim all the way to Port Angeles.
We started our bike ride at Railroad Bridge Park, biked over the Dungeness River bridge, past Sequim Valley Airport (watch small planes taking off and landing), through farms and fields with summer wildflowers, stopping for picnic lunch at Robin Hill County Park.
Tip: We rented bikes at Ben's Bikes, convenient to the bike trail.
Carrie Blake Park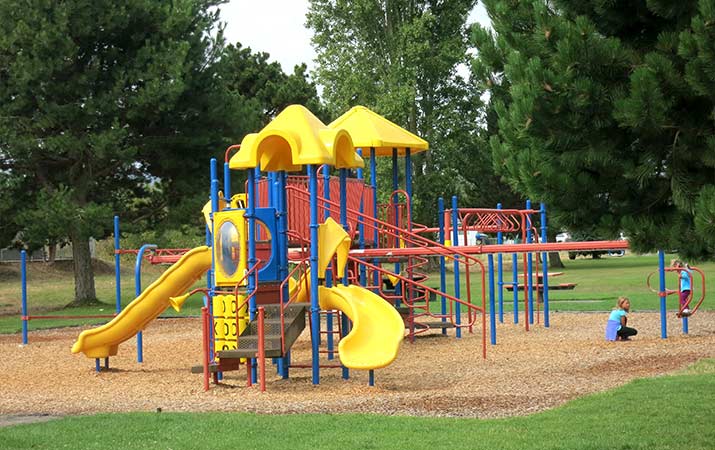 This city park has a large playground, with climbing structures, slides, swings, covered picnic tables, grass to run around, and charming Japanese garden with ducks in the pond. A perfect spot for toddlers.
U-Pick Berry Farms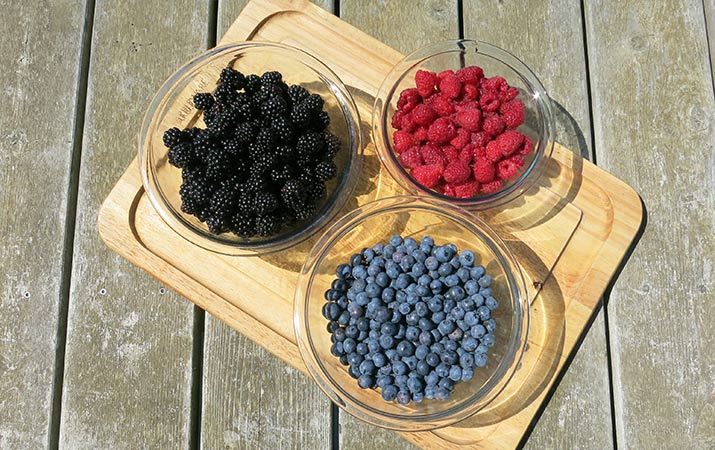 One morning we went over to Graymarsh Farm, to pick raspberries, blackberries and blueberries. Back at our vacation rental, we baked a lovely berry crumble, topped with vanilla ice cream.
Along with Graymarsh Farm are two other u-pick farms – Cameron Berry Farm and Dungeness Meadow Farm. June and July, berries to pick are strawberries and loganberries, in August blackberries, raspberries, blueberries are ripe.
Rent a house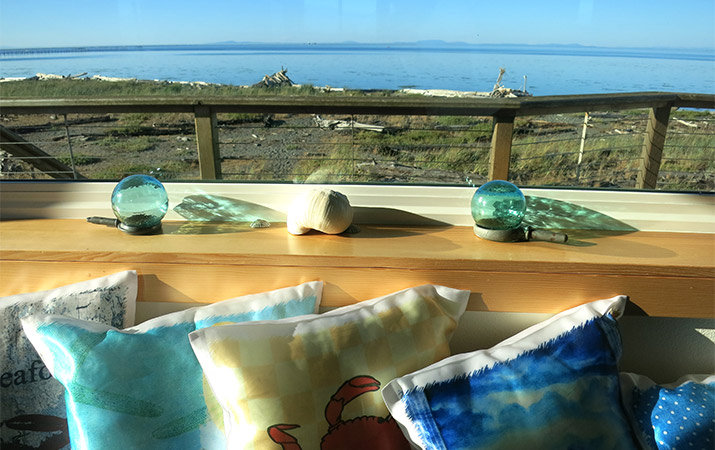 We rented a house right on the beach at Dungeness Bay. Every morning, we could get up and sit with our breakfast, overlooking the Strait of Juan de Fuca, and in the evening, after a long summer day, watch the sun set over the water.
You can rent this same house on our list of Sequim family vacation rentals. Also check out our list of Family hotels on the Olympic Peninsula.
Sequim has supermarkets, fresh seafood at Sunny Farms Country Store, coffee and tea shops, farm stands with fruits, vegetables, eggs, farmers market May to October in downtown Sequim.
Editor's note: When I was very young, our family drove from San Diego to Washington, and camped throughout Olympic National Park. I had never seen lush, drippy, mossy, fern-filled rain forests, very different from the dry Mediterranean climate where we lived.
And crabs. We had dinner one night in a rustic diner on Dungeness Bay. My mother, very fond of Dungeness crab, ordered fresh cooked crab, my brothers and I ordered hamburgers. During dinner, she shared tastes of fresh-cooked crab; I was so taken with it, to this day, Dungeness crab is one of my favorite foods!