This summer, San Francisco offers a variety of fun things to do with kids, all free.
Listen to world music, watch circus, theater and dance performances, walk across the Golden Gate Bridge, explore two museums about ships and the Gold Rush, take a walk on Lands End Coastal Trail.
Yerba Buena Gardens Festival
Outdoors in Yerba Buena Gardens, the Festival presents music, dance, theater, and children's programs.
Programs for kids include circus acts with juggling and clown acts, rhythms and music, Chinese acrobatics (photo above is the Red Panda Acrobats).
All performances are in the Children's Garden, near the Children's Creativity Museum and carousel.
Check out the schedule.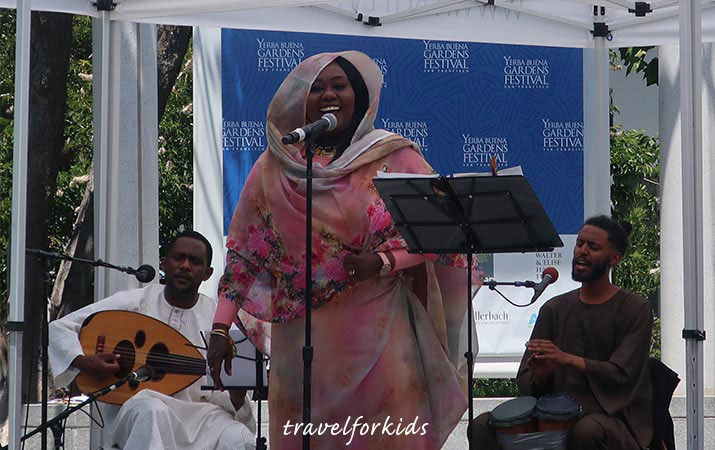 The Festival also brings musicians from all over the world to share their music and culture. One summer we listened to "Tunes of Sudan" while sitting on the grass, eating our picnic lunch.
After the first song, one musician made a few comments, noting government of Sudan is in crisis, but coming here, playing the music of their country, is "another Sudan."
Music rises above politics and country boundaries.
Here's the music calendar.
San Francisco Maritime National Historical Park Visitor Center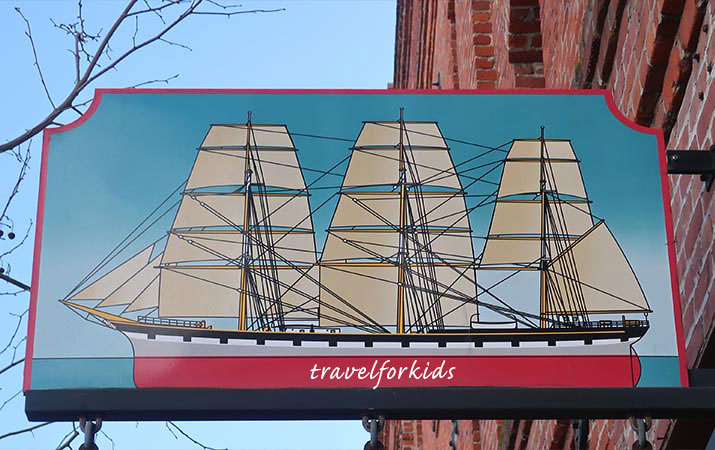 On Fisherman's Wharf, the San Francisco Maritime National Historical Park celebrates the maritime history of this "city of ships."
And what a history it is – from native Americans living around San Francisco Bay, to the arrival of sailing ships, Gold Rush clipper ships, whaling boats, Italian fishing boats and great steamships.
Tip: The Maritime NHP has two areas – the Visitor Center on Jefferson St., and across the street, Hyde Street Pier. The Visitor Center is free, Hyde Street Pier, where you can go aboard historic ships, has an entrance fee.
In the Visitor Center, check out the actual wreck of a full-size sailing boat that washed up on the rock, map of shipwrecks outside the Golden Gate, ships models, and lens from Farallon Island lighthouse (and stories of families who lived on the windswept island).
"A Walk Along the Waterfront" re-creates scenes of historic San Francisco, Ohlone Native Americans who built tule boats for fishing and hunting, to Fisherman's Wharf with Italian fisherman, Gold Rush ships carrying people and cargo from all over the globe, immigrants arriving by ship, great steamships and shipbuilding in San Francisco.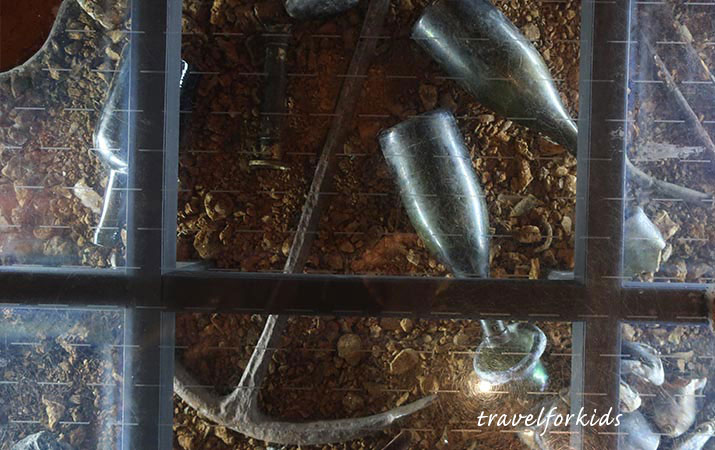 One of our favorite exhibits is buried artifacts from a Gold Rush ship, the General Harrison. After arrival in San Francisco, some abandoned or burned ships were buried in the bay. Archaeologists excavated this ship, under the museum floor, see a boot and shoe, bottles, anchor, tools.
In the Visitor Center is also a room with puzzles and books for kids. This museum is a hidden gem, well worth a visit, not just on a bad weather day.
Walk across the Golden Gate Bridge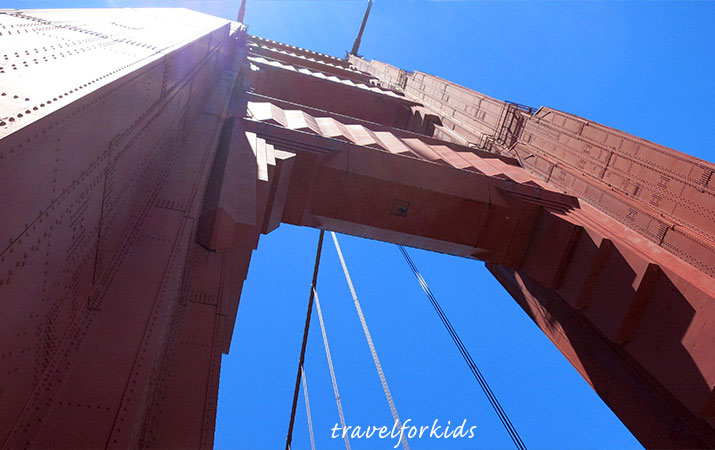 Kids will never forget walking across the Golden Gate Bridge.
The view from the bridge is spectacular – Pacific Ocean to the west, city skyline looking south, bay to the east, headlands of Marin County to the north. And boats, boats, boats, on the bay – sail boats, bay cruises, container ships.
At the south entrance to the Golden Gate Bridge, on the east side is a wide pedestrian walkway, okay for strollers.
Visit the outdoor Bridge Pavilion to see exhibits about construction of the bridge. Round House Cafe has hot drinks (coffee and hot chocolate is nice in foggy weather), cold drinks and sandwiches.
Car parking is very limited at the Bridge, so best option is rideshare (Uber, Lyft) or public transportation. Take Muni bus #28 from Van Ness and North Point St. at Fisherman's Wharf. At the Golden Gate Bridge, return on the same 28 bus, inbound Van Ness direction.
Tip: In summer, weather can be foggy, walking on the bridge is often windy, bring jackets.
Wells Fargo Museum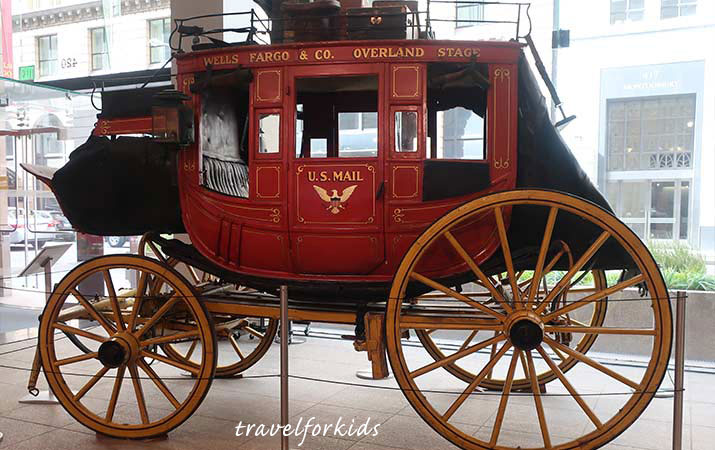 During the Gold Rush, Wells Fargo bank also operated stagecoaches that transported gold from gold fields in the mountains to San Francisco.
In the museum, check out this hundred year old stagecoach, bowls of gold flakes, gold coins from the San Francisco mint, gold scales, and strong boxes. Take the reins to drive a stagecoach (start, stop, how to turn), feel like a passenger on an overland route in a simulated bumpy stagecoach ride, write your ticket, pack your suitcase, or try sending messages in Morse code on a telegraph key.
Museum is open Monday to Friday, 10am to 5pm, 420 Montgomery St. in the Embarcadero neighborhood.
Lands End Coastal Trail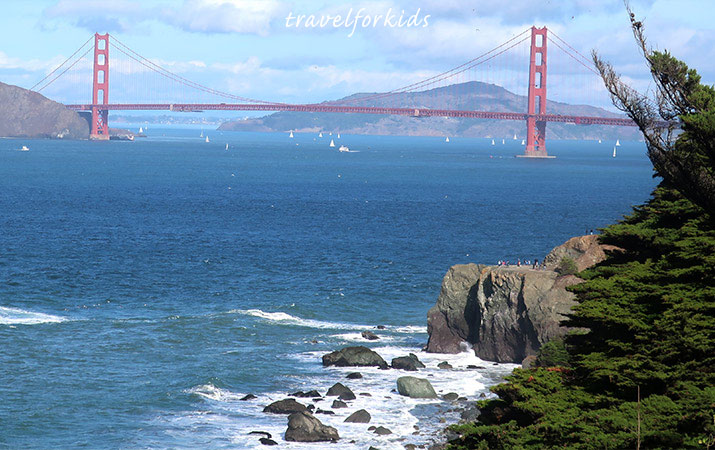 At the end of Golden Gate Park is Lands End, a stretch of scenic coastline with spectacular ocean views.
One of the most beautiful hikes in San Francisco starts at Cliff House and goes around Lands End to Eagles Point Overlook.
Trail starts at the Lands End parking lot, it's about one mile to Eagles Point. Kids of any age can start down the Coastal Trail, first half of the trail is wide and level (okay for strollers). Walk as far as you like, views keep changing.
Here's the Lands End hike map.
After your hike, stop into Lands End Lookout for snacks, drinks, books and San Francisco souvenirs.
Tip: It's easy to get to Lands End using public transportation, take #38 bus from Union Square, Geary St.