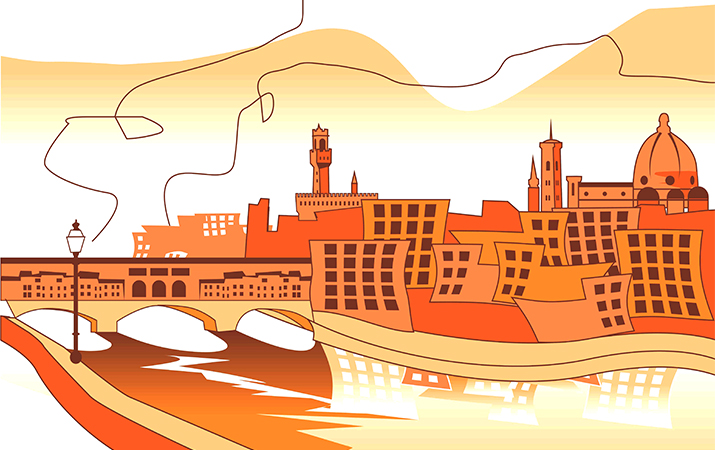 Tips for Florence from our most recent trip – visiting the museums and monuments (changeable hours, advance bookings, combination tickets), fun food, laundromats, fun places to stay, symbols of Florence.
Museums –

Hours for museums are changeable. In the Piazza del Duomo, stop into the tourist office in the Bigallo (across from the Baptistery) to pick up a sheet with current museum opening times. Also, museums or monuments can be closed for all day for an event.

Advance bookings – For the Uffizi (Galleria degli Uffizi) and Accademia (Galleria dell'Accademia), book your timed tickets in advance. Try to get first entry of the morning, when it's less crowded. Also recommended, timed entry to the Bell Tower and Museo dell'Opera del Duomo in crowded summer season.

Combination ticket – "Il Grande Museo del Duomo" is a combination ticket at the Piazza del Duomo – Baptistery, Bell Tower, Santa Reparta, climb the dome, Museo dell'Opera del Duomo. Visiting the Cathedral is free, but a reserved timed entry is required to go up the Cathedral dome. The ticket is good for one entry to each site, good for 48 hours.

Palazzo Vecchio – There are three separate tickets – one for the Museo (includes all the ducal apartments), Tower and Battlements, and the Roman Archaeological site. Tower is for kids 6 and up, Archaeological site for kids 8 and up.

To climb up the tower, go first thing in the morning, or later in afternoon, after 2pm to avoid long lines. Basically a line forms on the stairs to climb up to the battlements – they only let more people climb up, when people come back down. The tower has longest wait time on weekends.

Uffizi – No food, bottles or cans inside the museum (there is a cafe), and don't touch the artwork or sculptures. Strollers are okay.

Photos – For all the Florence museums we visited, photos were fine, but no selfie sticks.

Don't overdo the museums – It seems Florence has more museums per square centimeter than any other city, but don't overdo it. After visiting museums in the morning, spend the afternoon running around the Boboli Gardens, strolling up to Miniato al Monte, walking along the Arno River.

Fun Food –

Gelato is everywhere in rainbow colors, even in winter. Don't worry about finding a special place, try them all (it's another way to get calcium …)

Florence has lovely pastry and sweet shops. One of our favorites is Cafe Gilli (Piazza Repubblica). Try fruit jellies with honey, orange, apple, strawberry, all kinds of chocolates, "brutti ma buoni" (ugly but good), amaretti cookies, candied chestnuts, almond tarts, apricot crostata.

Mercato Centrale is a noisy, busy market. On on the ground floor, pick up picnic supplies of cheese, breads, fruits, pastries, cookies. Go upstairs for a delicious lunch – fresh pasta, sandwiches, wood-fired pizza, vegetarian options, ice cream. Mercato Centrale is closed on Sunday.

Laundromats –

Self-service laundromats are all over the center of Florence, and very easy to use (instructions are in English). We like to use Wash and Dry Lavarapido.

Fun places to stay –

So many fun things to do in Florence, you'll need a place to stay. Check out Travel for Kids hand-picked list of Florence family hotels. Hotels are selected for their amenities for families, such as supermarkets, restaurants, ice cream, fruit stand, laundromat in the neighborhood, rooms that sleep 4 people or more, outdoor swimming pools, breakfast included in the room rate, babysitting services, mini-fridges in rooms, and located close to all the sites to see.

Apartment rentals in Florence has lots of advantages for families – a kitchen and refrigerator, so you don't need to eat all your meals in restaurants, room to spread out all your stuff (kids can have a room of their own), and cost savings for larger families, especially in high season. Our apartment rentals are selected for their amenities, such as dining table that seat four or more, washer and dryer, proximity to bakeries and supermarkets, and more.

Jet lag early in the morning –

Kids are up early, go to the Mercato Nuovo to watch the vendors set up their stalls, carts are wheeled in like a gypsy caravan.

Symbols of Florence –

All around the city, look for the red lily and lion symbols of Florence everywhere – on flags, in museums, Piazza della Signoria, recycling bins, souvenirs etc. Also, look for the Medici coat of arms – six balls (sometimes 7 or 8) on a shield – in the Palazzo Vecchio, Pitti Palace, Medici Chapels, Basilica San Lorenzo.