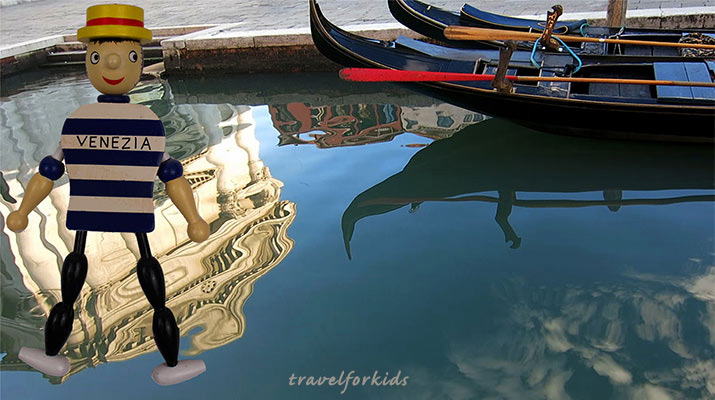 The historic city center of Venice is pedestrian only. No cars, no big trucks, no bicycles.
The best way to get around the city center – which is quite compact – and also always fascinating, is to walk.
Here's tips for arrival from the airport and train station, day tickets for waterbuses, disadvantages of strollers, exploring the city but avoid getting lost, self-service laundromat, best family hotels and apartment rentals.
Arrival –

Flying into Venice Marco Polo airport, there are three ways to get into the city center. The least expensive is to take the ATVO Venezia Express bus, which arrives at Piazzale Roma, takes about 20 min.

Two other options from the airport by water are the Alilaguna airport boat, or a water taxi (most expensive). The orange Alilaguna boat has stops on the Grand Canal at San Stae, Rialto, San Angelo, Ca'Rezzonico and San Marco.

Arrival by train (Venezia Santa Lucia) is at the train station (ferrovia) on the Grand Canal. The boat landing for the vaporetto is right in front of the train station.

Taking the waterbuses (vaporetto) –

It's fun to take a boat ride, but it's not a necessity for getting around the city center. For tourists, single ticket vaporetto single rides are expensive.

CityPass Venezia Unica card, with choices of 1,2, 3 or 7 days, unlimited rides is a good option.

More information here: Venezia Unica. A one day pass is called "ACTV Venezia Daily Pass," or choose "2 Day Transport," "3 Day Transport," "7 Day Transport."

Buy Venezia Unica cards at ticket machines in front of waterbus stops.

Use Venezia Unica card for rides out to the islands of Murano, Burano and Torcello, and the Lido. Also, it's fun to take a loop trip – from Pizzale Roma, Line 1 down the Grand Canal to Piazza San Marco, then take Line 2 that goes around Guidecca Canal, back to Piazzale Roma.

For route maps and fares: ACTV

Strollers in Venice –

Venice is not a stroller-friendly city. There are hundreds of bridges over the canals in Venice, steps up and down each side. A child in a stroller will involve a significant amount of lugging the stroller up and then going down, over each bridge.

On waterbuses, the difference in height between the deck and boat landing usually requires lifting the stroller in and out, which isn't optimal in the crush of people getting off, people waiting to get on.

Also, some passageways between buildings are so narrow, it's only wide enough for one person single file (but perfect for toddlers to run through).

Timed ticket entry for St. Mark's Basilica –

St. Mark's Basilica is free, but reserving a ticket in advance is essential!

Check for latest information: Booking Basilica San Marco.

For more tips about St. Mark's, read our post "Visiting St. Mark's Basilica".

Go exploring –

With a labyrinth of canals and passageways, walking around it's easy to get turned around in Venice. A tourist map provided by your hotel outlines the most direct routes – from Piazza San Marco to Rialto Bridge, through San Polo to Piazzale Roma, or over to the Accademia Gallery and through Dorsoduro, or around Cannaregio.

On these established routes, just follow street signs that say "Per Rialto" or "Per S. Marco" "Per Accademia," with an arrow showing the direction to follow. Piazzale Roma is often abbreviated P.le Roma, S. Marco is Piazza San Marco, Ferrovia is the train station. Kids will find navigating around Venice is like a treasure hunt to find your destination.

Also, take time to get away from these established (most crowded) pedestrian routes through the city center. Walk down a small canal, take a few turns, even in high season, there are peaceful streets (e.g. in the neighborhood around the Museum of Natural History). Or you may find yourself in an big wide square – two of our favorites are Campo San Polo and Campo Santa Margherita. Find a cafe, sit down, kids can run around in the open space, relax.

Laundromat –

This is our favorite laundromate in Venice, Lavanderia Self Service, open every day. Washing machines and dryers were easy to use, detergent available, instructions in English, German, Spanish and French.

Address is Santa Croce, 665 A/B.

Best family hotels & apartment rentals –

On Travel for Kids, we have plenty of fun things to do with kids in Venice, and you'll need a fun place to stay.

Check out Travel for Kids hand picked list of Venice family hotels.

Hotels are selected for their amenities for families, such as restaurants, markets, gelato, laundromat in the neighborhood, breakfast is included in the room rate, babysitting services, proximity to waterbus stops and more.

Also Venice family apartment rentals have lots of advantages for families – a kitchen so you don't need to eat all your meals in restaurants (for breakfast, just hop out to a nearby cafe to pick up croissant (brioche) and other pastries), room to spread out, cost savings for larger families.

Apartment rentals are selected for their amenities such as such as apartments that sleep 4 – 8, washer and dryer, proximity to bakeries and markets, and more.