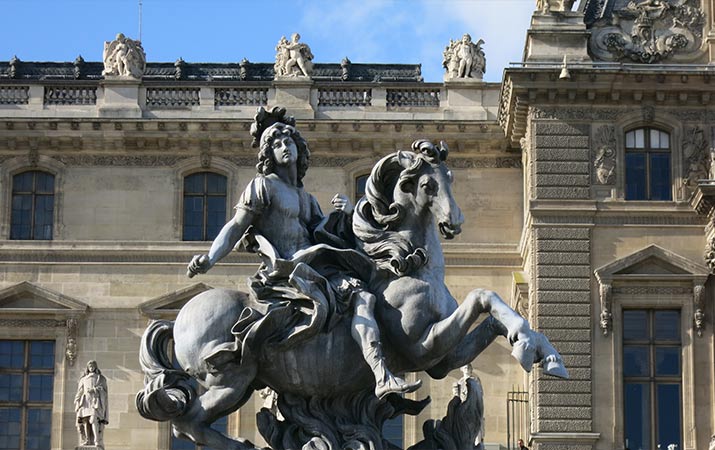 The Musee du Louvre in Paris is a grand and glorious museum, but it also can be a challenge.
The Louvre sprawls through three wings (Denon, Sully, Richelieu), filled with the most amazing paintings, sculptures, artworks from all over the world – it's easy to get lost in the maze of galleries. European paintings are lumped together in the Grand Galerie. Ancient Egypt is on two floors of Sully wing – mummies and big sculptures on Ground Floor, Old Kingdom artifacts on 1st floor. Find French paintings in Denon 1st floor wing, more French paintings are on 2nd floor Richelieu wing. And it's a hike between these two wings.
On the plus side, unlike most museums, with your ticket you can go in and out of the Louvre all day. Start in the morning, then at lunchtime, take a break. Exit the museum, go out in the Carrousel du Louvre shopping and food area. If the weather is nice, grab a sandwich, desserts, cold drinks at Paul sandwich and patisserie, go up to the Tuileries for lunch and kids can run around. Refreshed, come back to explore the Louvre some more.
Here's our tips from our most recent visit to the Louvre with kids, and fun for everyone in the family.
Tickets –
From our Paris visit this month, at the Pyramid entrance are three lines: Paris Pass or Museum Pass ticket holders, e-ticket timed entry, no tickets. All three lines feed into the security checkpoint.
Buying a Paris Pass or timed tickets online has two advantages – the main pyramid entrance line for security is shorter, and you skip lines to buy tickets in the Napoleon Hall.
To go through security, put your stuff through the scanning machine (no big backpacks), walk through the metal detector, then go down into the Napoleon Hall underneath the pyramid.
Napoleon Hall –
In the center is a large information desk – pick up the map of the Louvre in multiple languages. Maps are color coded to indicate different collections – Egyptian Antiquities, Paintings etc. Also, pick up a print copy of kids guide through the museum. Audio guides are also available.
Make use of the free lockers – put in all the stuff you won't need in the museum, coats, umbrellas, etc.
If you don't have tickets, get in line for the ticket kiosk.
This area also has the Louvre boutique and bookstore (including large children's section), and access to the Carrousel du Louvre shopping, cafes and restaurants.
Now is the moment of decision – where to start. The map below is just one floor – the museum has four floors (way too many rooms to see in one visit).
Each wing of the Louvre, Denon, Sully and Richelieu, has a separate ticket entrance (though once inside you can roam around the whole museum). Present your tickets, and you're on your way.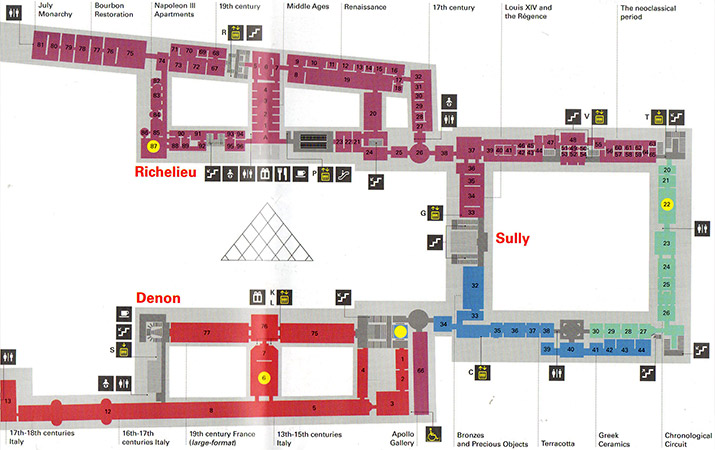 Tips for enjoying the Louvre –
The Louvre is a big crowded, noisy place (which is actually a plus with children, as there isn't a "cone of silence" sometimes expected in art museums). Kids can stand up close to many ancient sculptures, but don't touch.
Photos, no flash, are okay. And please remember to be considerate of others – don't charge in front of people also trying to see the same artwork.
Strollers – The Louvre has elevators, but this is not a fabulous museum for strollers. It's crowded, there are many stairs, varying levels, some areas are very narrow, e.g. Egyptian mummies and crypt of the sphinx.
Labels for most artworks are in French. Familiar works, such as the Mona Lisa are labeled "La Joconde" or the Napoleon coronation painting by David is "Sacre de l'empereur Napoleon 1er et couronnement de l'imperatrice Josephine dans le cathedrale Notre-Dame de Paris le 2 decembre 1804." C'est la vie.
Ask directions – If you get lost trying to find a gallery, ask the museum guards – we found them multi-lingual and helpful.
Ticket is good all day – Don't forget, with your ticket you can go in and out of the museum during the day. When kids are ready for a break, go out for a snack, or outdoors to the Tuileries.
The Louvre is open 9am to 6pm, closed on Tuesday, and holidays May 1, Dec. 25, Jan.1.
What to see –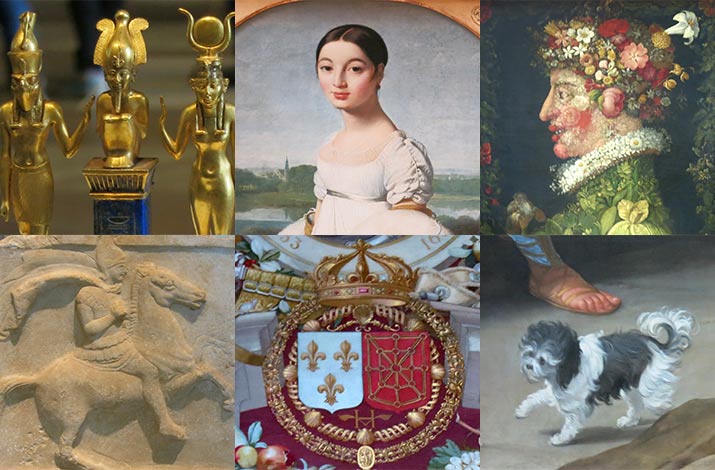 Choose what to see at the Louvre, based on kids' age and interests. Younger kids can easily relate to animals – Egyptian cats and lions, Italian paintings with puppies, lambs, children and babies, Assyrian winged bulls. With older kids who have more historical context, look for monumental paintings such as Napoleon's coronation and battle scenes. For kids who like jewelry, visit the galleries with French crown jewels, Egyptian amulets, necklaces, or Etruscan earrings.
The Ancient Egypt collection is memorable, and its first curator was Champollion, who deciphered the Rosetta Stone.
For an idea of what's in the museum and what kids might want to see, check out highlights of Louvre collections online: Paintings, Egyptian Antiquities, Greek, Etruscan and Roman Antiquities, Sculpture, Near Eastern Antiquities, Islamic Art, Decorative Arts.
Note down the room location of specific artworks, so you can easily find them when you visit.
Tip: It's easy to find the Mona Lisa and Winged Victory – in the Denon wing, just follow the crowds of people going up the stairs to the 1st floor, Winged Victory is on the stairs, then onto the Grand Galerie, Room 6, for the Mona Lisa.
Here's just a few of our favorite artworks.
On the way to the Grand Galerie, 1st floor Denon Wing, in Rooms 1 and 2, stop to see two lovely frescoes by Botticelli: Venus and the Three Graces Offerings Gifts to a Young Girl and Youth Being Presented to the Seven Liberal Arts.
In the Grand Galerie, Room 5, don't miss more exquisite paintings by Leonardo da Vinci – The Virgin and Child with Saint Anne, and Portrait of a Woman (La Belle Ferrionniere).
Raphael is noted for his angelic paintings of Mary and baby Jesus, but this is a very dramatic St. George slaying the dragon, also in the Grand Galerie, Room 5.
The four seasons – with faces of fruits, vegetables and flowers – by Italian artist Arcimboldo. Here's two of the paintings, Summer and Autumn. Grand Galerie, Room 8.
Monumental coronation ceremony painting by Jacques-Louis David, Emperor Napoleon crowns his wife Empress Josephine in Notre Dame cathedral, Dec. 2, 1804. Denon wing, 1st floor, Room 75.
Joan of Arc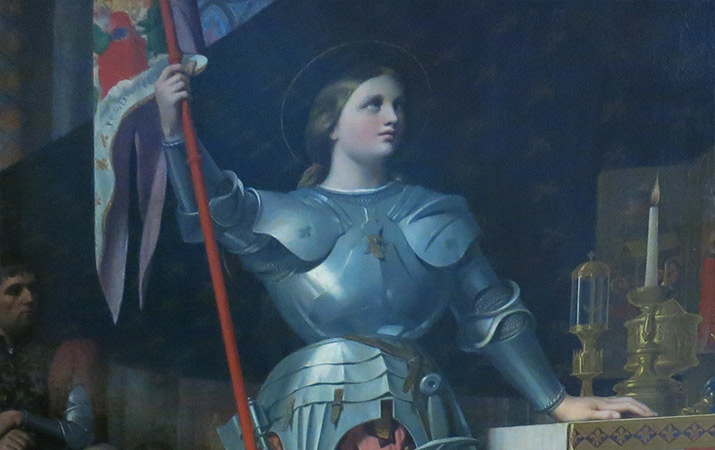 Painted by Ingres in the 19th century, Joan of Arc stands victoriously in Reims cathedral for the coronation of Charles VII as king of France. Denon wing 1st floor, Room 77.
Ancient Egypt sculpture of a sphinx, with head of a king, body of a lion. Sully wing, Lower ground floor, Crypt of the Sphinx, Room 1.
Old Kingdom (c. 2700–2200 BC) statue of seated scribe, sitting cross legged and holding a papyrus. Late Period beautiful bronze statue of a cat honors the goddess Bastet. Sully wing, 1st floor – Seated scribe Room 22, Cat Room 29.
Colossal feet of Akhenaten and Ramses III Sarcophagus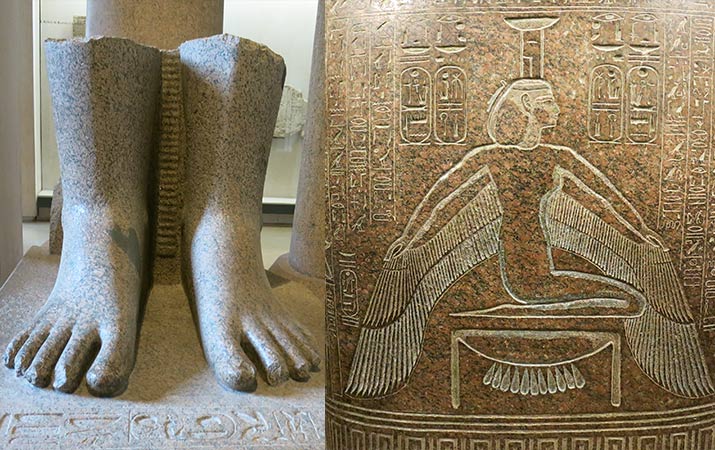 Just the feet remain of a colossal New Kingdom statue to Akhenaten (Amenophis III). Pink granite sarcophagus of Pharaoh Ramses III, with relief of the winged goddess Isis. Sully wing, Ground floor, Colossal feet Room 12, Sarcophagus Room 13.
Assyrian Lion and Hero, Winged Bull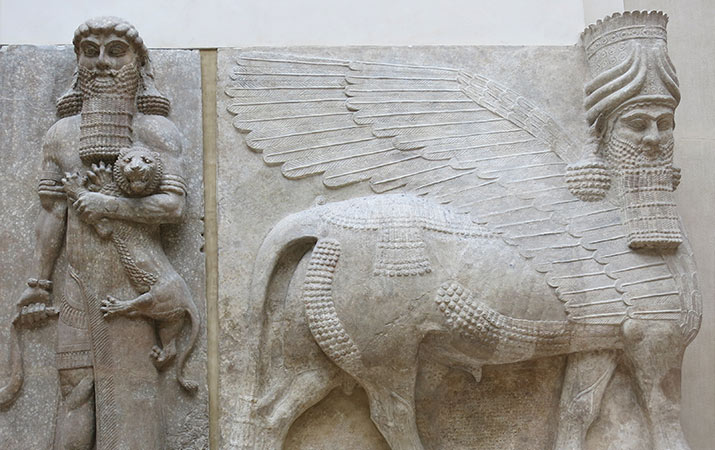 From the palace of Assyrian King Sargon II, figure of hero holding a lion and winged bull with human head. Richelieu wing, Ground floor, Mesopotamia, Room 4.
Crown of Louis XV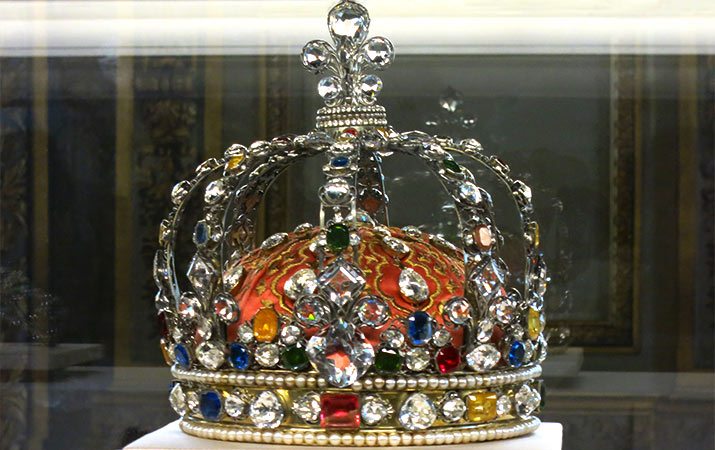 The Apollo Gallery (Galerie d'Apollon) has a sparkling collection of French crown jewels. Here's the crown of Louis XV. Denon wing, 1st floor, Room 66.
Medieval Louvre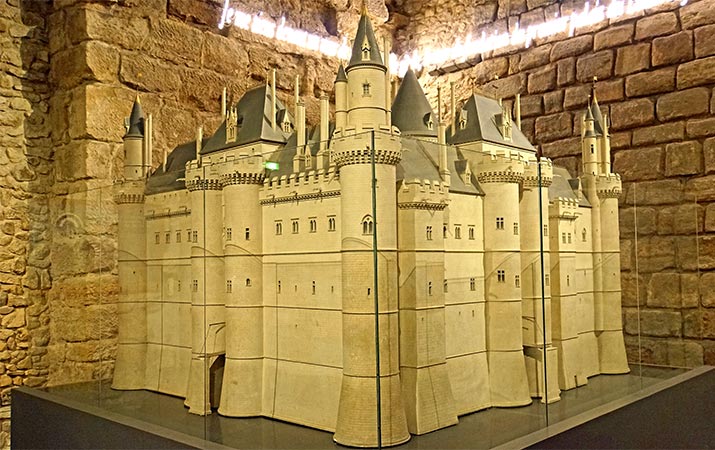 In the late 12th century, King Philippe built a fortress on the site of what is now the the Louvre Museum. Walk around the ruins of the castle keep, towers and ramparts. Sully wing, Lower ground floor (Entresol), follow signs to Medieval Louvre.