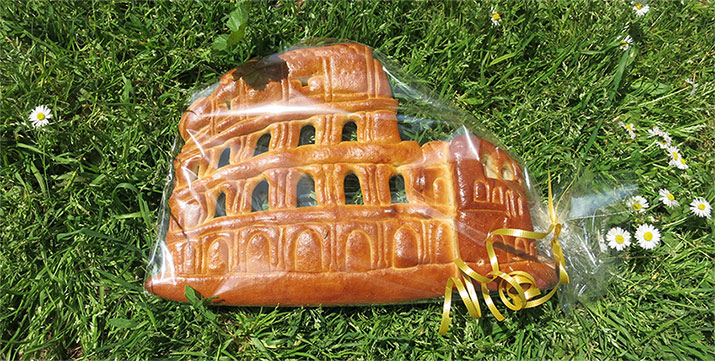 The Archaeologia Card, good for 7 days, provides entrance to 9 sites and museums – the Colosseum, Roman Forum and Palatine, Baths of Carcalla, four museums – Palazzo Massimo alle Terme, Baths of Diocletian, Crypta Balbi, and Palazzo Altemps, Tomb of Cecilia Metella & Villa dei Quintili on the Appian Way.
It's money saving, and most importantly, with the card, no waiting in lines with kids to buy tickets.
Buy the Archaeologia Card at any of nine sites included in the card, but it's best to get the card at an uncrowded museum, such as Baths of Diocletian or Palazzo Massimo alle Terme, before you tackle the Colosseum.
Millions of tourists visit Rome every year, and popular sites can be very crowded in summer. Even when you have a ticket for entrance to the Colosseum, Roman Forum, Capitoline Museum, Vatican Museums, there are security lines. And these can take time.
St. Peter's Basilica, although it's free, lines can get very very long, and last time we were in Rome, there was a cut-off time for entry. St. Peter's opens at 7am, so if your kids have jet lag and are up, go to the basilica (lots of cafes close by for coffee and pastries).
Our best advice, get an early start, and try to arrive when the site opens in the morning. Spend mornings at the most popular sites when kids are fresh, take a break, in the afternoon, visit less crowded sites and museums, and stop into gelaterias.
Site and museum closures –
Mondays – Planning your time in Rome, some museums are closed on Mondays, such as all four Roman National Museums (Palazzo Massimo alle Terme, Baths of Diocletian, Crypta Balbi, Palazzo Altemps), Baths of Caracalla, Villa Giulia National Museum (Etruscan goodies), Tomb of Cecilia Metella on the Appian Way.
Sundays – The Vatican Museums (including the Sistine Chapel) are closed on Sundays, and other days during the year. Check out the calendar.
Appian Way catacombs – St Sebastian Catacombs is closed on Sunday, St. Callixtus Catacombs is closed on Wednesday, St. Domitilla Catacombs is closed on Tuesday, and hours in the middle of the day.
Open daily – The Colosseum, Roman Forum, Capitoline Museum, Ara Pacis, Markets of Trajan are open every day (holidays may be closed, such as Dec. 25, Jan. 1).
Rome is a great walking city, but Rome also has an extensive metro, tram and bus system, and you'll want to use it. The metro is speedy, but the nearest stop may be some distance from sites you want to visit, such as St. Peter's or the Centro Storico. Buses run everywhere, but can be slow when streets are crowded late in the day.
Here's metro and bus map.
We always buy Metrebus day tickets for unlimited rides on the metro, trams and buses. ROMA 24 ticket is good for 24 hours from the time it's first validated, ROMA 72 is for 3 consecutive days. If you first use the ticket on a bus, be sure to get it stamped in the machine. In the metro, the ticket is automatically validated when you go through the gate. Buy Metrebus day tickets at any convenience store (news agent, Tabacchi).
Convenience stores (Tabacchi and news agents) –
Wandering through any neighborhood or around your hotel, look for convenience stores labeled Tabacchi, with a large T sign outside, or news agents. Here you can buy Metrebus day tickets (ROMA 24 and ROMA 72), cold drinks, bottled water, and snacks. Convenience stores are open early and late, and aren't crowded.
So many fun things to do in Rome, you'll need a place to stay. Check out Travel for Kids hand-picked list of Rome family hotels. Hotels are selected for their amenities for families, such as restaurants, markets, gelato, laundromats in the neighborhood, rooms that sleep 4 people, breakfast is included in the room rate, mini-fridges in rooms, babysitting services, playgrounds close by.
And, Rome family apartment rentals have lots of advantages for families – a kitchen and refrigerator, so you don't need to eat all your meals in restaurants, room to spread out all your stuff (kids can have a room of their own), and cost savings for larger families. Apartment rentals are selected for their amenities, such as apartments that sleep 4 – 8, washer and dryer, proximity to supermarkets and take-out pizza, short stays are available, cribs and rollaway beds can be requested.
Many of the great cathedrals of Rome are huge, with high ceilings and dazzling art, such as the Sistine Chapel frescoes, mosaics of Santa Maria Maggiore and Basilica San Clemente, papal coats of arms in Castel Sant'Angelo, stars on the baldacchino in St. John Lateran. There's also the sculptural reliefs of the Arch of Constantine and Trajan's Column. Bring along a small pair of binoculars, so you can see of the glorious details.
Strolling on Via Merulana, we stopped into a pasticceria which had Rome monuments in bread – Colosseum, St. Peter's, Bocca della Verita and Pantheon. There's nothing like eating Rome! The bakery is Panella "L'arte del Pane," Via Merulana 54.