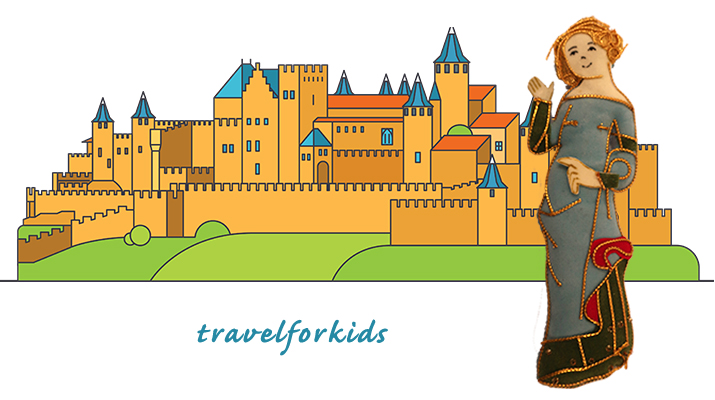 Carcassonne in southern France is a spectacular castle, enclosed in a double-walled medieval city!
Carcassonne began as Carcaso, a Roman town on ancient trade routes. Roman walls were expanded by Visigoths, feudal lords and kings and French kings added later walls in the Middle Ages.
Unlike some castles which are crumbly, in the 19th century Carcassonne was recognized as a historic monument, and the City restored.
Here's tips for exploring one of our favorite castles in Europe.
The City (Cite)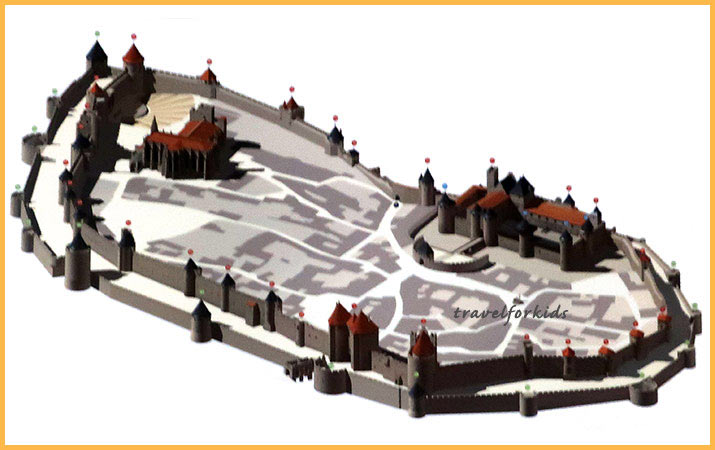 The City (Cite) is two rows of high walls, towers and gates, surrounding the castle (Chateau Comtal), Gothic church Saint Nazaire Basilica, and medieval town.
Plan to spend at least two days just exploring the City.
Kids will want time to investigate maze of rooms, ramparts, passageways, gates and towers, peer into corners, hide behind stone walls, charge through the dry moat with toys swords.
It's free to walk around the outer walls of the City, through the streets inside, and Saint Nazaire Basilica.
To visit the castle (Chateau Comtal) and walk on West and North Ramparts, you'll need day tickets.
Buy tickets online, kids under 18 are free: Château et remparts de la cité de Carcassonne
Tip: When the ticket is activated, you can go in and out on that day. Don't try to see everything in one go, take a break, then come back to explore more.
Walking the ramparts are lots of stairs, all are fenced, but do keep an eye on younger kids. West Ramparts have especially steep stairs, not navigable with a stroller.
In summer are events, knights tournaments and falconry demonstrations, fireworks on July 14. Check the ticket website for list of events.
Chateau Comtal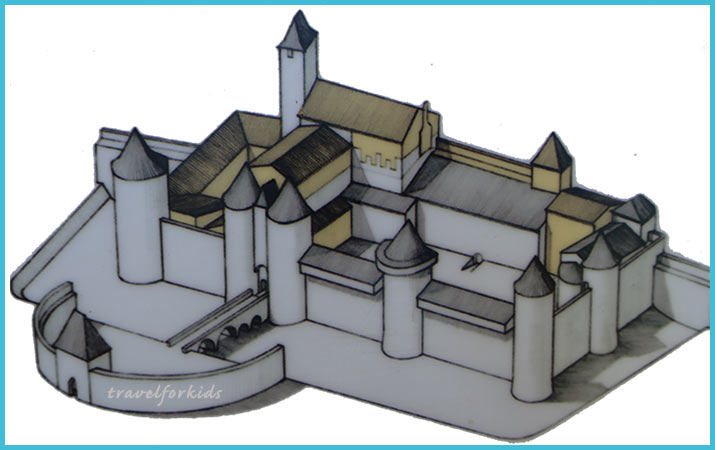 Count of Carcassonne, his family, and knights lived within the fortified castle, Chateau Comtal.
The castle is surrounded by high walls, watch towers, walled gatehouses (barbican) and bridge over the dry moat.
Inside the walls, feudal family lived in tall tower keep (donjon), there was also a chapel, barracks for the knights, arsenal for weapons kitchen, bakery, forge, cellars, concealed wells.
Today explore the many rooms (not furnished), look down over the high walls into the surrounding countryside, step into watchtowers, pick up souvenirs in the bookstore, watch a short video about the history of Carcassonne.
The Chateau museum has a collection of ancient and medieval stone artifacts, including Roman-era heads, medieval knight wearing armor, heads of men and women, angels and demons that decorated Saint Nazaire Basilica, statues of Virgin Mary holding the baby Jesus, stone balls for catapults, a fountain with lions heads.
Saint Nazaire Basilica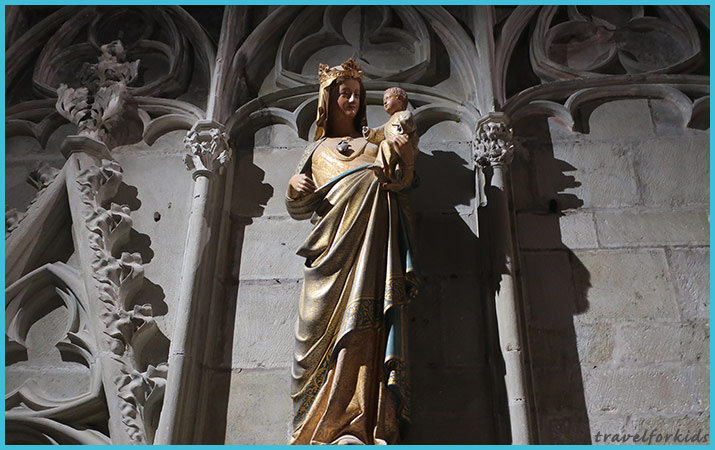 Saint Nazaire Basilica, founded in the 11th century, is a beautiful Gothic church.
In the interior are 22 figures of Mary, Christ, the Apostles saints and angels carved in the columns, a beautiful painted statue of Mary and the baby Jesus, tombs of medieval bishops, and glowing 13 century stained glass windows.
Tip: Bring binoculars to see details the stained glass windows and gargoyles high up on the outside of the church.
Narbonne Gate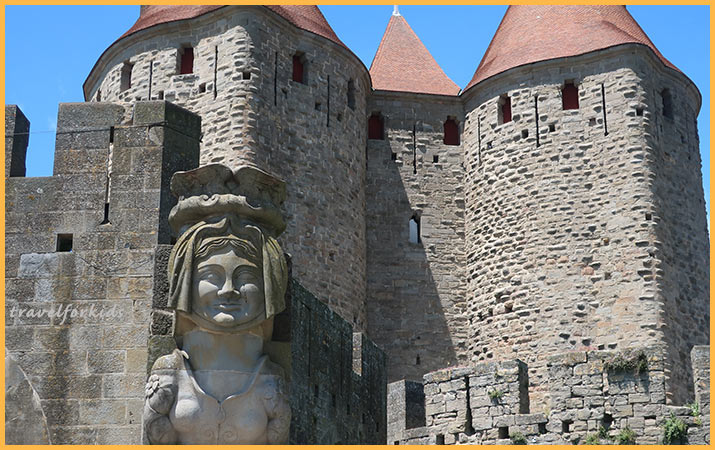 On the east side, Narbonne Gate is the main entrance to the medieval City. The Gate is comprised of two tall towers, connected by a Knights' Hall. The gateway had two portcullis, openings to shoot crossbows, holes to drop heavy stones on the enemy invaders.
The statue of a lady on the front gate is Dame Carcas.
According to legend, Dame Carcas cleverly defended Carcassonne against a siege by Charlemagne. Tossing a well-fed pig over the walls, she tricked Charlemagne's knights into thinking the fortress was well supplied, so the attacking force departed. Following this victory, Dame Carcas rang the city bells – "Carcas sonne."
At Narbonne Gate, pick up the Petit Train, tram that goes around the outer walls, with a good introduction to the history of the city, or take a horse drawn carriage ride (caleche).
Best Carcassonne Family Hotels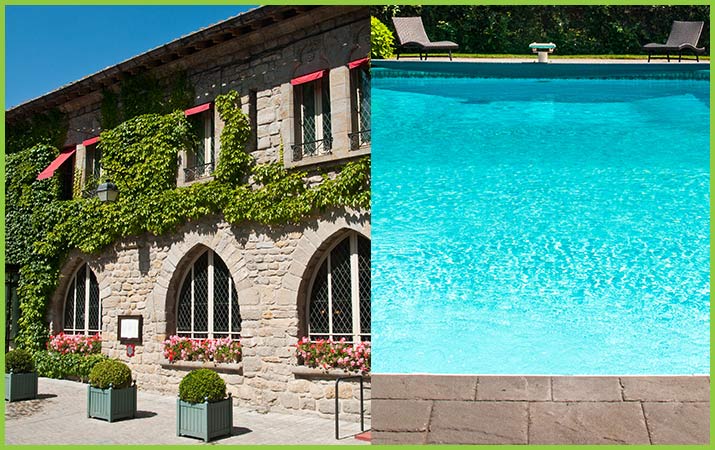 Carcassonne has lots of fun things to do with kids.
Check out Travel for Kids list of Carcassonne best family hotels.
We stayed inside the City, convenient with restaurants, patisseries, ice cream, shopping etc., along with hotels there are also apartments with kitchens.
Hotels outside the walls, near Narbonne Gate, offer swimming pools, as well as easy access to the medieval city.
As always, find fun things to do with kids in France on Travel for Kids.