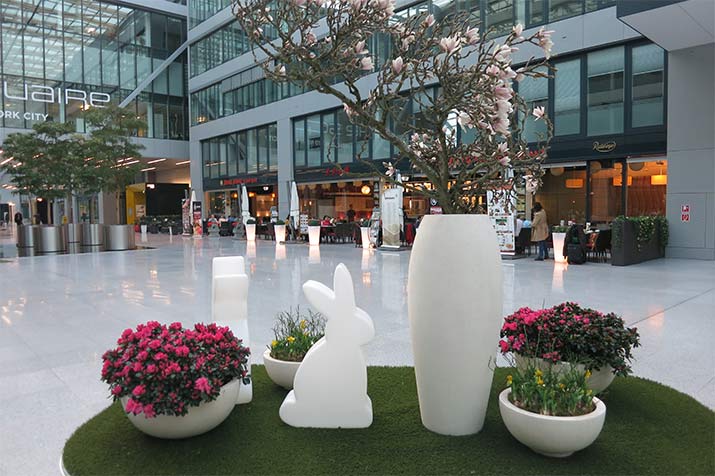 When we fly from California to Europe, there are no direct flights to Italy, Spain, Switzerland, and Frankfurt is often a transfer point.
One of our top tips is to stay overnight in the Frankfurt airport.
Rather than flying 10 or 11 hours, then waiting for a connection (or rushing to make a connection if your transcontinental plane was delayed), going through passport control, getting into a city, it's easily 15 – 20 hours before we reach our destination.
Also, on one trip coming back from Christmas markets in December, we had an 8:00am flight, so the night before we stayed at a hotel at the Frankfurt airport. It was so easy, we just got up, walked across the street, and there's the ticket counter to check-in.
Three hotels are located right across from the airport – Hilton Garden Inn, Hilton and Sheraton. But it isn't just the hotels – there's The Squaire complex with bakeries, cafes, restaurants, and a supermarket.
The Squaire is a sparkling indoor atrium, lots of glass and high ceilings, a big open space and not crowded.
After a long flight, check into the hotel, then kids can relax and stretch their legs. Get a frankfurter and brotchen (bread roll) or or coffee and kuchen (cakes and sweets). Options for dinner – German style dishes at Paulaner, sushi and Chinese, hamburgers, salads, sandwiches. Rowe City supermarket is open from 6am until midnight daily (forgot your toothbrush, can easily get another).
There's a 45 min. "behind the scenes" Frankfurt airport tour, as well as panoramic views of the airport from the Visitor's Terrace, where kids can watch the airplanes coming and going. Airport tours are at 11am, noon, 1, 2, 3, 4pm daily. Get tickets for the airport tour at the Tour Counter, Airport City Mall, in Terminal 1. (No advance booking required.)
If you arrive in the morning, and have a free afternoon, it's only 15 – 20 min. on the train into the center of Frankfurt. Kids can have fun exploring the old city (Altstadt) or taking a boat ride on the Main River.
After a night at the airport hotels, the next morning, rested up, continue on to your final destination.