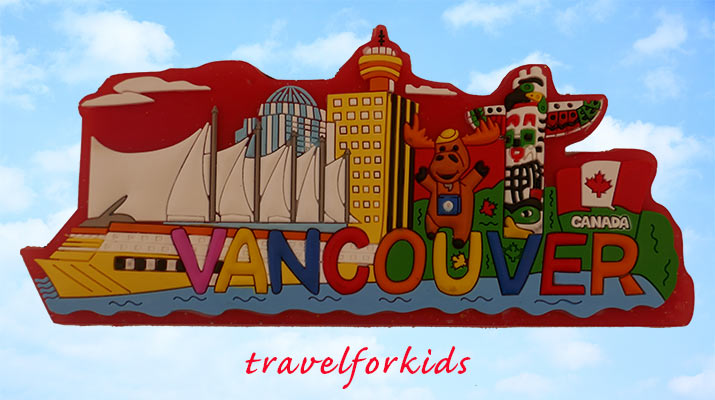 Vancouver is a fun year-round family destination. In long days of summer, the sun doesn't set until after 9pm and kids can play for hours in Stanley Park. In winter, take a day trip Grouse Mountain to go skiing and enjoy winter sports.
In the city is a wide variety of fun things to do with kids of all ages, from the stellar Vancouver Aquarium to biking, hiking, riding the miniature railway in Stanley Park, boat rides, excellent museums such as Science World and Maritime Museum, Granville Island with duck pond, water park and Public Market.
Here's some helpful travel tips for family trips to Vancouver.
Traveling to and from Canada –
Flying to Canada and returning to the United States, adults and children are required to have a current passport.
Coming into Canada by car, train or ferry, adults need proof of U.S. citizenship (passport, birth or naturalization certificate). For kids under 16, bring along passport or birth certificate for each child.
Don't forget these documents!
Vancouver International Airport –
Flying from Vancouver to the United States, security and border control is a longer process.
When you enter the airport, check bags, get boarding passes, and proceed through Canadian security. next, go through United States passport control and customs to a separate, secured part of the airport.
Allow plenty of time to go through both Canadian and United States border control. It could take an hour + from the time you get your boarding pass to arrive at the gate.
Tip: In the secure part of the airport is a nice children's play area, with small maze, slide and videos. Food, cold drinks and snacks are also available in this area.
Public transportation –
Vancouver has an excellent mass transit system – TransLink – which included buses, SkyTrain (subway), and SeaBus.
For example, you could hop on the SkyTrain to Canada Place, then catch the Seabus across the bay to Lonsdale Quay, then ride to bottom of Grouse Mountain.
Here's more info about fares and tickets.
Biking Stanley park –
Stanley Park has miles of bike paths through old growth forests and along the water. Rent bikes on Denman St. near Georgia St., and bike through Stanley Park.
Ask at the rental bike shop about best bike routes with kids (some routes are one way only). Teens will enjoy biking all the way around Stanley Park peninsula, younger kids might want to do the route to English Bay, or go out to Brockton Point totem poles and return by a different bike path.
Fun food –
There's lots of different foods to try in Vancouver – Chinese, Japanese, Thai, French, First Nations, Middle Eastern, Indian, barbeque, locally caught fish and seafood, Montreal bagels, Japadogs (hot dog with teriyaki sauce and nori) and more.
Public Market on Granville Island is a large indoor market with wide selection of dining and food options – fish and chips, sushi, pizza, Indian curry, muffins, doughnuts, salads, fresh juices, crepes, hot dogs, Canadian chocolates and maple sugar candies, ice cream, French bakery, and fresh berries from local farms.
Indoor food courts – In downtown Vancouver, shopping complexes such as Pacific Centre, Harbour Centre, Waterfront Centre have restaurants, cafes, bakeries, food courts, supermarkets, drugstores, all indoors, and connected to the SkyTrain. Perfect for casual family dining and stops for snacks.
Restrooms –
In Vancouver, restrooms (bathrooms) are labeled "washrooms."
Family-friendly hotels –
So many fun things to do with kids in Vancouver, you'll need a place to stay. Check out Travel for Kids hand-picked list of Vancouver family hotels.
Hotels are selected for their amenities for families, such as indoor swimming pools, rooms with kitchens or mini-fridges, on-site restaurants with children's menus and family eating in the neighborhood, coin-operated laundry, and more.