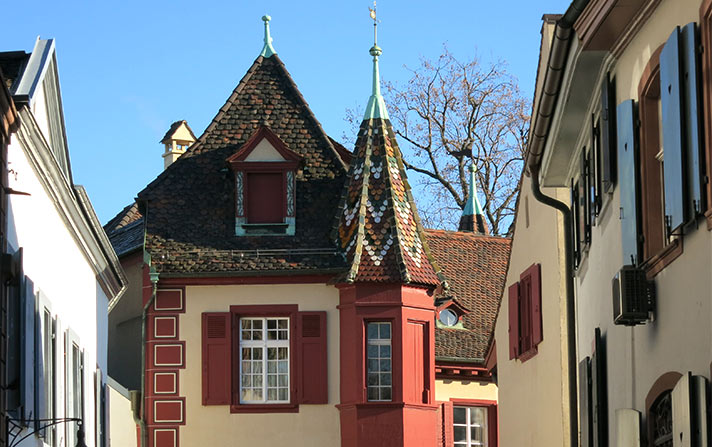 Basel is the second largest city in Switzerland, but it has a beautifully preserved old city (Altstadt) with 15th century half-timbered houses, medieval cathedral, a non-motorized wooden ferry across the Rhine, and basilisk fountains.
Here's our favorite walk through the Old City Basel:
Start at Munsterplatz, the square in front of the Munster (cathedral). Check out St. George and dragon on the front of the cathedral. Pop inside the Munster to see tombs of knights and noblemen, climb up the tower for views of Basel old and new.
Outside the cathedral, go around to the viewing terrace (Pfalz), take the stairs down to the river. Cross the Rhine on the wooden ferry.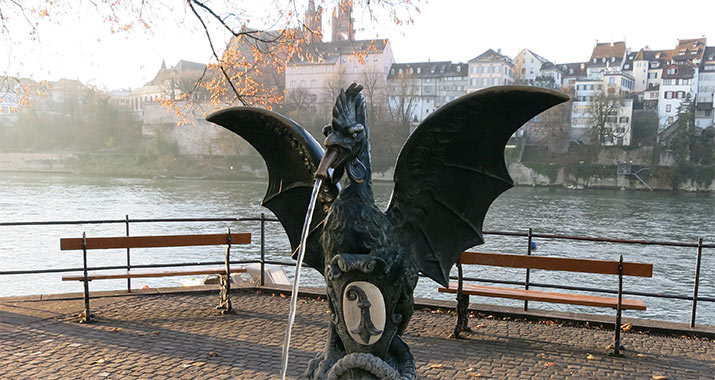 On the other side, stroll north on Oberer Rheinweg, stopping to look back at the Munster and Old Town buildings across the river. Don't miss the basilisk fountain and metal model of old Basel along the esplanade. There are benches, bring a picnic and sit out if the weather's nice.
At Mittlere Brucke, walk back over the Rhine. At the northwest corner of Ein-gasse and Schifflande streets, look up at the building, there is the Lallekonig, a bearded king with a crown, sticking out his tongue! (In the 17th century it was a mechanical head that rolled its eyes, and popped its tongue in and out.)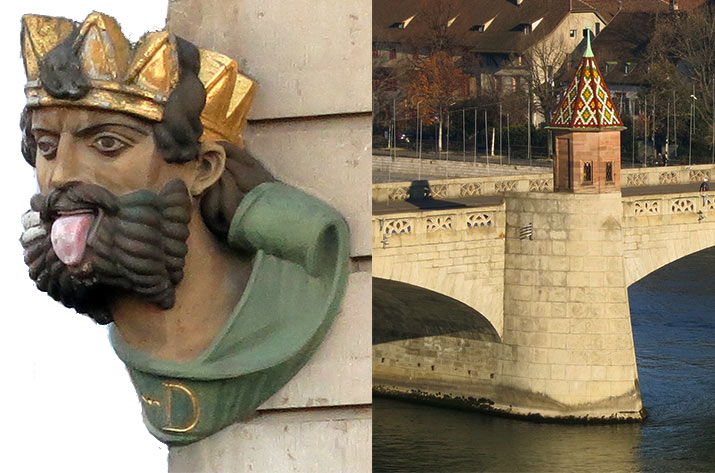 Cross over the street and walk up Rheinsprung street. Many of the houses on the street date back to the 15th century. Bear left for the overlook of the Mittlere Brucke and Rhine.
Continue walking up the street to Martinskircheplatz. In the middle of the square is a spiffy statue of a warrior in armor, wearing a plumed hat and holding a pike. The church dates back to the 13th century, and is the oldest in Basel. Also on one of the houses, high up is a toothy bulldog figure.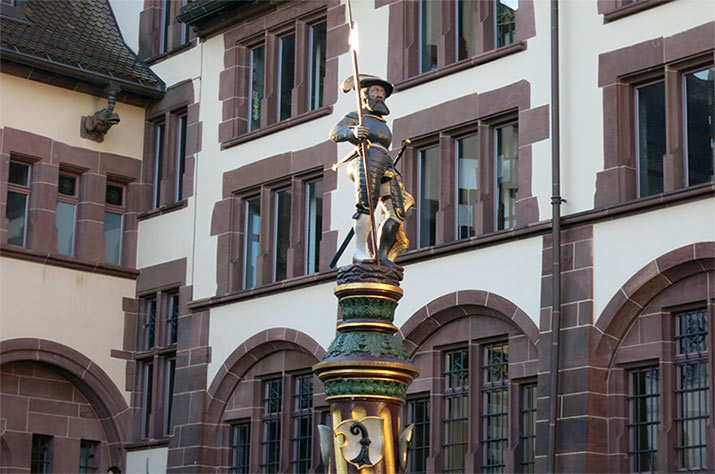 Go back out from the square to Rheinsprung street. Continue walking up the hill. You'll pass by a fountain, decorated with an exceptionally nice basilisk and Basel coat of arms.
Rheinsprung becomes Augustinergasse street, just follow it until you reach the Munsterplatz, where you started.