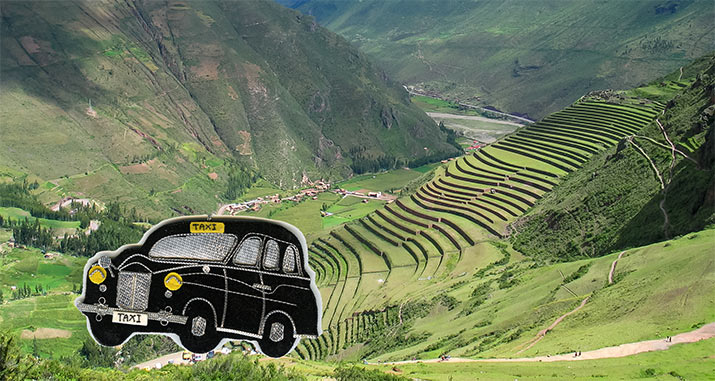 Visiting a big city in the United States, we might take taxis a short distance, when the weather is bad, or late at night; however taxis are not for a sightseeing day trip, it would cost an arm and a leg. But traveling in Asia and South America, we discovered taxis are a great way to go.
In Peru, before going off to Machu Picchu, we spent several days in the Cusco area getting used to the altitude. We planned to explore the Sacred Valley and other Inca ruins. Buses were not really an option for a day trip, and we wanted flexibility to stay at each site as long as we needed to explore with our kids.
The solution was a taxi. Which can easily be arranged with a stop at the front desk of your hotel. We asked the clerk if he could recommend a taxi driver for a day trip the following day to Pisac and Ollantaytambo.
The driver showed up the next morning at 9am, and whisked us away to the Sacred Valley. We brought a picnic lunch with us, which we ate while sitting by a stream under the shadow a great Inca fortress, and all of us had a fabulous time running around the ruins all day.
Taking a taxi was also perfect for day trips from Cairo to the pyramids at Giza and Saqqara, the royal palaces outside St. Petersburg in Russia, or visiting Doi Sutep mountain from Chiang Mai in Thailand.
Taxis have multiple advantages. You tell the taxi driver exactly where you want to go. The driver knows where he's driving, how to avoid water buffalo or llamas in the road, will wait while you sightsee, and in non-Western countries, day trip or long distance rides are reasonably priced. With multiple family members along, it's a great deal.
Exploring Rajasthan in India, we found it's no problem to arrange for a taxi driver who will take you around for days on end. (We met people who had a taxi driver for two weeks). We arranged for a driver to take us from Jodpur to Bundi, where we would stay overnight, then continue on to the Taj Mahal the next day, and on to Delhi.
In the morning, the driver picked us up, we stashed our luggage in the roomy trunk, and set off. Driving through Indian countryside, we adults could enjoy the scenery, as our taxi driver deftly maneuvered around oxen pulling carts precariously piled high with cargo or colorful trucks barrelling along the road honking their horns. Arriving in Bundi, after navigating a maze of narrow streets, the taxi driver dropped us at our hotel, picked us up the next morning, and off we went to the Taj Mahal.
Taxis are also a good solution when you're stuck somewhere. One summer afternoon, we'd taken a day trip by train from Munich to lovely lake Chiemsee. After exploring all around the lake in an electric boat, a long lunch and mini-golf, it was time to get back to Munich. At the train station, turned out no trains were running, there was a problem on the track. We were only 1 1/2 hours from Munich, but returning proved to be challenge.
We leaped on a local bus, which took us to the nearby town of Rosenheim. However, in the Rosenheim train station, there was no information when the trains would run again. We needed to get back to Munich that night, as the next morning we had a plane to catch, our return flight back home.
Taxis were sitting in front of the train station, so we negotiated with a driver to take us to the end of the S-Bahn commuter train line, on the outskirts of Munich. The taxi fare wasn't cheap – it was 90 euros (but other options were not a plus, hotel in Rosenheim, paying for our hotel in Munich, no luggage with us).
There was other problem, as we were leaving Europe tomorrow, we'd used up almost all our euros. A quick stop in a cash machine would solve the problem, only it was after 5pm, and the first three banks we tried were closed, with the cash machines inside!
Fortunately, driving around Rosenheim, one of our kids spotted an ATM machine outside, where we could get cash for our taxi ride. The driver drove us to the S-Bahn station, we zipped into downtown Munich on the commuter train, and by 8pm, we were sitting in our hotel restaurant, having a great dinner and glass of wine, whew.
Taxis can be decorated with all sorts of things. In Egypt, one taxi was so loaded up with plastic flowers in the back, it was like a "garden on the Nile." Taxi drivers in Thailand dangle fresh flowers from the mirror, good luck garlands to promote a safe drive.
In India, our long distance taxi had a flashing plastic ornament with the three Hindu gods on the dashboard. The taxi ornament was so memorable, we bought a similar one in Delhi Chandni Chowk bazaar to bring home. The taxi ornament is still flashing away in our home office, a reminder of an unforgettable drive through the Indian countryside.
Travel tips:
Be sure to agree upon the price (a flat fee) in advance, based on where you want to go, for how long.
Arranging for a taxi at your hotel or tour agency is reliable (rather than using any old taxi off the street).
Be prepared to pay in the local currency, not with a credit card.