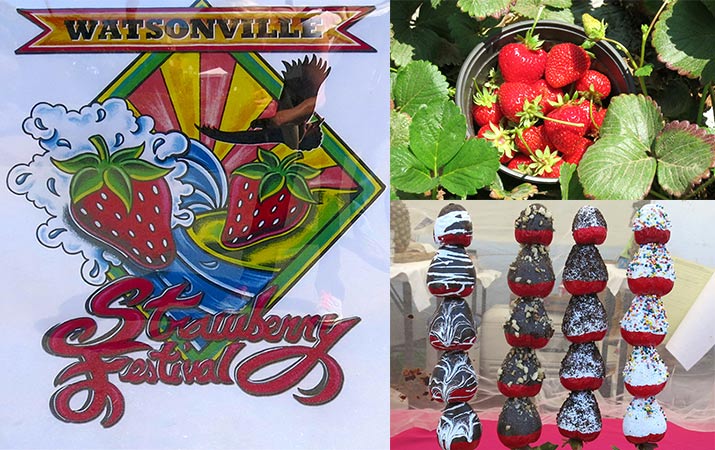 Last weekend we zipped down for a strawberry day in Watsonville (situated between Santa Cruz and Monterey CA). We planned to go to the annual Watsonville Strawberry Festival, but first we stopped at Gizdich Ranch to pick strawberries.
On a sunny summer day, kids will have fun running up and down the rows of strawberries, searching for the bright red, juicy strawberries. Containers are provided, or bring your own. Pick as much as you like, the fee is weight by the pound, (so much cheaper than strawberries for sale). Best of all, a fresh-from-the-field strawberry is a piece of heaven.
Tip: At Gizdich Ranch, u-pick strawberries May through September.
Next stop, the Watsonville Strawberry Festival in downtown Watsonville, a farming town surrounded by lush green strawberry fields.
As we wandered around the festival, we met "Susie Strawberry" in a lovely strawberry costume, there was strawberry face painting (ask for a strawberry painted on your nose), live music, and fun fair rides, including our favorite, the big red Berry-Go-Round.
Of course the festival food booths had lots to offer, different kinds of barbeque, Mexican food, delicious fresh fruit drinks, and Strawberry Lane. So many different strawberry dishes, it was hard to choose – strawberry cookies, sundaes, shortcake, smoothies, croissants, cheesecake with strawberries, strawberry and chocolate pizza, bunuelos (fried cinnamon sugar crisps) with fresh strawberries and cream, strawberry jam, Mexican strawberry pastries, chocolate covered strawberries.