Los Angeles opens up – Disneyland, Universal Studios Hollywood, museums, Santa Monica Pier, weather is warm, soft sandy beaches beckon.
Los Angeles is a big city, and spread out over a large area.
Before before making hotel reservations in the Los Angeles area, plan things your family would like to do, depending on kid's age and interests.
Does your family want to visit the theme parks, such as Disneyland or Universal Studios, stay at the beach, see unique museums such as La Brea Tar Pits and Petersen Automotive Museum, or just come to a city that's warm and sunny (no snow in April)?
On Travel for Kids, we have four different lists of hotels for families:
Los Angeles International Airport (LAX)
We research our hotels lists from first hand experience, descriptions include amenities for families, such as rooms that sleep 6, babysitting can be arranged, coin-operated laundry, on-site restaurants with children's menu. Most importantly, all Los Angeles area hotels have a swimming pool.
Traveling infants and toddlers, staying in hotels proximate to Santa Monica and Marina del Rey is perfect. Take your sand toys, towels and sunscreen, and they're happy to spend the day at the beach.
With older kids and teens heading Universal Studios, stay near the theme park in Universal City or Hollywood. Hollywood is also close to Griffith Park, with the mini train and pony ride for little ones, Los Angeles Zoo, and Giffith Observatory.
A favorite central location is West Hollywood. This area is convenient for visiting museums in Exposition Park – California Science Center (see space shuttle Endeavour) and dinosaurs in the Natural History Museum, as well as La Brea Tar Pits with Ice Age fossils, and Petersen Automotive Museum (cars, cars, cars).
Visiting Disneyland, all hotels on our list are convenient to the parks, some within walking distance (save on parking), and all have a swimming pool to relax at the end of the day.
Are you flying into Los Angeles International Airport (LAX)? For early departures or evening arrivals, plan to stay in a hotel close to the airport. Relaxing way to both start and end your vacation.
Tips for visiting Los Angeles

Getting around – a car is essential.
Do not underestimate time it takes to drive around Los Angeles. A short distance can be a long drive at rush hour.
Google maps driving directions is helpful for real time routes and shorter drive times during busy traffic.
La Brea Tar Pits and Museum – Ice Age fossils in downtown Los Angeles! Read our blog post: Saber-toothed Cats in Los Angeles
Free in Los Angeles – Two excellent museums, California Science Center and Griffith Observatory, and Avila Adobe in Olvera Street downtown are free.
Fun food – Los Angeles is a great place for food, everything you can imagine.
After you've visited the La Brea Tar Pits, head over to The Original Farmers Market (3rd and Fairfax), popular with local families since the 1930's.
Also, our boys say milkshakes in Los Angeles are the best.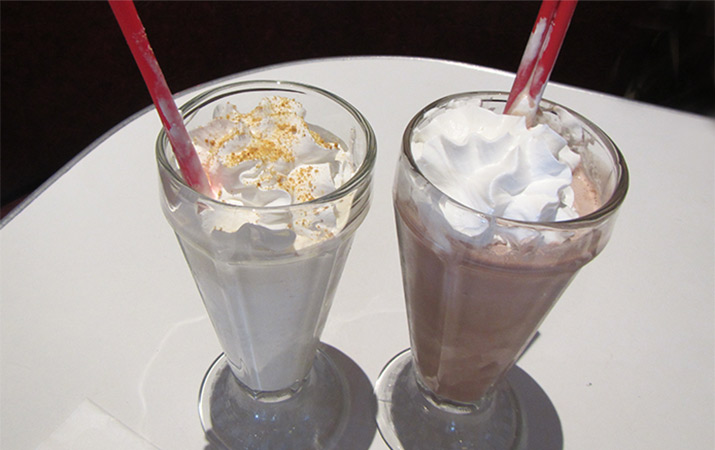 Editor's note: Los Angeles is always warm in our hearts, as our boys were born in Santa Monica and we lived in the area over a decade.