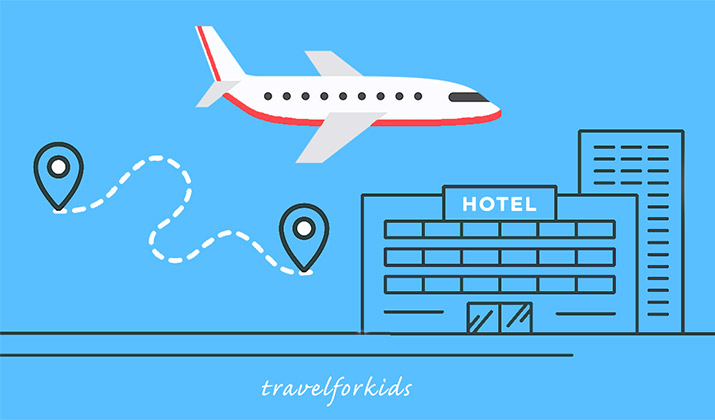 Planning international flights this summer, take a direct flight, reserve a hotel at the airport overnight, continue your trip the next day.
Flying to Europe one Christmas, we had a super deal on round trip San Franciso – London, with our final destination Seville.
Returning home, instead of flying straight through Seville – London – San Francisco with connecting flights, we booked a hotel overnight at Heathrow Airport.
From Seville to London is just two short hops, but due to a series of delays, we didn't land in London until 10pm and our checked luggage was lost. Then another hour with customer service about the luggage. But at the end of the day, we had our airport hotel room with comfy beds, ready and waiting!
Next morning we had a leisurely time shopping and eating breakfast in Heathrow until our flight mid-day. Just before boarding the flight to San Francisco, airline informed us lost luggage was found, and on the plane.
Airport travel tips and our hotels lists make it easy for overnight stays at London Heathrow, Frankfurt, Paris Charles de Gaulle, New York JFK, Washington Dulles, San Francisco and Los Angeles airports.
Travel for Kids best family airport hotels are selected hotels close to the airport, inside the airport or with ground transportation from terminals to your hotel.
Also, hotels have amenities families want, such as indoor and outdoor swimming pools, on-site restaurants with children's menu, breakfast included in room rate, and more.
Tip: Airports can be fun for kids. There are planes to watch, some airports have viewing terraces, children's play areas, variety of food, shopping for souvenirs.
Frankfurt Airport (FRA)

Frankfurt Airport is one our favorite airports in Europe. It's easy to navigate, has big children's play area, open air decks where you can watch the planes come and go.
From the airport arrivals or departures, just walk across to three hotels – Hilton Garden Inn, Hilton and Sheraton.
But it isn't just the hotels – The Squaire complex has bakeries, cafes, restaurants, and a supermarket.
Tip: Also, if flight arrives in the morning, drop off your luggage at the hotel, and hop on the train into the center of Frankfurt. Have fun exploring the old city or taking a boat ride, come back to the hotel to rest in the afternoon.
Read our blog post: Stay at the Frankfurt Airport.
Paris Charles de Gaulle Airport (CDG)

Charles de Gaulle, second largest airport in Europe, has multiple terminals and hundreds of gates.
For tips and maps of the airport, read our blog post: Navigating Charles de Gaulle Airport.
We stayed at the Pullman Hotel, location can't be beat. Just hop on the CDGVAL shuttle, hop off at Roissypole, then walk very short distance to the hotel.
The breakfast was a fabulous buffet – flaky croissant, pain au chocolat, fresh squeezed juices, cereals, eggs, crepes, yogurt, wide selection of fresh fruits; only problem, we had an early morning flight, wished more time for our delicious breakfast.
Check out Travel for Kids list: Paris Charles de Gaulle Airport Family Hotels.
London Heathrow Airport (LHR)

Heathrow is the largest airport in Europe, and it is … challenging.
There are four terminals, with trains to go between terminals, each terminal may have three different areas. Allow plenty of time to get to your departure gate, including time to get lost.
As a plus, Heathrow has multi-level shopping, and excellent eating options.
Crumpets with plenty of jam and melted butter highly recommended at Fortum & Mason cafe, lunch at Wagamama, Caffe Nero with coffee, snacks, sandwiches and "in-flight picnics" – food to take on the plane.
After our lost-luggage flight into Heathrow, we stayed at Hilton London Heathrow Airport hotel.
Check out Travel for Kids list: London Heathrow Airport Family Hotels.
Dulles International (IAD)

This summer, families won't be flying on the space shuttle or a bright red Airphibian plane from Washington Dulles Airport.
But five miles from Dulles is Udvar-Hazy Center Air and Space Museum. Two huge hangars filled with airplanes and space craft, this is a fun place for kids run around and see some of most famous airplanes in the world.
Washington Dulles is a big international airport, but has one centralized terminal (still allow plenty of time to get to the gates).
Airport hotels are spread around the airport, ground transportation is required. Hotel shuttles, taxis, and ride shares (Uber and Lyft) stop in front of the central terminal.
Check out Travel for Kids list: Washington Dulles Airport Family Hotels.
John F. Kennedy Airport (JFK)

New York John F. Kennedy Airport is a hub for international airlines.
Five terminals have arrivals and departures for international airlines; Terminal 2 is Delta airlines domestic flights.
AirTrain goes around the airport in a one mile circle, making stops at the terminals and Federal Circle.
At Federal Circle, pick up ground transportation for airport hotels, more info about airport shuttles, hotel shuttles and taxis.
We don't have a favorite JFK airport hotel where we stayed, but on one trip, we wish we'd booked a hotel overnight at JFK.
On a spring break vacation to Greece, our flight itinerary was straight through San Francisco – JFK – Athens.
Our cross-country flight was delayed, when we finally landed in Terminal 2, all the food kiosks were closed, we had to rush to a different terminal to make our connecting flight to Athens. By the time we arrived in Greece, it was about 24 hours since we left home.
Check out Travel for Kids list: JFK Airport Family Hotels.
San Francisco Airport (SFO)

SFO is our home airport, where we depart for flights to international destinations.
It's a family friendly airport, with amenities such as Kids Spot play areas (Terminal 1, 2, 3), water dispensers to load up water bottles for free, and excellent food options.
In the International Terminal are changing art exhibitions – model airplanes, miniature pagodas, photo above is from delightful exhibit of Japanese toys.
SFO has four terminals – International Terminal, Terminals 1, 2, 3.
Tip: The International Terminal is divided into two different sections, Terminal A Gates and Terminal G Gates, with separate security lines. Check your ticket, to be sure you have the right gate area, you don't want to go through security twice.
AirTrain loops around the airport between terminals, connects to BART subway, and stops Grand Hyatt at SFO (only hotel in the airport).
Hotels located around the airport require ground transportation – hotel shuttle, ride shares Uber, Lyft, Wingz, and taxis.
Hotel shuttles and taxis stop at all four terminals to pick up and drop off passengers. Ride shares, Terminals 1,2,3 go to Level 5 Domestic parking garage and International Terminal departures level.
Check out Travel for Kids list: San Francisco Airport Family Hotels.
Los Angeles International Airport (LAX)

Flying into Los Angeles for a family trip to Disneyland or Universal Studios, heading to vacation at the beach?
Greater Los Angeles covers a large area – it's 35 miles from LAX to Disneyland, freeways can be slow going.
For early departures or late night arrivals, it's convenient to stay in a hotel close to the airport. Spend the night at LAX and get a good night's sleep before getting on the freeway to Disneyland, or continuing on your flight to international destinations.

To get around the airport, use free shuttles, marked with pink LAX sign in front of terminals.
For ground transportation to hotels, look for these signs at waiting areas on the street: hotel shuttles, ride share (Uber, Lyft, Opoli) and taxis.
Hotels on our list are located within blocks of the airport, and most have swimming pools. Just imagine hopping off the plane, getting to your hotel … and dipping into the water on a warm sunny day.
Check out Travel for Kids list: Los Angeles Airport Family Hotels.

Editor's note: Spring break, on a flight from the Yucatan, connecting in Houston to SFO, it took time to go between terminals. Flight delayed, minutes to get to SFO gate…
My boys said, "We never knew you could run so fast."