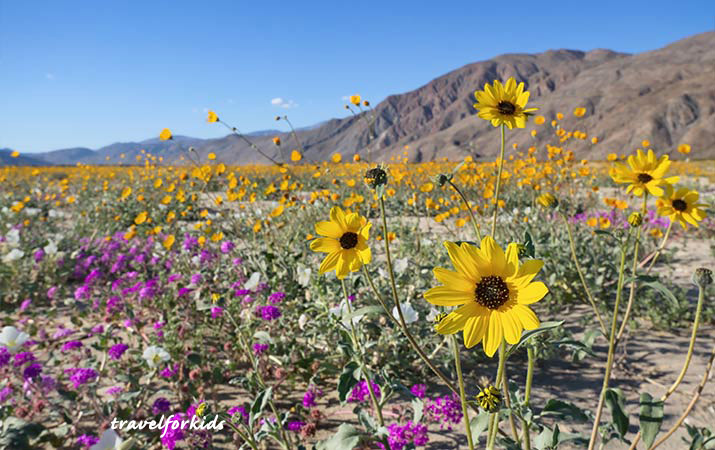 Winter and spring are the perfect time to visit California deserts – Death Valley, Mojave National Preserve, Joshua Tree, Palm Springs and Anza Borrego.
Step out onto the desert.
At first look, desert habitats might appear harsh and desolate with lack of rain and temperatures over 100 degrees in summer.
On the contrary, animals and plants have evolved and adapted to live in the desert. To beat the heat, some animals live under the ground, such as the desert tortoise. In Death Valley, tiny pupfish survive in very salty water and hot weather. Cactus plants store water and are home to different desert animals.
The desert landscape is wildly varied – shimmering white sand dunes, natural rock arches, craters from volcanic eruptions, canyons with layers of red, green, pink, yellow rocks, mountainous rock formations two billion years old.
Desert oases are filled with lush greenery, native palm trees, waterfalls and year-round creeks. In spring, after winter rains, the deserts bloom with colorful wildflowers.
Here's some favorite places to go with kids, plus tips for enjoying California deserts.
Death Valley National Park
Death Valley is a "biggie" – the hottest place on earth, driest and lowest place (below sea level) in North America.
Tip: The park covers a large area – planning your family trip, allow time to travel from one part of the valley to the other, it's too big to see in one day.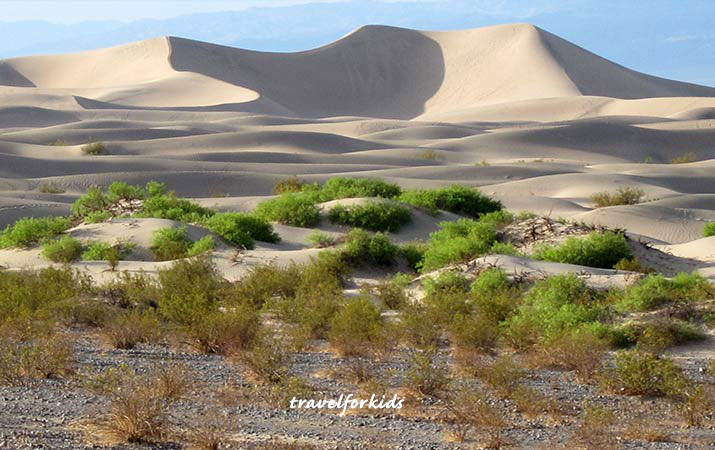 Near Stovepipe Wells, play in Mesquite Dunes, hike through Mosaic Canyon, look for the Salt Creek pupfish.
At Mesquite Dunes, kids can spend hours rolling, jumping, sliding down the dunes, tossing fine white sand in the air, take off your shoes and wiggle your toes in the sand. Go early in the morning to look for animal tracks in the sand – around the mesquite bushes find tracks of lizards, roadrunners, kit foxes.
One of our favorite family hikes in Death Valley is Mosaic Canyon. It's easy, even for toddlers, and there are those polished rock chutes for kids to slide down.
Walk down the Salt Creek Nature Trail to see the amazing pupfish. Tiny fish, less than two inches long, have adapted to very salty water and extreme temperatures. Best time to see them is March and April, when the creek has the most water (in winter, the creek still flows, but the pupfish are hidden in the deepest pools, and hard to see from the boardwalk).
In the southern section of Death Valley, visit Badwater and Devil's Golf Course. Badwater is situated at 279 feet below sea level. Walk out onto the salt pan, and listen to salt squeaking under your feet.
Nearby, visit the Devil's Golf Course, crystallized rock salt formations (over 3 ft deep), like a miniature fantasy world. Tip: Don't walk on the formations in flip flops – the formations are very sharp.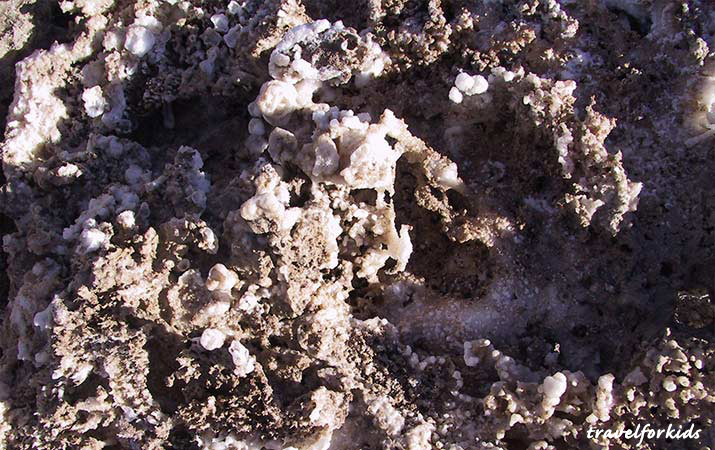 Mojave National Preserve
Mojave National Preserve is not as well known as other California desert national and state parks, but it's well worth a visit, and is an easy day trip from Las Vegas.
The preserve has sand dunes that are bigger and taller than the dunes in Death Valley, plenty of Joshua trees, barrel and cholla cactus, freshwater springs, and desert wildlife.
Kelso Dunes are fun for toddlers to teens. With toddlers and younger kids, just walk into the dunes, then play in soft sand – it's one big sandbox. Older kids and teens will wan to hike to the summit of the tallest dune, then run down the slope of the dune. As you come down the dune, listen for the sounds of "singing sands."
For more details, read our blog post: "Mojave National Preserve"
Joshua Tree National Park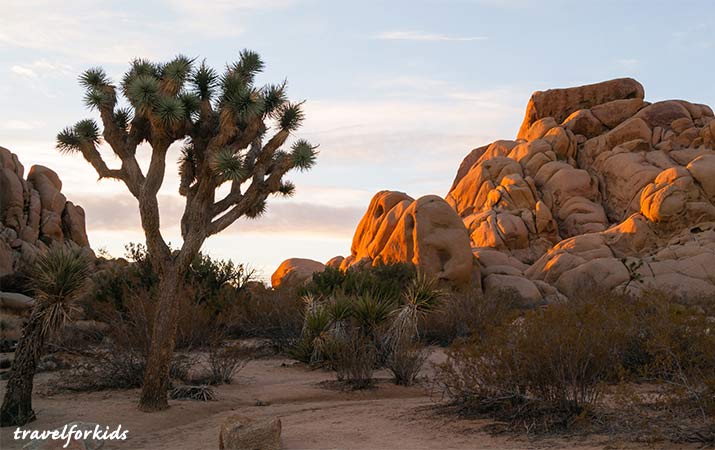 Driving through Joshua Tree National Park, kids will see spikey Joshua trees everywhere – it may be dry and hot but Joshua trees are perfect suited to the environment.
Joshua trees aren't really trees, they're flowering yucca plants, valued by the Indians to make soap, baskets, and sandals. Joshua trees are an amazing eco-world – birds nest in the branches, when it dies, the dead wood is home for squirrels and food for termites.
Two favorite spots in the park are Skull Rock and Cholla Cactus Garden.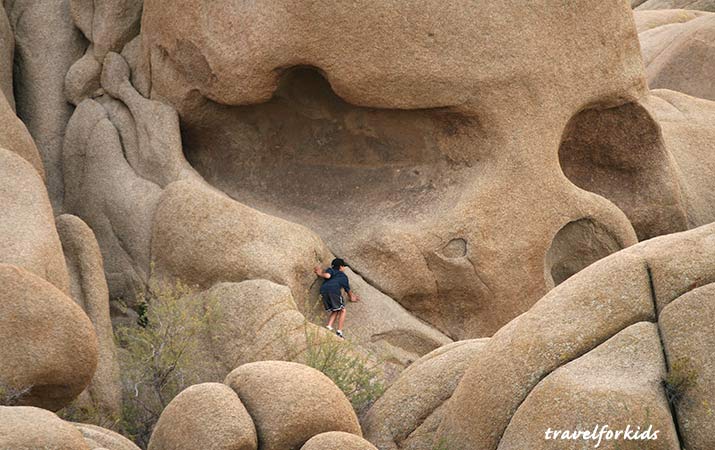 Kids naturally leap out and climb all over Skull Rock – it really does look like a huge skull, with rounded nooks and crannies to explore. Take the 1.7 mile loop trail from Skull Rock, stopping to play on the rocks at you go.
It's unusual to see a whole garden of cholla cactus (also called "teddy bear" cactus). Take the self guided nature trail to learn about the cactus, other desert plants and animals.
Tip: Cholla cactus look fuzzy, but don't get too close – the cactus is also called "jumping cactus" as the spines come off very easily and stick in little hands and arms.
Palm Springs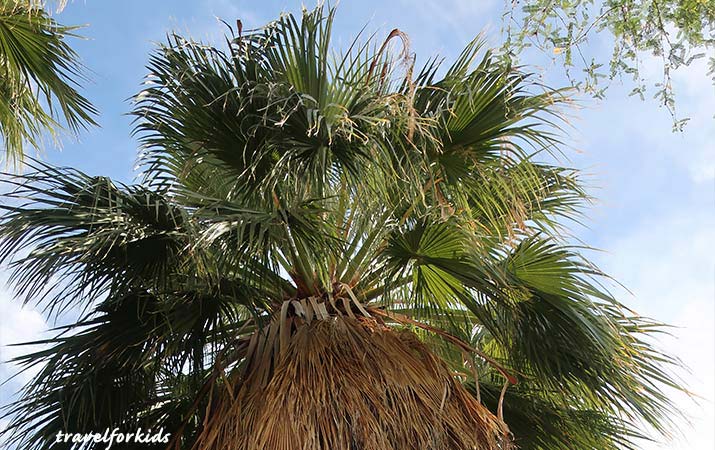 Palm Springs is well named for its native California fan palms, year-round creeks and desert oases. Located about two hours east of Los Angeles, it's a fun destination in winter and spring months.
Visit Living Desert Zoo & Gardens for an excellent introduction to Palm Springs and deserts overall, plus wildlife of Africa.
Kids will enjoy the diversity of animals and birds that live in the desert – bighorn sheep, owls, egrets, herons, golden eagles, desert tortoise, chuckwalla, lizards, bobcats, kit foxes, jackrabbits. Tip: It's great to see bighorn sheep up on the rocks, as they are often hard to spot in the wild.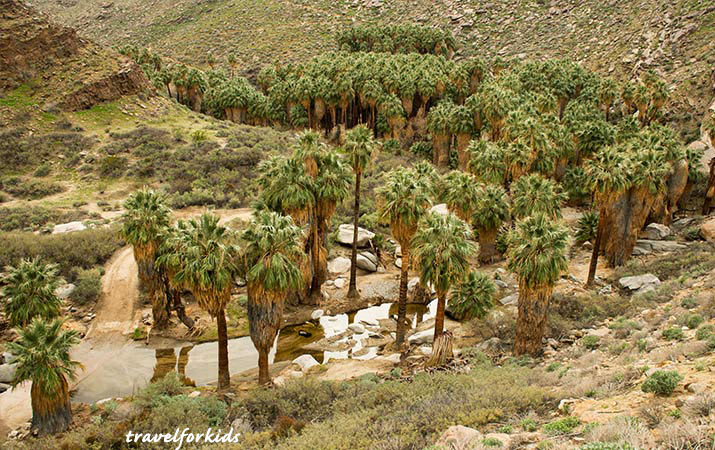 Three favorite hikes Randal Henderson Loop from the Santa Rosa & San Jacinto Mountains National Monument Visitor Center (Palm Desert), and Indian Canyons hikes – Tahquitz Canyon Loop and Andreas Canyon Loop.
Anza Borrego Desert State Park
Anza Borrego Desert State Park is a fun day trip from San Diego.
February to April is the ideal time to visit, when wild flowers are in bloom – red ocotillos, orange poppies, purple lavender, lupine, heliotrope and sand verbena.
Here's a just a sample of wild flowers to see in Anza Borrego: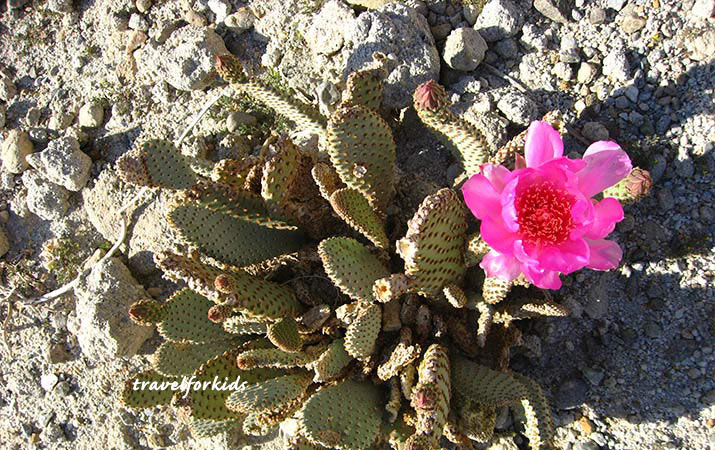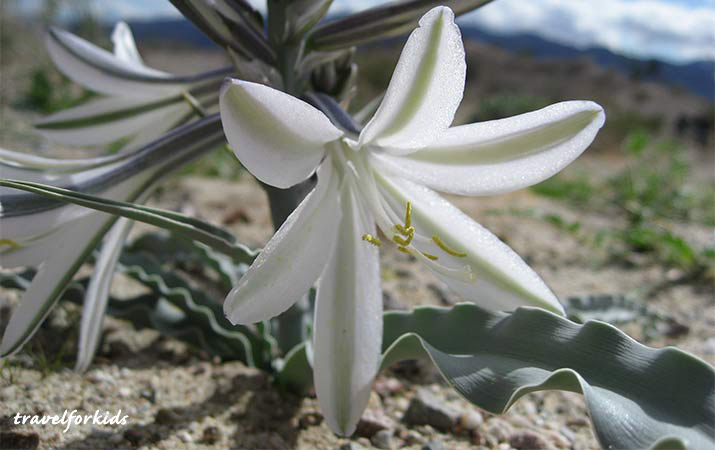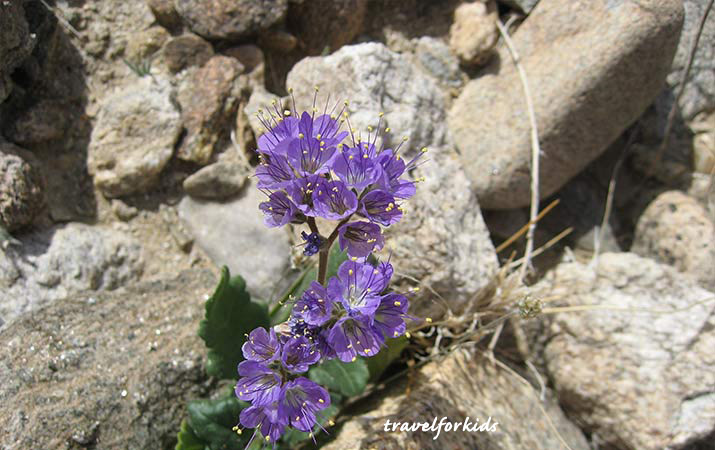 Editor's note: Growing up in San Diego, our family often visited and camped in Anza Borrego State Park. I remember hiking along the creek in Palm Canyon and scrunching around in the sand looking at tiny little yellow flowers, a desert flower garden.
Tips for enjoying California deserts
DO NOT GO IN SUMMER – Temperatures in the desert average over 100 degrees, 110 degrees in Death Valley. You can drive around in an air conditioned car, but to really enjoy California deserts, you'll want to get out and walk around. November – April is a good time to go – the weather is clear and days are warm but not too hot.
Water – It's very easy to get dehydrated in the dry desert climate. Bring lots of water bottles and keep drinking water throughout the day. Even on a short hike, don't leave without plenty of water!
Sunscreen – Even in winter, clear days make it easy to get sunburned – slather on the sunscreen, wear hats. To prevent chapped lips and hands, bring lip balm and hand lotion.
Wildlife – Look for roadrunners, chuckwallas, fringe-toed lizards, desert tortoises, bighorn sheep, bobcats, jackrabbits, hawks, eagles, squirrels, bats, pupfish, desert bees, hummingbirds, quail, herons, egrets, desert owls, golden eagles, woodpeckers, and many different kinds of birds.
Desert tortoises are threatened species and need to be protected. If you see a desert tortoise, don't pick it up.
Rattlesnakes and scorpions live in the deserts. If you're climbing on rocks, tell your kids to watch where you put your hands (don't want to accidentally "pet" a rattlesnake).
Flash floods – Death Valley is particularly prone to flash floods, caused by bursts of hard rain. During rainstorms, dry riverbeds and narrow canyons quickly fill with torrents of rushing water. Check at visitor centers for possible flash flood alerts.
Cactus – Stay back from cactus, especially the cholla cactus. A cactus might look fuzzy, but you don't want to spend your time picking spines out of little fingers and arms.
This post is only the beginning of fun things to do with kids in California deserts – there's much more!
For more details for family trips to Death Valley, Mojave National Preserve, Joshua Tree, Palm Springs, Anza Borrego, visit Travel for Kids | California Deserts.