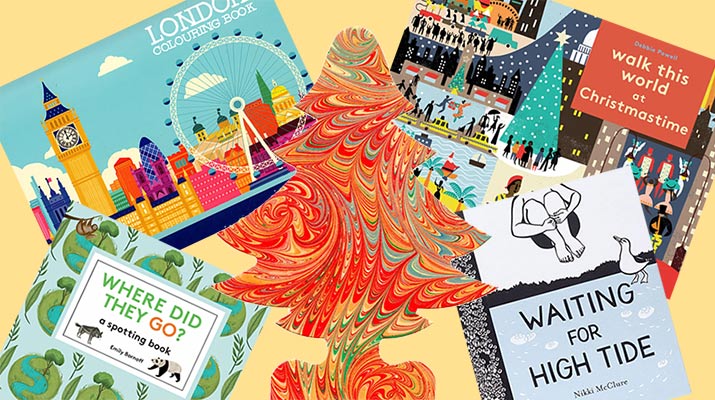 Books are great gifts for kids, and also fun for parents and grandparents. Open the pages to discover wonders of nature, celebrate Christmas around the world, follow wild and wacky trails through New York or Paris, read a story of courage and endurance in frozen Antarctica, explore a beach and find barnacle glasses, try to spot a tortoise on an island or tapir in the jungle, color the landmarks of London.
Here's some of our favorite new children's books from this past year.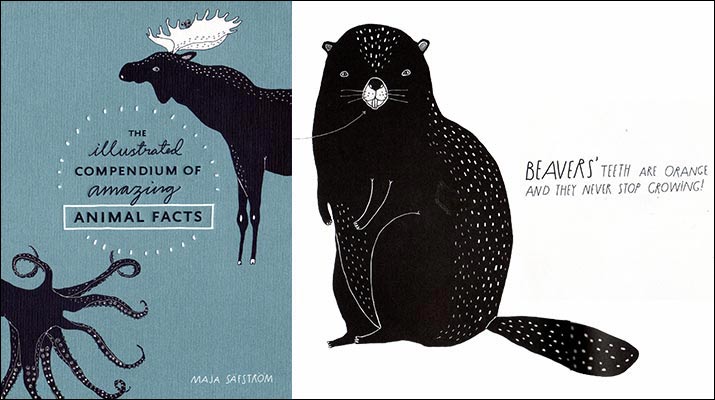 The Illustrated Compendium of Amazing Animal Facts by Maja Safstrom.
We found this book while browsing through one of our favorite bookstore, Point Reyes Books in Point Reyes Station CA. Fascinating facts (55 different animals) and illustrations by Swedish illustrator Maja Safstrom are irresistible!
Did you know:
Beaver's teeth are orange and they never stop growing.
Crocodiles cry tears when they eat.
An octopus has more brains than a human, and three hearts.
A moose can feel a fly landing on its antlers.
Bees never sleep.
Walk This World at Christmastime by Debbie Powell.
Celebrate Christmas around the world – peek through windows and lift the flap to see nativity scenes, toys, parades, stockings, pinatas, gifts, fireworks, decorations, holiday food, in 32 different countries, and count the days to Christmas – it's also an Advent calendar. Illustrations are super! (Picture book)
City Trails: New York by Lonely Planet Kids, Moira Butterfield, Dynamo Ltd.
Nineteen different wild and wacky trails through New York (but some you can't follow, unless with helicopter or access to secret subway tunnels) – skyscraper flyby, wild animals, underground treasure, art and street sculpture, best food, great theaters, harbor tour, ghost tales, sounds of the city. (Illustrated chapter book)
City Trails: Paris by Lonely Planet Kids, Helen Greathead, Dynamo Ltd.
In Paris, take trails under the streets, find mysteries and legends, surprising food, city shapes, smells of Paris, magicians and alchemists, unexpected sights, French Revolution "off with their heads," chic fashion, ghostly tales, lights after dark, and more. (Illustrated chapter book)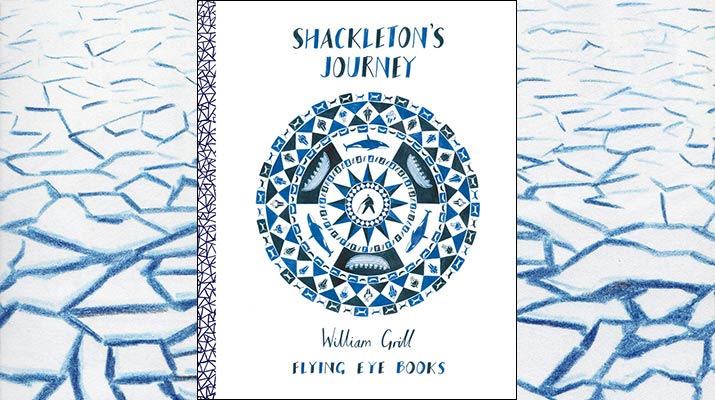 Shackleton's Journey by William Gill.
In 1914, Ernest Shackleton and a crew of brave men set out to explore Antarctica. Stuck in the ice, their ship cracked to pieces and sank. The men survived on an ice floe, sailed in open boats through monstrous waves, hiked across a frozen mountainous island, and every man survived. Spectacularly illustrated, a true story of courage and endurance. (Picture book)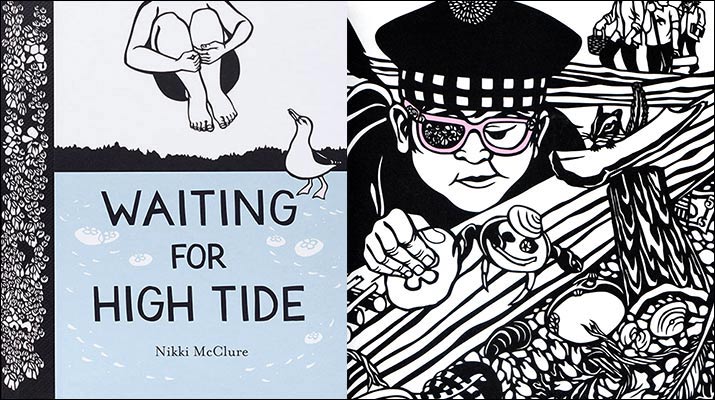 Waiting for High Tide by Nikki McClure.
A friend recommended artist and author Nikki McClure and we were delighted to find this book in a small Portland bookstore. A lovely multi-generation story of a summer day on the Olympic Peninsula, with fabulous cut-paper illustrations.
A young boy is eager to jump in the water, but the tide is out, so he explores the beach, and finds … barnacle glasses, along with four clamshells, seaweed that pops, a heron feather. As the tide slowly creeps in, he helps his parents and grandparents build a raft, eats his lunch (just like the gulls), and soon the raft is floating – time to dive in. (Picture book)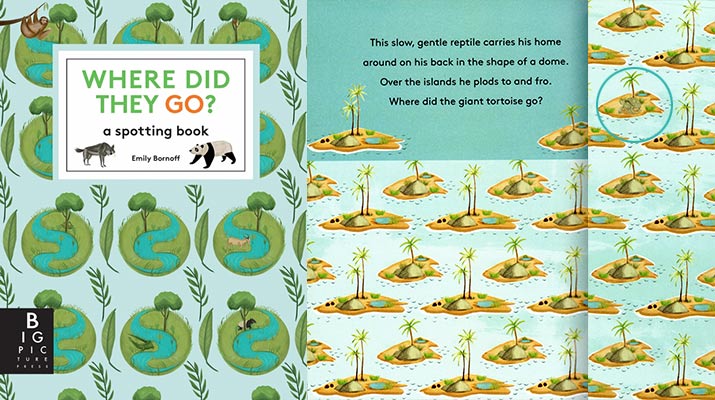 Where Did They Go? by Emily Bornoff.
A spotting story, look for endangered animals that are hard to find in the wild – giant Galapagos tortoises, mountain gorillas, sloths, bison, Malaysian tapirs, giant pandas, gharials in India, Australian bilbys, addax in the Sahara Desert, polar bears. (Picture book)
This slow gentle reptile carries his home
around on his back in the shape of a dome.
Over the islands he plods to and fro.
Where did the giant tortoise go?
London Colouring Book by Min Heo, Gloria Fowler.
Little kids can color 32 different scenes of London, from the Tower of London and Big Ben, to the crown jewels, map of London, double decker buses and taxis, Sherlock Holmes, afternoon tea, and more. (Activity book)
Also Paris Coloring Book – color the stained glass of Sainte Chapelle, Trocadero carousel, Paris cityscape, Louvre pyramid, patisseries, boulangeries, cafes, sunglasses and shoes. (Activity book)
And, charming companion picture book, Come With Me To Paris.
And for more fun children's books, read our blog posts: "Books for a snowy December," "Travel books for toddlers," "London mystery books," "Travel through Africa, with books"