The Christmas season in Europe is not to be missed! Start planning your trip now.
Here's five of favorite cities for families in the holiday season – Munich, London, Strasbourg, Seville, and Basel.
Each city offers a different variety of Christmas markets, activities, foods, events – but in all of them just walking down city streets illuminated with sparkling lights, store windows beautifully and imaginatively decorated, delicious aromas of holiday treats and warm drinks is an adventure!
Tip: Be sure have warm clothing and footwear for everyone in the family. Activities are outdoors, with frosty temperatures in the evening, except Seville.
Munich Germany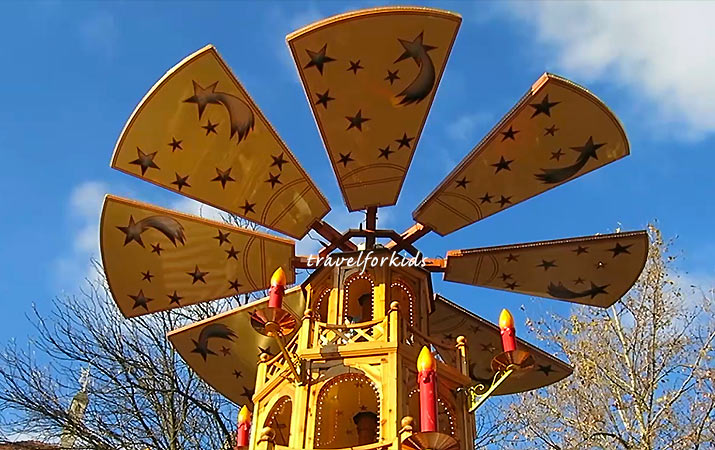 One December we headed to Europe to visit Christmas markets – our first stop, Munich.
We wandered out to Marienplatz – a four story evergreen tree glowed with lights, market stalls were filled with toys, sweets, chocolates, spice cookies, musicians played Christmas music, we watched Santas with long white beards ride around on bicycles. The day we left Munich, fluffy snowflakes began to fall, tranforming the city into a winter wonderland.
On Rindermarkt we saw our first "Christmas pyramid," wooden rotating tower (photo above) decorated with nativity figures – Mary, Joseph, baby Jesus, the three Wise Men.
There are five different Christmas markets in Munich, the biggest is Christkindlmarkt Marienplatz; other markets are smaller, but also less crowded.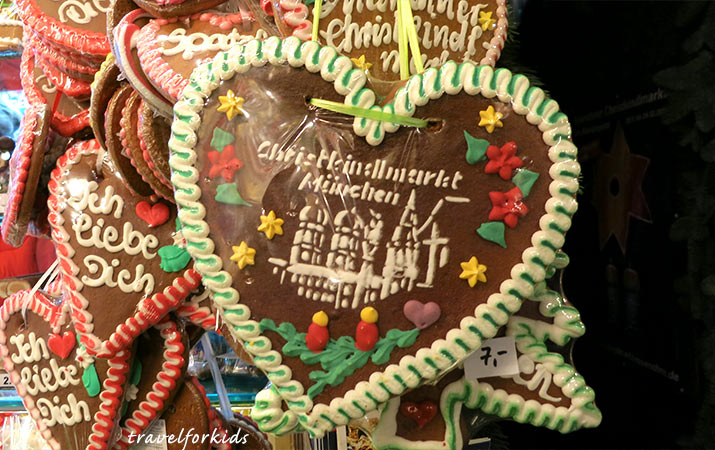 At each market is an abundance of food, hot drinks, and sweets. Grab a slice of Flammkuchen – it's sort of like a thin crust pizza with onions and bacon. Kids will enjoy Kinderpunsch (fruit punch) and Heisse Schokolade (hot chocolate); for adults there's Gluhwein (mulled wine). Spice cookies, Lebkuchen, spice cookies in the shape of hearts, reindeer, Christmas trees, stars are a German specialty.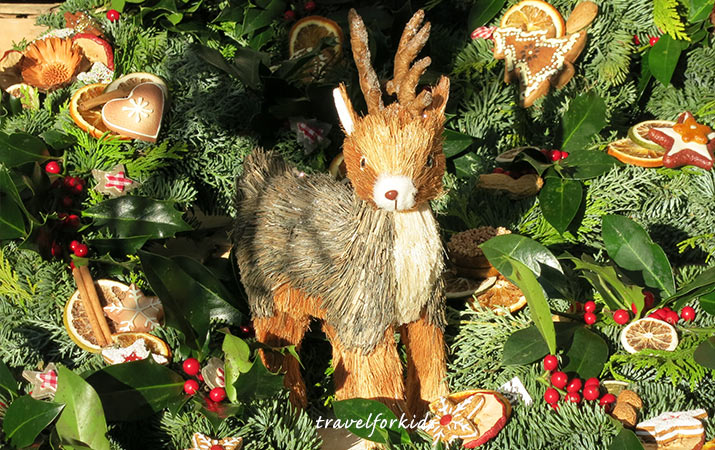 In store windows are animated displays, such as the teddy bears at Kaufhof in Marienplatz. At the Viktualienmarkt, stalls have beautiful evergreen displays with owls, squirrels, deer, elves, St. Nikolaus, made out of bark and wood.
More activities for kids in Munich, ice skating, horse carriage ride through the English Garden, and also consider a day trip to Neuschwanstein Castle.
Find all the details about each Christmas market, and more winter activities on Travel for Kids: Munich Christmas markets.
You'll also need a fun place to stay: Munich family hotels
London England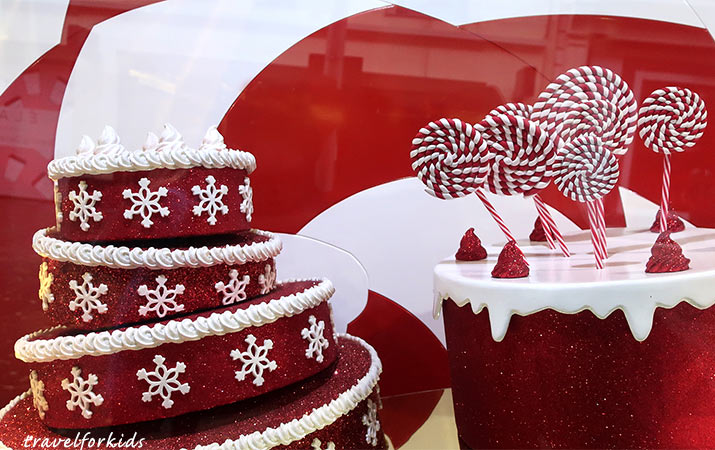 London goes out at the holiday season – the city glows with millions of lights, so many Christmas sweets kids will find it hard to choose, go ice skating next to the Tower of London, in Hyde Park Winter Wonderland carnival has rides, live music and shows.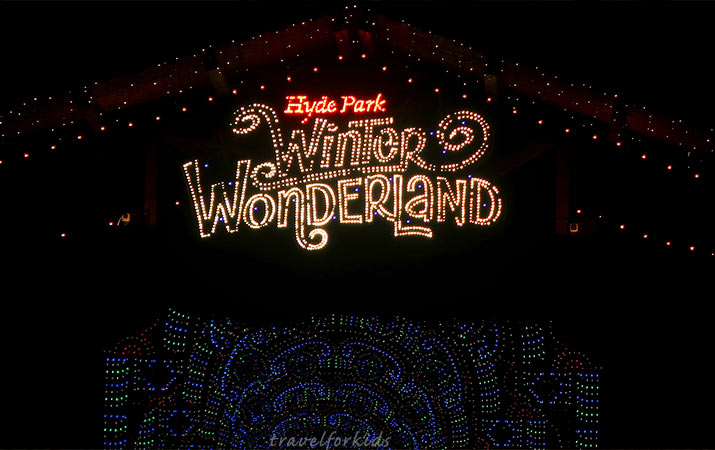 Winter Wonderland in Hyde Park is a large amusement park with food, rides, live music and shows, from mid November, through December, until first week in January.
For younger kids, Santa Land has rides such as tea cups, mini train, carousels, and a visit with Santa Claus. For older kids and teens, there are lots of spine tingling roller coaster rides. Whole family will have fun at the ice skating rink and large ferris wheel with panoramic views.
Tip: Hyde Park Winter Wonderland tickets must be purchased in advance.
Shops are filled chocolates in every possible shape, snowmen, royal crowns, sea shells, wreaths, Fortnum & Mason has dazzling collection of gingerbread houses, cookies and candies, mince pies and fruit cakes traditional at Christmas time. And try English style hot chocolate, Cadbury's is a classic.
Find tips and more details on our blog post: London: Christmas is Calling
You'll need a fun place to stay in London, try our selected list of London family hotels and family apartment rentals.
Strasbourg France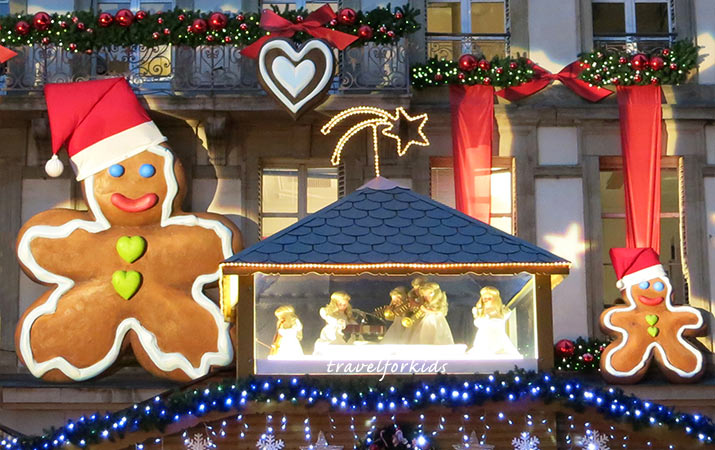 Strasbourg is the "Capital of Christmas" (Capitale de Noel), and has one of the oldest Christmas markets in Europe.
The city has ten different Christmas markets, each with a speciality. The largest market is located in front of the Gothic cathedral, Place de la Cathedrale, with figures of large gingerbread men (Petit Bonhomme). At Place Kleber, a multi-story evergreen tree is decorated with thousands of fairy lights, Place St. Thomas has a "children's village" (Village des enfants) with hands-on activities.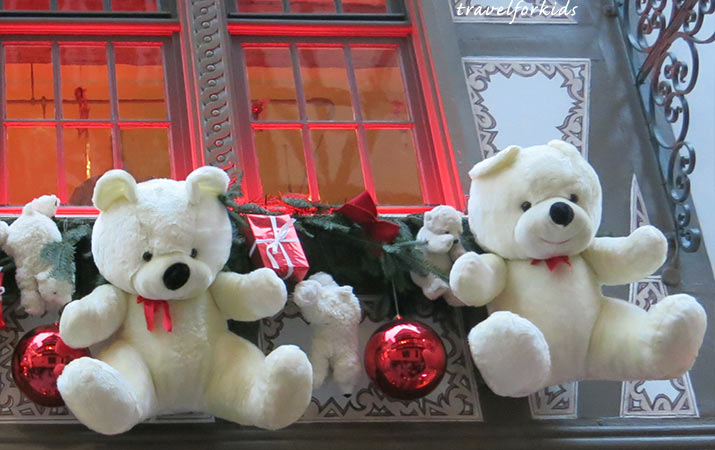 The streets of Strasbourg are beautifully and imaginatively decorated. Walking down Grand'Rue, kids might see Pere Noel (Santa Claus) climbing up windows, angels nestled in starry garlands, red and white storks (symbol of Alsace) inside green wreaths, adorable fluffy white teddy bears playing on building fronts.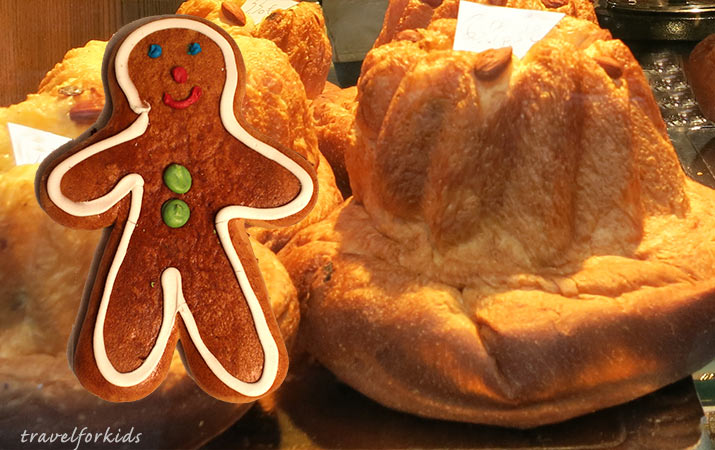 As you wander through the markets, there's such a selection of holiday sweets – bonhomme mannele (little gingerbread man painted with frosting), golden kougelhopf honey cakes, sapin chocolat (chocolate Christmas trees decorated with candied fruits and nuts), so many different kinds of cookies, and for drinks, chocolat chaud (hot chocolate) and hot orange juice with honey for kids, for adults different versions of vin chaud (mulled wine).
Moew details about each Christmas market on Travel for Kids: Strasbourg: Capitale de Noel
Seville Spain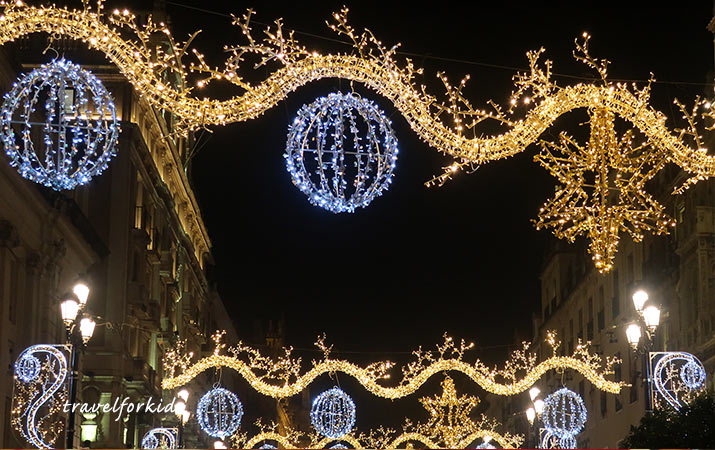 Seville at the Christmas season is a "city of lights," coupled with sunshine and mild winter temperatures (no snow here).
The first week of December, the city is decorated with millions of lights, and every evening people stroll down Avenida de la Constitucion in the center of Seville. At night, join Spanish families with their kids, staying out late.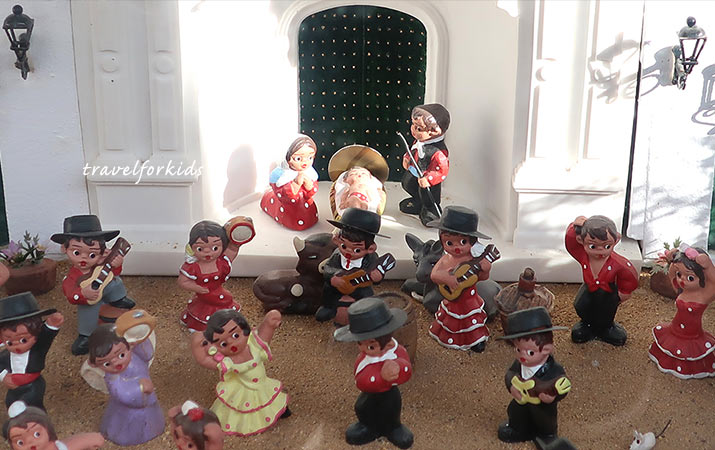 Seville is famous for its nativity scenes, called belenes. Belen, with elaborate figurines are set up in homes, businesses and churches. Figures, along with Mary, Joseph and the baby Jesus, represent people engaged in traditional activities – baking bread in a wood oven, washing clothes by hand, carrying a basket of fish. Other figures are a variety of animals and miniature food.
Visit the Belen Fair (Feria de Belen located near the cathedral, kids will have fun looking at all the stalls stocked with figurines to buy.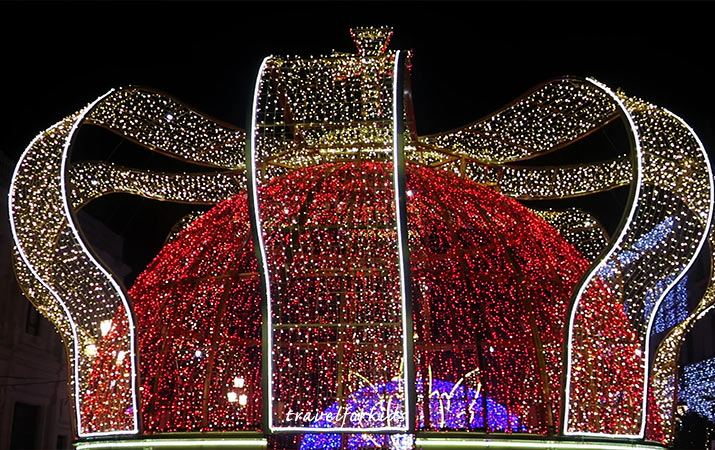 Christmas season in Seville ends with the spectacular Three Kings Parade (Calbagata de Reyes Magos) on the night of January 5. The parade and Epiphany holiday on Jan. 6, twelve days after Christmas, celebrate the arrival of the Three Wise Men in Bethlehem.
More details about holiday sweets, fun fair in Maris Luisa Park, fun things to do and tips for visiting on our blog post: Christmas in Seville: Feliz Navidad
Visiting Seville at the Christmas season, you'll need a fun place to stay. Check out Travel for Kids select list of Seville family hotels and apartment rentals.
Basel Switzerland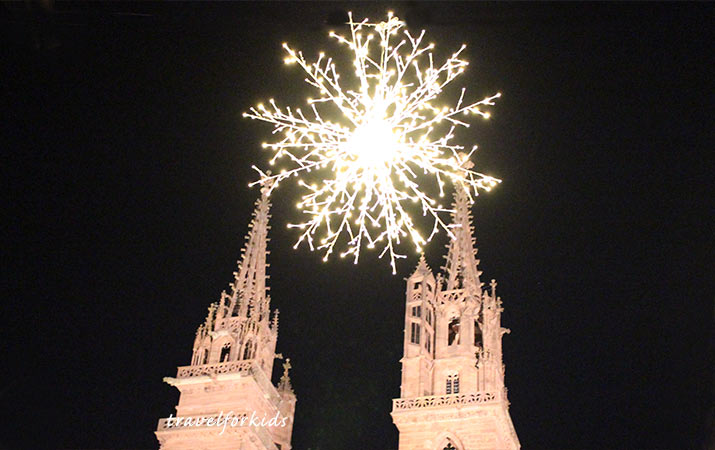 Basel is a "city of stars" – medieval streets are illuminated with sparkling stars, silvery stars twinkle and twirl on evergreen trees, sweet shops are filled with star-shaped pastries and chocolates, starry garlands surround shop windows, in Barfusserplatz the Christmas pyramid goes round and round, stars silhouetted in the night sky.
In Basel, there are two Christmas markets in Barfusserplatz and Munsterplatz. Munsterplatz has a special "Marchenwald" for kids, with activities for children such as toasting bread treats, miniature pony ride, scooter train, watch glassblowers at work.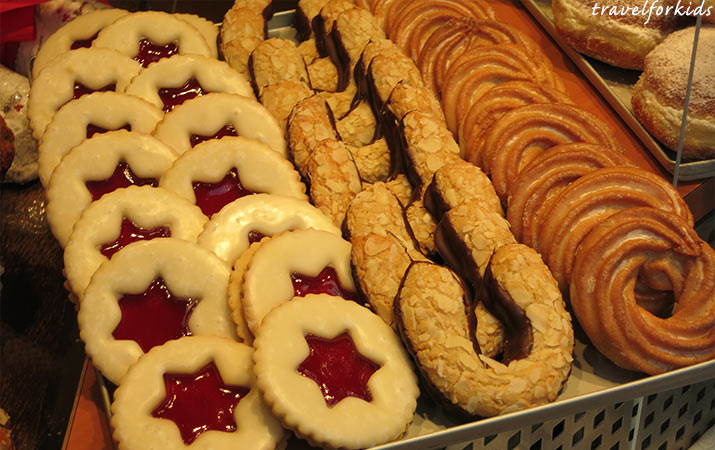 Holiday food is fun for everyone in the family. Confiseries are filled with Swiss chocolates in all shapes and sizes, holidays breads and pastries. Kids will want to try hot chocolate – (Heisse Shoggi or Shokolade), Kinder Shoggi comes with extra whipped cream. For adults, there's hot mulled wine (Gluhwein).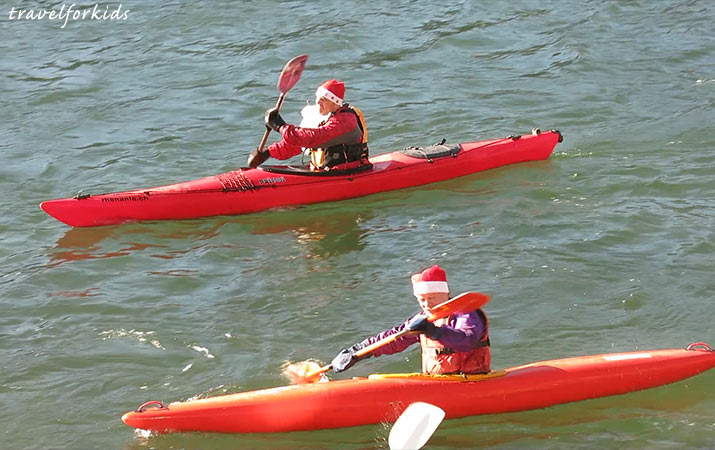 Christmas markets are not the only attraction in Basel. The Basel History Museum has hands-on activities such as dress up as knight, build a castle, climb up the tower of Munster cathedral, take a day trip to Riehen with a charming toy museum. One day walk walking along the Rhine, we saw a group of Santas in red and white hats kayaking on the river.
On Travel for Kids website, read about more about fun things to do with kids in Basel and Basel Christmas markets.