California is home to monarch butterfly western migration.
Starting in late summer and fall, monarch butterflies west of the Rocky Mountains fly down to coast of California, where they spend the winter months, November to February.
In spring, western monarch butterflies leave the coast, and fly inland through California, Oregon, Nevada, Idaho, Rocky Mountain foothills, migrating back to area where they originated, as far north as Canada.
In winter, monarch butterflies need a warm environment (no frost), protection from wind and rain, and source of water and nectar. Overwintering monarch butterflies semi-hibernate, clustering together for warmth and safety from predators, saving their energy until spring arrives.
Three best monarch butterfly sanctuaries are in central coast California – Pismo Beach, Pacific Grove (Monterey), and Santa Cruz.
Each sanctuary provides what monarch butterflies need – sheltered woodlands (eucalyptus, cypress, pines trees), source of water (coastal fog or pond), food (nectar) from flowering plants and trees.
Tip: In the morning hours when its cold, butterflies stay clustered in the trees; when it warms up they open wings, sun themselves on branches and fly around.
Peak months to see monarch butterflies is late November to early January.
Monarch butterfly sanctuaries are fun multi-generational activity for families – walkways or boardwalks are okay for strollers and easy for grandparents.
Pismo State Beach
Monarch Butterfly Grove Sanctuary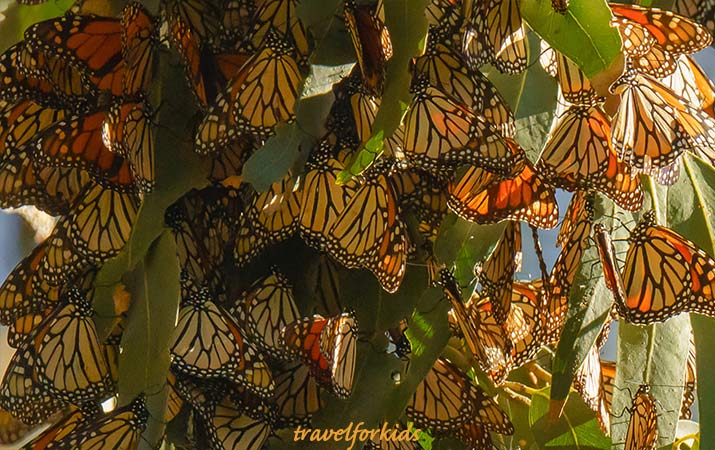 The monarch butterfly grove at Pismo State Beach is one of the best viewing sites, lots of monarch clusters easily visible in large clusters on the eucalyptus trees.
Tip: Bring binoculars to see butterflies up close in the eucalyptus trees. Spotting scopes are often set up also.
Overwintering monarchs are conserving energy, it's handy to have a food source close at hand. The eucalyptus trees where monarchs cluster has flowers that provide nectar for the butterflies.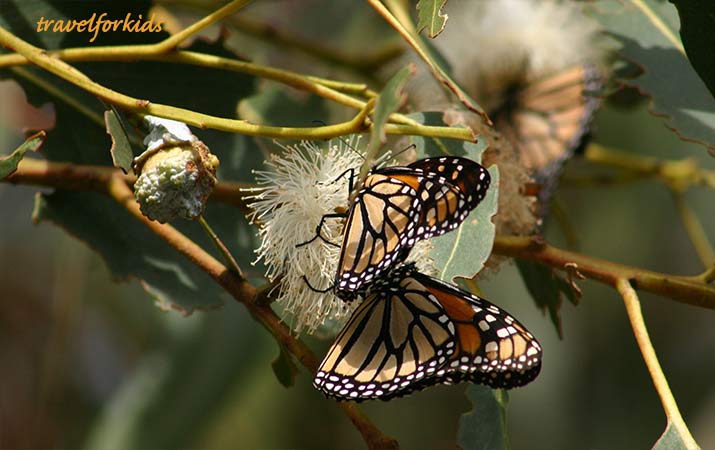 Open daily, sunrise to sunset, and is free. Benches and paved walkway through the trees.
Pismo Beach Monarch Butterfly Grove is located off Highway 1, south of town of Pismo Beach. (If you reach Grover Beach, you've gone too far).
Pacific Grove
Monarch Grove Butterfly Sanctuary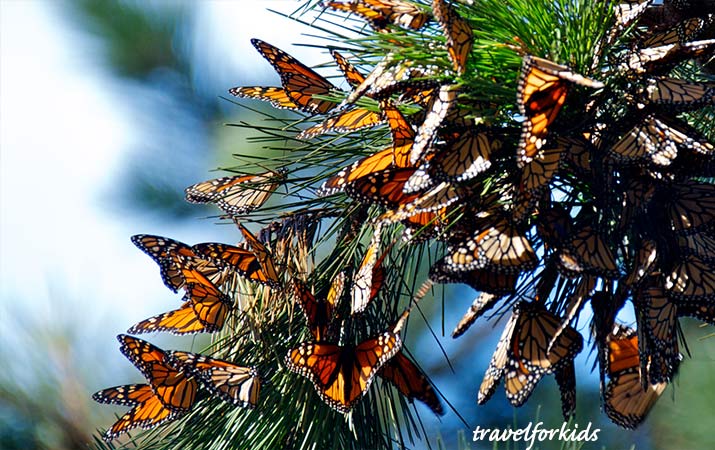 Located at the end of the Monterey Peninsula in Pacific Grove, see clusters of monarch butterflies in eucalyptus, pine and cypress trees, mid-October to February.
Also in the grove, look for butterflies sipping nectar on flowering plants, after it's warmed up butterflies are more active.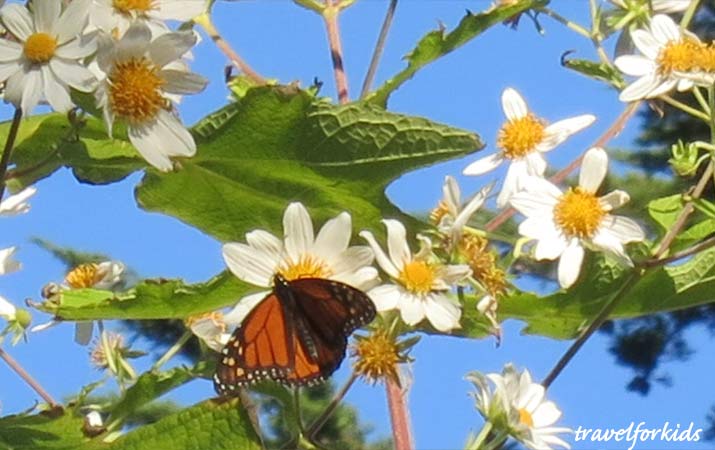 Grove is free, open daily open sunrise to sunset. Walkways and benches in grove.
Monarch Grove Butterfly Sanctuary is located at 250 Ridge Road, Pacific Grove CA 93950.
Tip: For exhibits about monarch butterflies, stop into Pacific Grove Natural History Museum (165 Forest Ave.), closed Monday and Tuesday.
Find more fun things to do with kids in Monterey on Travel for Kids.
Natural Bridges State Beach
Monarch Butterfly Preserve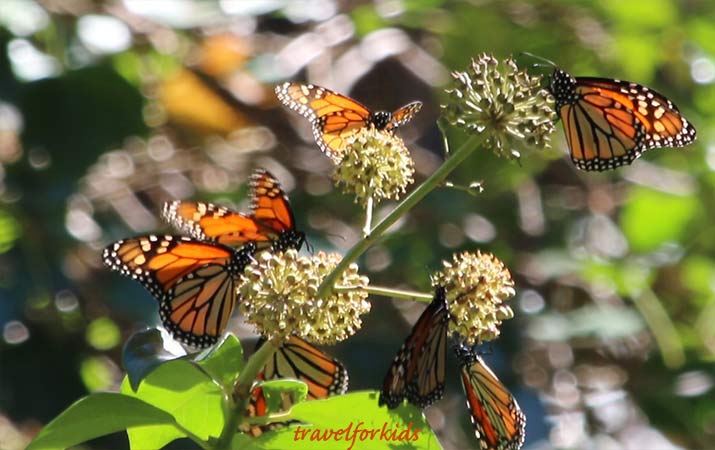 Stroll down the boardwalk through the grove of tall eucalyptus trees. On either side of the trail, look for monarch butterflies fluttering around, drinking nectar from blossoms.
Kid's comments -"Look at the butterflies up there. This is beautiful!"
For a longer walk, continue on the dirt trail to see more butterflies.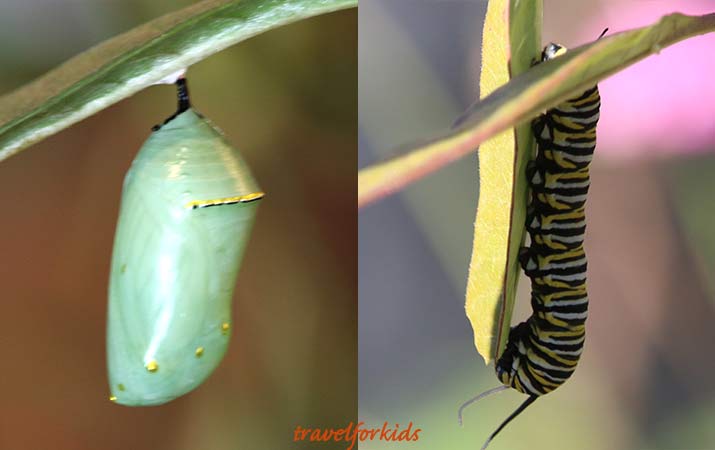 In addition to the Monarch Trail, stop into in the Visitor Center. Kids can see life cycle of monarch butterflies, eggs, caterpillars munching on milkweed leaves, and chrysalis – bright green with gold dots.
Preserve is open 8am to sunset. Day-use parking fee, picnic tables and restrooms near the grove.
After you've visited the grove, kids will want to go out and play at the beach.
More fun things to do with kids in Santa Cruz on Travel for Kids.
Tips for visiting monarch sanctuaries
Bring binoculars to see butterfly clusters high up in trees.
Don't touch the butterflies, especially if they've fallen on the ground.
Stay on paths.
Don't disturb butterfly clusters in the trees.