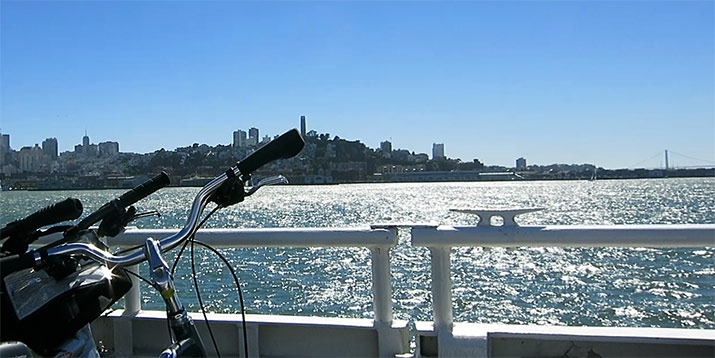 Traveling with kids, one of our favorite activities is to rent bicycles. Not only is biking a wonderful way to explore the outdoors, but is also a fun alternative to "too many museums" in big cities. As parents, we feel as if we're ten years old again, biking in the freedom of long summer days.
Here's biking suggestions for USA destinations:
Golden Gate Park is quite large, with miles of largely level roads and John F. Kennedy Dr. is closed to car traffic on Sunday. Rent bikes and surreys (seats four) at the Stow Lake boathouse, or across from the Japanese Tea Garden. Bike all the way to Ocean Beach.
With older kids and teens, for a spectacular ride rent bikes down on Fisherman's Wharf on Jefferson St. and bike over the Golden Gate Bridge. Ride around Fort Mason to the Marina, along Crissy Field and up to the Golden Gate Bridge. Bike over the bridge to Sausalito, have an ice cream, and pop your bikes on the ferry to return to San Francisco. From the Ferry Building, ride back along the Embarcadero to Fisherman's Wharf, where you started.
Ride the 12 mile (mostly level) paved bike paths around Yosemite Valley, the scenery is spectacular! Rent bikes at Curry Village or Yosemite Lodge. Rental shops have kids' bikes, kid size-helmets and child trailers for toddlers. Bike only on paved paths (dirt paths are for hikers).
Rent bikes on Cannery Row (Bay Bike Rentals, Adventures by the Sea, Blazing Saddles), and bike up the bike path to Lover's Point (stunning scenery by the sea on this section of the trail) and go back down to Old Fisherman's Wharf. With older kids, from Cannery Row, bike up to Pacific Grove and around Sunset Drive.
Griffith Park, is a green oasis, 4,000 acres in downtown Los Angeles. Rent bikes and surreys at Crystal Springs picnic area, and bike to the Los Angeles Zoo or Travel Town.
Biking on the beach at Santa Monica is a must do. Rent bikes at the Santa Monica Pier, and bike the South Bay Bicycle Trail from Will Rogers State Beach (north of the Pier) to Marina del Rey.
On our last visit to Yellowstone, at the Old Faithful geyser area, we rented bikes at Snow Lodge, and rode along the paved bike path to the Morning Glory Pool, and further on to Biscuit Basin. Kids' bikes and helmets are available, younger kids will appreciate the ease of biking back from Morning Glory Pool, rather than walking.
This is one of the most scenic bike trails in the world. Bike from Moose Landing with panoramas of snow covered peaks as you zip along – the trail goes all the way to Jenny Lake. We rented bikes at Dornan's (adult, kids' bikes, helmets and baby trailers). The trail goes have some uphill, but it's a sensational ride.
We rented bikes at Bike and Roll in Millenium Park, and biked south the Lakefront Trail. We stopped to Buckingham Fountain, then continued down to Museum Campus, and around the Adler Planetarium. After a snack, we turned around and biked back up to Navy Pier, fun to bike across the bridge over the Chicago River, then returned to Millenium park, where we started.
In summer, when Washington DC can be hot and humid, walking around all the memorials can be trying. Instead, rent bikes at L'Enfant Plaza (Bike and Roll), bike up to the Mall, then follow well-maintained bike paths to the Tidal Basin, around the Jefferson, Franklin Roosevelt, Martin Luther King Jr., Lincoln and war memorials, and Washington Monument.