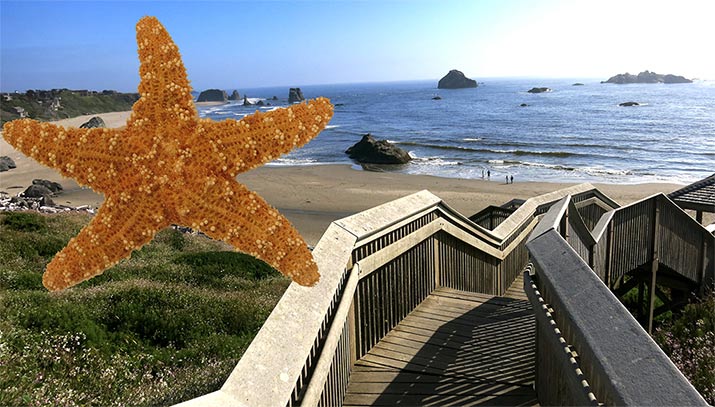 We've just returned from a fabulous week on the Oregon coast.
We rented a house in the town of Bandon, on the bluff above Coquille Point, and every night we went to sleep to the lulling sounds of waves rolling onto shore and muffled fog horns.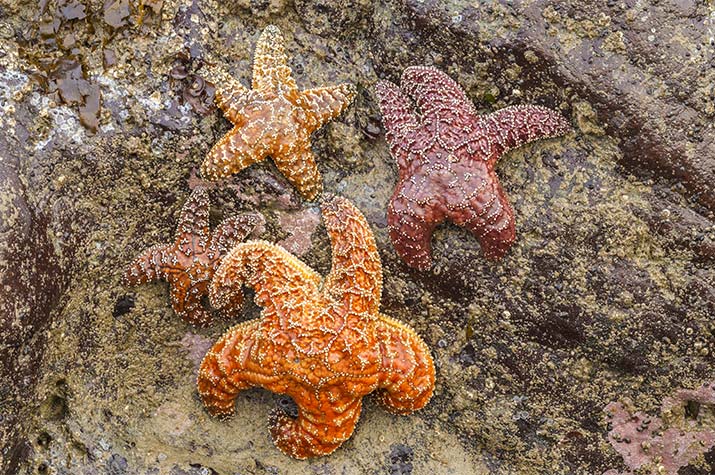 Coquille Point is amazing.
Our first morning, it was misty, but we rushed down the stairs to the beach to explore the tidepools at low tide.
Chubby harbor seals lolled about, and in the pools were giant emerald green anemones, colonies of pink aggregate anemones, purple and orange sea stars, mussels and barnacles.
The rocks at Coquille Point are nesting areas for many seabirds in spring and summer. Volunteers were standing on the beach to help us identify different birds.
We quickly discovered that flocks of birds that look of sort of like penguins are Common Murres.
It wasn't hard to spot two black birds with long pointy red beaks, parent Black Oystercatchers, busy tending to their single downy chick.
As it turns out, Oystercatchers rarely eat oysters, they prefer mussels.
Hoping to see Tufted Puffins, from the volunteer we learned that although the puffins do nest at Coquille Point, this year they came, but didn't stay.
Tip: Exploring the tidepools, don't use sticks to poke into open anemones. Anemones are doing their best to survive at low tide, and this makes it quite difficult. Also, rocks exposed at low tide are covered with anemone colonies all closed up, they look brownish with bits of shells stuck to them. Don't walk on the rocks, as you'll squish all the anemones under foot.
Check the tide tables before you come down – at high tide the pools aren't accessible.
Wandering north on the beach, toward the South Jetty, kids can play in driftwood forts and it's the best area to collect colored stones (look for agates too).
Old Town Bandon – The center of Bandon along the marina is called Old Town.
Here you'll find fish markets, bookstores, toy store, cafes and bakeries, restaurants, chocolate shop, farmers market on Friday and Saturdays in summer. Face Rock Creamery has locally made cheeses and Umpqua ice cream (delicious).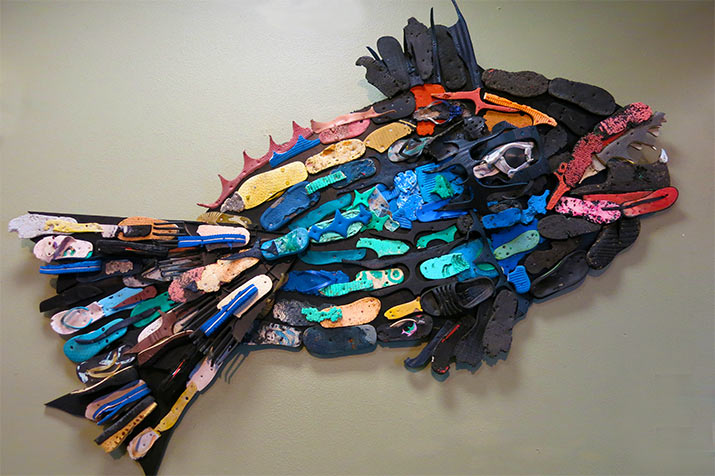 Washed Ashore Gallery – Kids will have fun in this unique gallery, with imaginative sculptures created from litter washed up on the beach.
Check out sculptures such as the "Flip-Flop Fish" (above, made from flip-flops of course), a tufted puffin, stryofoam coral reef and whale skeleton, giant jellyfish, musical sea-star (play tunes with glass bottles embedded in the sculpture), step into a bio-luminescent sea cave, with tidepool creatures that glow in the dark.
The sculptures in the gallery change constantly, and you'll see them at exhibits and museums all over the country.

Walking along the boardwalk, we spotted a summer artwork show "Coastal Creatures – Real or Imagined," paintings done by local Bandon children in grades 1 – 12. Such talented artists!
Cape Blanco Lighthouse, a half hour drive south on Highway 101 from Bandon, this is a must see! Built in 1870, it's one of the few lighthouses still in operation. As we walked up to the lighthouse, although it was a bright day, we could see the light winking and twinkling in the sunlight.
On our tour of the lighthouse, first stop on the ground floor, we were greeted by our volunteer tour guide, dressed in a spiffy replica blue uniform of lighthouse keepers.
Our guide had stories to tell about about the lighthouse and surrounding area, and then we climbed up the circular stairway to the top of the tower.
The Fresnel lens, made in Paris, slowly rotated round and round, magnifying the light. And what a view of the beach and coastline.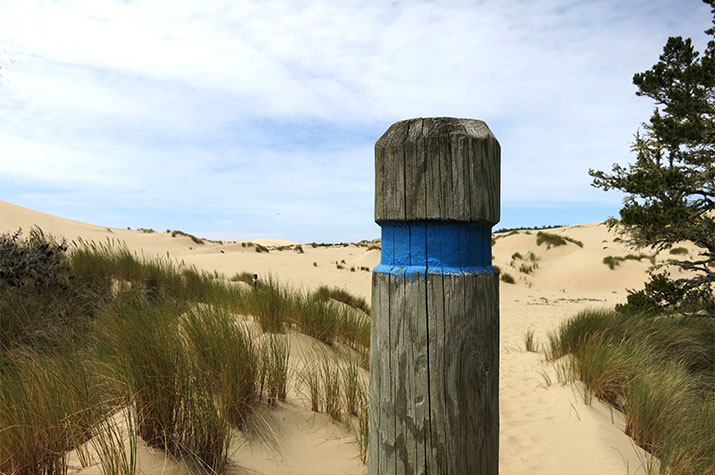 Oregon Dunes National Recreation Area – Another day we drove north to the Oregon Dunes National Recreation Area to hike the John Dellenback Trail, which goes across high sand dunes to the beach.
What an adventure, following wooden poles that mark the trail through the dunes, we felt like explorers in the Sahara (we didn't see any other people on our hike).
Sometimes when the next pole wasn't visible we climbed to a higher spot, to see where to go next. After a couple of miles, we reached the boardwalk trail extending through a dense forest, emerging at white flat sand beach. Perched on a driftwood log, we ate our lunch, watching the waves roll in.
Tip: It's about 3 miles to the beach, 6 miles round trip. This is great hike with older kids and teens. However, with younger kids, you can start out into the dunes and have fun playing in the sand.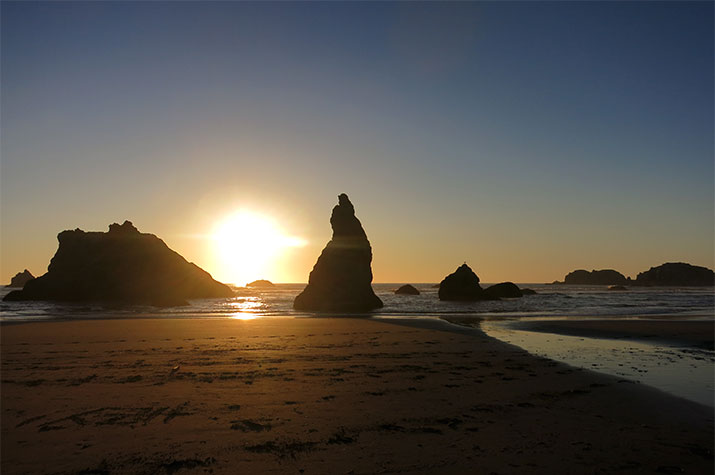 In the summer, the sun doesn't set until late, around 8:30 or 9:00pm. And what a sunset on the beach at Bandon. The rocks have names, Face Rock, Cats and Kittens Rocks, Elephant Rock. One rock formation is called Howling Dog, but from another angle it's a Wizard's Hat. The beach is magical.
Tip: The town of Bandon is our favorite place to stay on the southern Oregon coast, a house next to the beach is heaven.
On Travel for Kids is our list of Bandon best family beach rentals: Bandon family vacation rentals