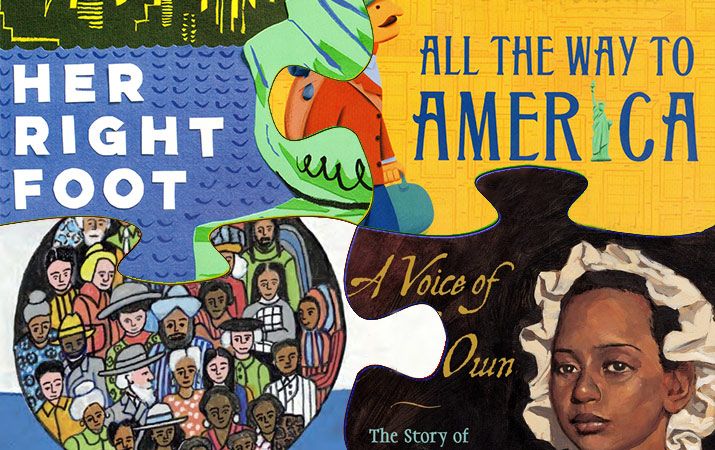 We came to America,
Every color, race, religion.
From every country in the world
The immigrant experience is life turned inside out – children (sometimes alone), teenagers and families leave everything behind in their home country, and start over again in a strange new country.
The idea for this post began with Stepping Stones: A Refugee Family's Journey.
Browsing through our local bookstore, this book leaped out at us, with extraordinary collages by a Syrian artist, Nizar Ali Badr. He makes his art from small smooth stones gathered on the beach. In the midst of a continuing war today, this book speaks volumes.
Children's books open doors into worlds of difference, and create inspiring stories of hope, courage, new ideas, social change in America.
Her Right Foot

by Dave Eggers, Shawn Harris

.
The Statue of Liberty, iconic symbol of freedom, has welcomed millions of visitors and immigrants to the United States. How can she stand still? Look at her immense right foot, taking a big step to meet "the poor, the tired, the struggling to breathe free." (Picture book)
Note: The Statue of Liberty is an immigrant too – the statue was made in France and brought to the United States.
Inside Out & Back Again

by Thanhha Lai

A year of change, life twists inside out for ten year old Kim Ha. In 1975, along with her mother and three brothers, the family leaves Vietnam on a refugee ship, are rescued at sea, and end up in Alabama. Ha, the only person in her class with olive skin and straight black hair, is called "Pancake Face," and learning English makes her feel dumb. She longs for her papaya tree, sugary lotus seeds, rice cakes, and luck that starts over each lunar new year. (Chapter book)
A Voice of Her Own: The Story of Phillis Wheatley, Slave Poet

by Kathryn Lasky, Paul Lee

.
Phillis was kidnapped from west Africa in 1761, sold into slavery on the Boston wharf, and bought by the Wheatley family to be a servant. But Susannah Wheately taught seven year old Phillis to read and write, she goes on to study Latin, Greek, geography and math. Phillis became famous for her poems, she wrote about America's struggle for freedom from Britain, and in 1774, a collection of her poems were published, the first book ever written by an African-American woman. (Illustrated chapter book)
Islandborn

by Junot Diaz, Leo Espinosa

.
Lola was a baby when her family left their Caribbean Island to come to New York. When her teacher asks the class to draw a picture of the country they came from, Lola doesn't remember, so she goes to her neighborhood friends and family, who tell her memories of music, blanket bats, mangoes and fresh coconut milk, banishing a Monster, colorful houses and flowers, dolphins that come to shore at sunset. And Lola draws a picture of the Island. Fabulous illustrations! (Picture book)
We Came to America

by Faith Ringgold

.
We came to America,
Every color, race, religion.
From every country in the world.
In spite of where we came from,
Or how or why we came,
We are all Americans,
Just the same.
Wonderful bold, bright illustrations and poetry express the kaleidoscope and diversity of our country. (Picture book)
The Dreamers

by Yuyi Morales

.
An autobiographical story, Yuyi comes from Mexico with her infant son to live in San Francisco. So many things she doesn't understand and is afraid to speak. But she discovers the public library, and books become a home. Fabulous collage illustrations, with paintings and embroidery, open the page on a world of hope and imagination. (Picture book)
The Arabic Quilt: An Immigrant Story

by Aya Khalil, Anait Semirdzhyan

.
Kanzi's family has moved from Egypt to America, On the first day of school, when kids tease her about using Arabic words, Kanzi writes a poem about a treasured quilt made by her grandmother. The teacher has an idea to translate names of all the kids into Arabic, and create a beautiful new class quilt. (Picture book)
All the Way to America

by Dan Yaccarino

.
Great-grandfather Michael leaves Italy with his mother's tomato sauce recipe and a little shovel. Arriving in America through Ellis Island in New York City, Michael lives in Little Italy, marries, has five children, and starts his own business. His son Dan opens an Italian food market, and then a restaurant with pizza and spaghetti. Next generations have large family dinners, go to Italian celebrations in Little Italy, and now the author's son Michael uses the same little shovel to grow tomatoes and strawberries, just like his great-great grandfather. (Picture book)
Skating with the Statue of Liberty

by Susan Lynn Meyer

.
It's 1942, Gustave, a twelve year old Jewish boy, and his family escape from Paris and the Nazis. Now they live in New York City, but Gustave isn't comfortable – his French clothes look funny, boys throw rocks and call him "Jew-boy," he doesn't know how to play basketball, and discovers how difficult it is to be friends with an African-American girl in his classes. And yet, Gustave explores his new city, tries new food (cheesecake is delicious), goes roller skating with new friends, is hopeful about his new life in America. (Chapter book)
The Keeping Quilt

by Patricia Pollaco

.
The author's Great-Gramma Anna came to America from Russia. When her dress and red headscarf wore out, Anna's mother and all the neighborhood ladies used it and other scraps of cloth to make a quilt. When Anna married, the quilt was used as a wedding huppa (canopy). For generations the quilt has been a part of family celebrations, with stories told about every animal and flower on the quilt, each made from memories of the home country. (Picture book)
Coolies

by Yin, Chris Soentpiet

.
Two brothers, Shek and Little Wong leave China for the land of opportunity in America. But as railroad laborers on the 19th century transcontinental railroad across the United States, the work in is very dangerous and backbreaking. Gorgeously illustrated story captures the Chinese experience working on the railroad. (Picture book)
Irving Berlin: The Immigrant Boy Who Made America Sing

by Nancy Churnin, James Rey Sanchez

.
"God Bless America" was composed by Irving Berlin. As a child, he came with his family to the United States from Russia; Irving and the passengers sang as the ship passed by the Statue of Liberty. His family was poor, when his father died, he went to work selling papers, but Irving always sang popular songs. At 19, he wrote his first song, and then "Alexander's Ragtime Band" – Irving was famous.
In World War II, "God Bless America" became the unofficial anthem of the United States – the title is the words his mother said when they docked in New York, over a century ago. (Picture book)
Yes ! We Are Latinos

by Alma Flor Ada, F. Isabel Campoy, David. Diaz

.
My name is Julio. I am Zapotec. I live in Stockton California. I am Latino.
My name is Monica. I am from El Salvador. I live in Houston. I am Texan. I am Latina.
Narrative poems of twelve children from Spanish-speaking countries, their stories of Latino and Latina experience in the United States, plus historical background about migrant farmworkers, indigenous and African roots, Latino immigration to America. (Illustrated chapter book)
Who Was Nikola Tesla?

by Jim Gigliotti

.
Illustrated biography of Nikola Tesla, born in Croatia, but came to the United States as a young man to work for Thomas Edison's company. One of the most brilliant scientists, Tesla's inventions led to radios, wireless technologies like cell phones and the Internet, and made possible electricity in homes (imagine how important electricity is for everything in your home!). (Chapter book)
What Was Ellis Island?

by Patricia Brennan Demuth, David Groff

.
Starting in 1892, immigrants from Europe to the United States arrived at Ellis Island. Read this comprehensive history of Ellis Island, now the museum, where immigrants landed by boat, were interviewed, fed and treated for sickness, given landing cards, and a new life in America. (Illustrated chapter book)
The Camping Trip That Changed America

by Barb Rosenstock, Mordicai Gerstein

.
Have you visited a national park in the United States? Then remember John Muir, an immigrant from Scotland. Muir took President Teddy Roosevelt to Yosemite – hiking on their own and sleeping outdoors, they talked about preserving the wilderness for generations to come. The result is national parks, public lands for everyone today. (Picture book)
Stepping Stones: A Refugee's Family's Journey

by Margriet Ruurs, Nizart Ali Badr

.
In that not-so-distant memory
we were free.
Free to play, free to go to school.
Free to laugh and chat and drink tea with neighbors.
Always three cups.
When war comes to their country, people begin to leave the village, a river of people hoping to find a place where bombs don't fall, killing people on their way to market. The family says goodbye to the flowers in their yard, their goat, and they begin walking.
New neighbors welcomed us with open arms.
I heard their voices but didn't understand their words.
But when I saw their smiles, I knew what the words meant.
"Stay!" they said.
Original collages made from beach stones, created by Nizar Ali Badr in Syria, convey the terrors of war, taking only what you can carry, but also tell a story of caring, kindness, and humanity. (Picture book, in English and Arabic)
Tip: Portion of proceeds from sale of this book go to refugee resettlement organizations across North America.