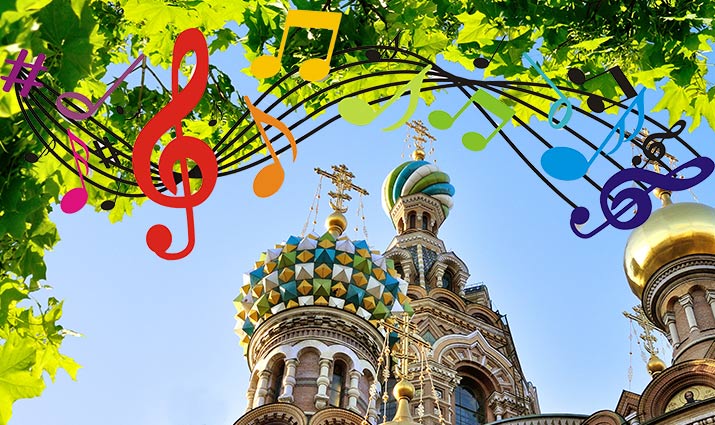 A new children 's book came our way recently – Mussorgsky's Picture at an Exhibition. Immediately we were reminded of a summer in St. Petersburg, where we listened to a program of Russian composers, played by the St. Petersburg Philharmonic orchestra in a gold and white concert hall.
The concert in the St. Petersburg Grand Hall of the Philharmonia started promptly at 7pm, sunlight streamed in through high windows, sparkling on glimmering chandeliers. The orchestra came on stage, tuned their instruments, then the conductor stepped up.
The program was all Russian. The first piece was Rimsky-Korsakov, played by the orchestra with great emotion, next Prokofiev with a young Russian violin soloist. After intermission, the "biggie" was Rachmaninoff piano concerto No. 2, the program ended with Tchaikovsky and music from The Nutcracker. It was a memorable concert!
Tip: The concert hall is elegant, the orchestra impeccably dressed, but as audience-goers, our "travel clothes" were fine. (In general, we'd suggest no shorts, any long pants for boys, can't comment on girl's clothing.)
And, hear Russian composers right now. On YouTube:
Mussorgsky – Pictures at an Exhibition
Prokofiev – Peter and the Wolf
Rimsky-Korsakov – Scheherazade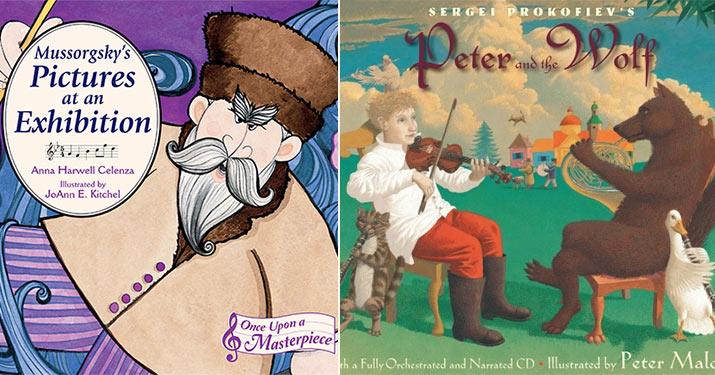 Here's our favorite children's books about Russian composers.
Mussorgsky's Pictures at an Exhibition by Anna Harwell Celenza, JoAnn E. Kitchel. Story of how the composer Mussorgsky was inspired to write Pictures at an Exhibition. After Victor, an artist and architect, dies suddenly, his friends put together an exhibition of his art. From the pictures, Mussorgsky creates a soaring piano composition in honor of his dear friend. Colorfully illustrated, like Russian folk art. (Picture book)
Sergei Prokofiev's Peter and the Wolf by Janet Schulman, Peter Malone. Charming retelling of Peter and the Wolf, the musical fairy tale. A wolf leaps out of the deep dark woods, trapping the bird, the duck and the cat, but Peter has a plan to trap the wolf. Eye-catching illustrations, fully narrated CD and fun for all ages. (Picture book and audio CD)
Peter Tchaikovsky by Mike Venezia. Find out about the Russian composer who wrote the music for The Nutcracker, Sleeping Beauty and Swan Lake, and used real cannons and church bells in his famous 1812 Overture – Peter Tchaikovsky. (Picture book)
Ella Bella Ballerina and Swan Lake by James Mayhew. Listening to the music of Swan Lake, little Katie step into the classic ballet. An excellent introduction to both the ballet and music composed by Tchaikovsky. (Picture book)
When Stravinsky Met Nijinsky by Lauren Stringer. Story of two Russian artists, the composer Stravinsky, and dancer Nijinsky, and their collaboration, to create The Rite of Spring ballet, that caused a riot in Paris. Stravinsky and Nijinsky "took Russian folk dances and Russian songs / they squared them and flattened them, twisted and cubed them / turning them into something different and new." (Picture book)