In southern Utah, centuries ago Native Americans created petroglyphs (carved in stone) and pictographs (painting on stone) on rock cliffs.
The images range from abstract dots, circles and squiggly lines, to human forms, footprints, animals such as deer, big horn sheep, horses. Dating rock art can identified by different time periods, but the meaning of many rock art symbols is still a mystery.
One rock art site in southeast Utah is "Newspaper Rock," with over 600 petroglyphs carved over a long period of time, from about 2,000 – 700 years ago.
Newspaper Rock is just one of Native American sites and cultural artifacts in Bear Ears National Monument.
Without protection of the national parks, rock art in Utah is easily vandalized – and will disappear.
We hope Native American "stories in stone" will continue to be preserved in Bear Ears National Monument.
Here's two more examples of fabulous rock art, protected in Arches and Capitol Reef National Parks.
Arches National Park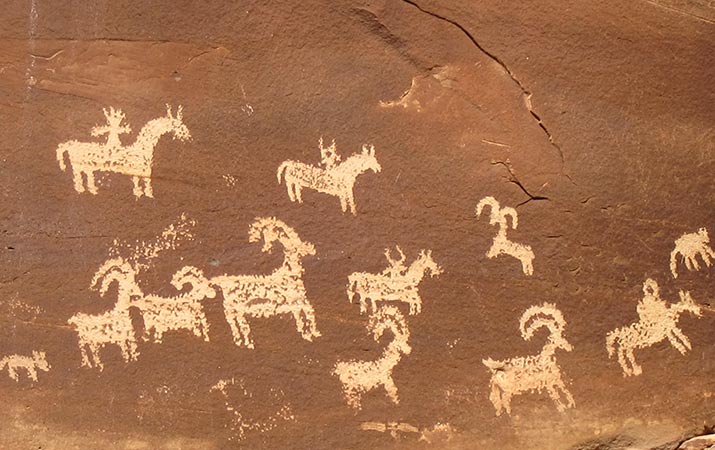 On the rock is a hunting scene, with people on horseback and a bunch of big horn sheep. Not as old as some petroglyphs, the rock art is dated from 1650 – 1850 AD.
Take the trail to Delicate Arch – the petroglyphs are a short distance down the trail at Wolfe Ranch.
Capitol Reef National Park
Capitol Reef National Park, next to Highway 24 find petroglyphs on a sheer cliff.
On the stone are carved human figures with stick figure hands and horned headdresses (look sort of like aliens to us), plus mountain sheep leaping around. The petroglyphs were carved by the ancient Fremont peoples, who lived in the area about 700 – 1200 AD.
Viewing platform and easy access, bring binoculars to see details close up.
No photos really capture what it feels like to see petroglyphs and pictographs in person, and it's fun to go in search of rock art with kids.
For more information about where to find Newspaper Rock and more rock art sites in southeast Utah read: Rock Art on our Travel for Kids website.