Over the long July 4 weekend, our destination on the California central coast — Morro Bay.
Morro Bay is famous for its distinctive "Morro Rock," but under the water are giant kelp forests, and a good place to look for sea otters.
One foggy morning we wandered out to Morro Rock, and in the water were fifteen to twenty sea otters, gliding and somersaulting through the water, cleaning their fur, and sleeping wrapped up in kelp.
We've never seen so many sea otters in one place – a true "raft of sea otters," gently bobbing on the water.
Our favorite was a mother and pup. First they zoomed back and forth in the water, then the mom dragged her pup out of the water, and plopped the baby on her tummy to wash and fluff the pup's fur.
Later, when mom rested, wrapped up in seaweed, the pup played with a big piece of kelp – eventually the pup popped his head out from underneath the kelp and shook out the water. After our video ends, mom hauled up the pup for another round of bath time…
What's going on here – why do sea otters put up their paws and feet, clean their fur so often, and wrap up in kelp?
Sea otters hold their front paws and webbed back feet above the water to keep them warm. By twirling round and round, somersaulting over and over, airing out their fur, clean and fluffed fur retains body heat in the chilly Pacific Ocean. Sea otters spend most of their time in the water, and rarely go on shore.
On the California coast are giant kelp forests, with huge fronds that grow up to the surface. For sea otters, kelp is like a "floating blankie," securely attached to the ocean floor. Kelp also is home to plenty of sea creatures, including turban snails and sea urchins, tasty food for sea otters.
Sea otters spend hours every day diving down for food in the ocean, and then they need to rest.
Sea otters twirl kelp around them to sleep in comfort (especially important with a pup), knowing they are protected from wind and waves, and won't drift out to sea.
Children's books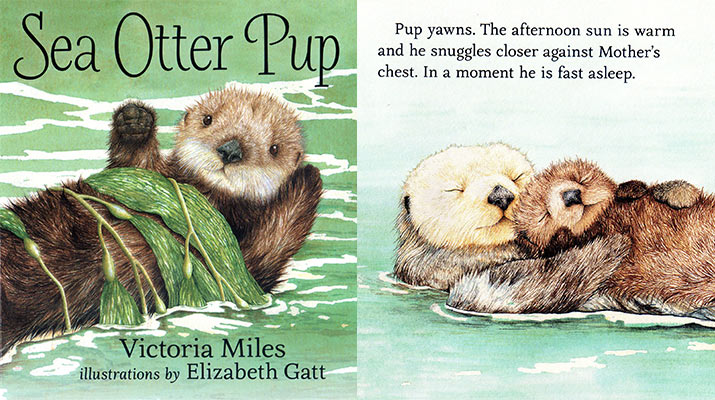 Read about sea otters before you visit the California central coast. Along with Morro Bay, look for sea otters in Cambria (Moonstone Beach), Monterey and Santa Cruz.
Also, sea otters are found on the Oregon coast, Washington Puget Sound, off Vancouver Island in British Columbia, and Alaska Kenai Peninsula.
Sea Otter Pup by Victoria Miles, Elizabeth Gatt.
Delightful story to read before going to look for sea otters at Morro Bay. Cycle of life for a sea otter mother and her pup – the mother feeds, washes, and snuggles the pup, and soon pup dives down to find food for himself. Beautifully illustrated! (Picture book)
Tip: This book is just like the mother and pup we watched in the bay!
Sea Otters by Laura Marsh.
Fun facts about sea otters – thick fur to keep warm, hind legs to swim and dive, a tail to steer through the water, grooming for hours every day to stay clean, pouches to hold their food. (Easy reader)
Sea Otters by Louise Spilsbury.
Get to know the sea otters you'll see in Morro Bay. Discover how these enchanting creatures survive in cold waters (two layers of fur), how they eat (in the water, floating on their back), why sea otters rest with their paws up (conserves heat), threats to sea otters survival, and more. Good for older kids. (Illustrated chapter book)
Conservation
In the 19th century, sea otters were hunted for their thick soft fur, and nearly became extinct on the California coast by the early 21st century.
Today due to conservation, from Alaska to California, the sea otter is a protected marine mammal. Monterey Bay Marine Sanctuary, similar to national parks, provides a safe habitat for marine life from the Golden Gate Bridge to Cambria (just north of Morro Bay).
As we write, the current government has asked for a review of Marine Sanctuaries, including Monterey Bay Marine Sanctuary, to possibly remove these protections to allow oil and gas drilling off Monterey Bay.
With oil spills, sea otters are especially vulnerable, as they can't clean their fur, when clogged with oil (thousands of sea otters died in the Exxon oil spill off Alaska).
Do we want our children and future generations to ask "what is a sea otter?"