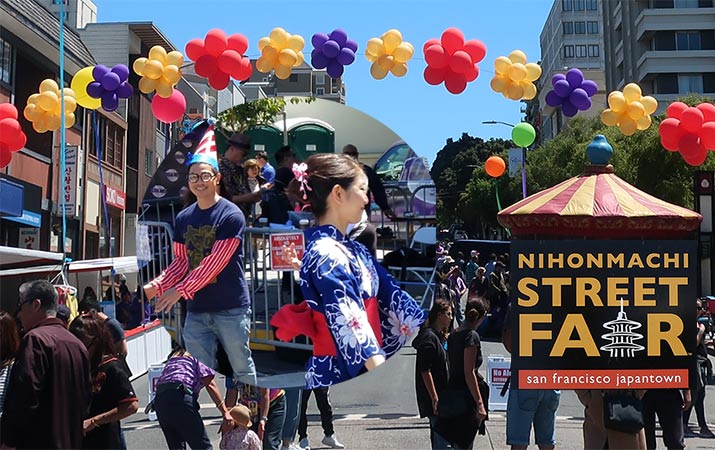 Last weekend – Nihonmachi Street Fair in San Francisco Japantown.
A neighborhood event since 1973, the fair welcomes and showcases diversity, "For the Community, Embracing All Communities."
When we arrived, Post St., now a pedestrian avenue, was lined with booths, two music stages, food fest and classic car show at the far end.
Booths offered Asian craft activities for kids, face painting, children's clothing, artisan crafts, other booths featured community organizations, San Francisco Fire Department gave out red plastic helmets for kids.
Food Fest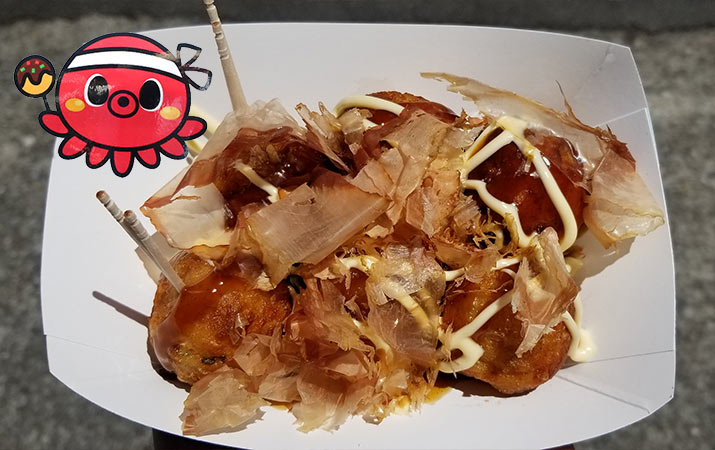 It was lunchtime, so we headed over to the food stalls. Fun food for kids to try – okonomiyaki (Japanese pancake), fried squid on skewers, teriyaki burgers, poke bowls, udon and somen.
One booth had an eye-catching red octopus drawing, we had to have "takoyaki."
Takoyaki – "octopus balls" – is octopus and vegetables folded in batter, cooked in a special cast iron pan, topped with teriyaki sauce and bonito flakes. Delicious!
More food was also available in adjacent Japantown restaurants – wide variety of noodles, sushi, sweets, and ice cream.
At the end of the afternoon, we stopped into Cafe Maiko for soft serve matcha (green tea) ice cream.
Music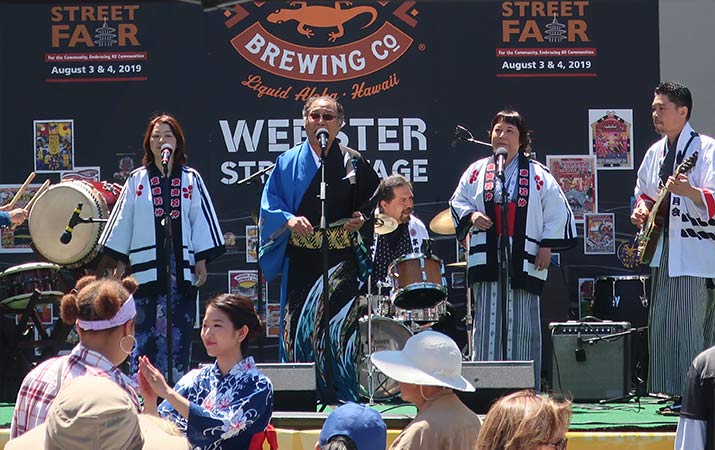 Music stages had a wide variety of music and dance performances – there was music and dance from Myanmar, Hawaii, Polynesia, lion dance, taiko drumming, flamenco, different bands played rock, Japanese fusion, R&B, Disco, Latin soul, Motown, local Chinatown music.
Yamasho Kai musical group (photo above) was representative of world music played this afternoon – taiko drums, "American" drums, Latin drums, electric bass and guitar, and vocalists. Songs varied from BB King instrumental to long form song with lead vocalist singing in Japanese.
Car show
Sounds of Thunder car show, cars included a beautifully preserved 1937 cherry red and creamy white Rolls Royce, Datsun convertible, Ferrari, Mustang, and more American "muscle" cars.
Doggie World Parade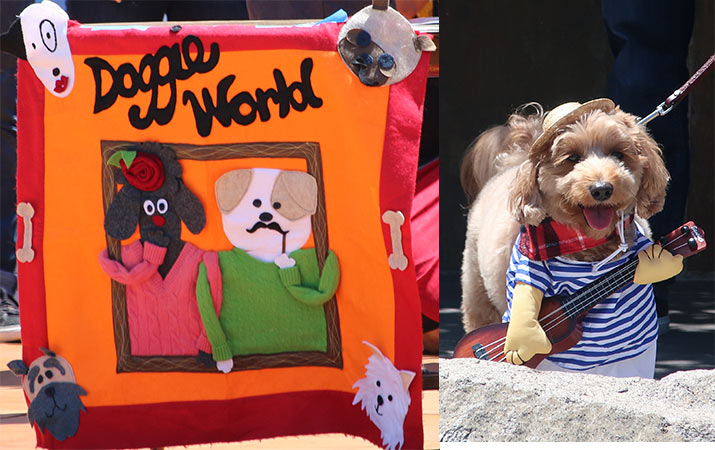 Doggie World Parade & Pageant was a highlight of the street fair.
Owners and their dogs participated in different events – Best Costume, Best Smile, Best Puppy, Best Look-Alike (owner and dog).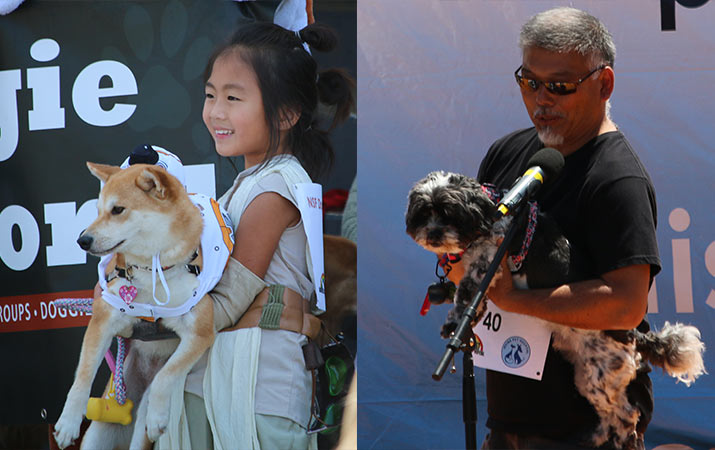 Both these contestants have our vote for "Best Look-Alike."
San Francisco is a dog friendly city, also "duck friendly." Tito, a duck sitting in a red wagon, watched Doggie World Parade too.
Nihonmachi Street Fair lived up to its tag line, welcoming diversity and embracing all communities, including dogs, ducks and dragons.