Smithsonian National Air and Space Museum in Washington DC has two locations, the Museum on the National Mall, and a second location, Steven F. Udvar-Hazy Center in Virginia, near to Dulles International Airport.
Udvar-Hazy Center, two huge hangars filled with airplanes and space craft, is a fun place for kids run around and see some of most famous airplanes in the world.
Tip: Museum is free, open daily, but check museum website to plan your visit: Udvar-Hazy Center
National Air and Space Museum also has plenty of online resources for kids – virtual tours, activities and games, cockpit panoramas pioneer stories and more. Check out:
Air and Space Anywhere
Here's some highlights at Udvar-Hazy Center:
Enola Gay Boeing B29 bomber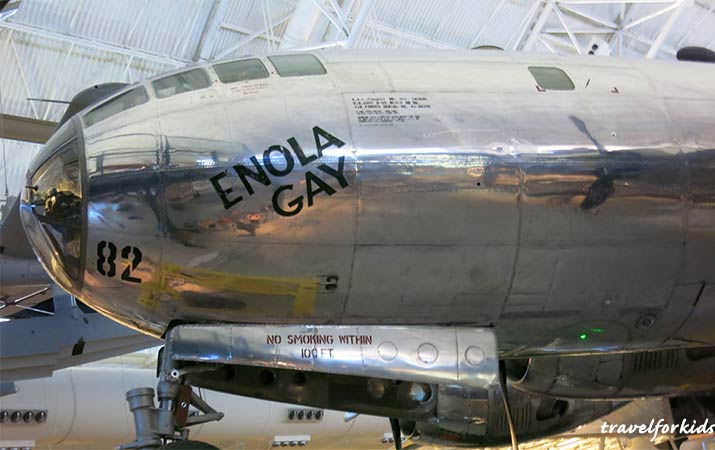 Enola Gay transported and dropped the atomic bomb on Hiroshima Japan, August 1945
Curtiss P-40E Kittyhawk World War II fighter
British Hawker Hurricane World War II fighter
Airphibian 1950
Airplane could fly to an airport, fold up wings, transform into a car.
Apollo testing command module
Discovery Space Shuttle
Space Shuttle rocket nozzles

Lockheed SR-71 Blackbird reconnaissance plane
Tip: Find more fun things to do with kids in Washington DC on Travel for Kids.
And check out our list of Washington DC family hotels, if you're staying near Dulles Airport, the museum is close by.