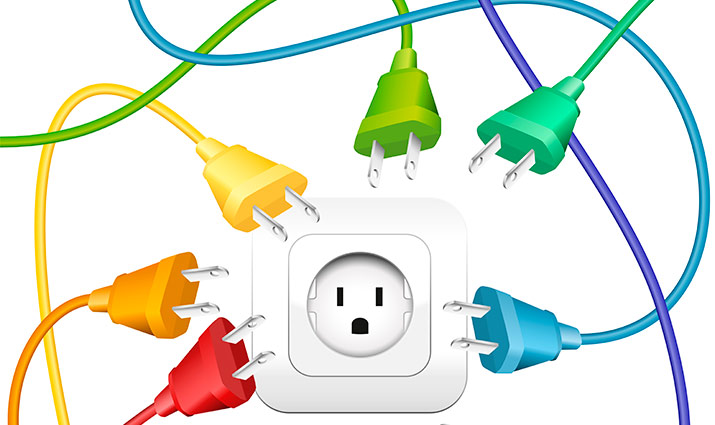 On a recent trip to Rome, after checking into our hotel (where we've stayed before), we were dismayed to find only one outlet available in our room.
So many things to plug into that lone outlet! Cell phones, camera batteries, tablet, laptop, electric toothbrush.
In a world-wide hotel chain such as Marriott or Hilton, there's usually plenty of outlets in rooms. But commonly in Europe, or traveling in off-the-beaten track destinations, you may find one plug is all there is. For our Tikal National Park hotel in Guatemala, we had no outlets to use in our room, so we had to go to the hotel lobby to charge our electronics.
However, in Rome after asking at the hotel desk about lack of outlets, the Italians had a solution. They quickly came to our room, bringing a power strip with multiple outlets. Problem solved.
Back home, we realized hotel rooms with one outlet would probably come up again. So we found the perfect travel power strip, with four outlets. Tidy and compact, weighs one pound, outlets for laptop three prong plugs, this made our life so much easier.
Tip: Remember, this travel power strip still requires an adapter plug to match the wall outlet (which varies in different countries). In France, Italy and Spain, it's a round two prong plug, in England, it's a rectangular three prong plug.
Also, the electronics we plug into the power strip (camera battery re-chargers, smart phones, tablet, laptop) are low power and dual voltage. Do not plug in a high power, single voltage 110v item (e.g. hair dryer) if the wall outlet is 220v (most of Europe), without a voltage converter.
For more travel tips, read "Packing for your trip: Part 2 – All the small stuff" – other essential items to bring, small containers for toothpaste and shampoo, flashlights, Ziploc bags, binoculars, fold up duffel, blanket totes, and more.