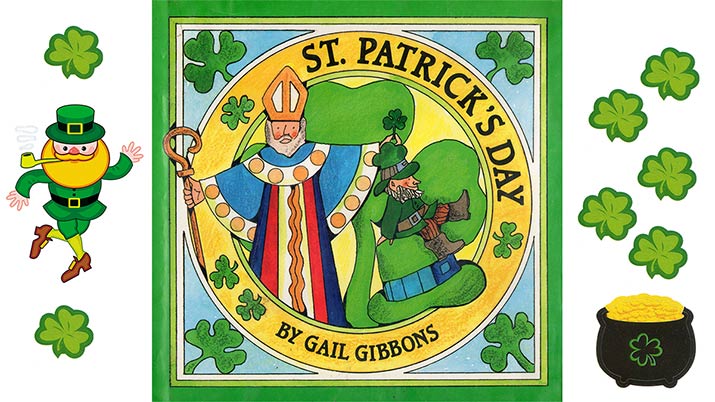 St. Patrick's Day, coming up on March 17, is not just an Irish holiday.
Saint Patrick is the patron saint of Ireland, who lived in the fifth century and brought Christianity to the island.
In legends about St. Patrick, he tossed all the snakes out of Ireland, and on March 17th (the day he died), fish leap out of the ocean.
Look for parades and celebrations in Montreal, New York, Chicago, and Boston. Montreal has had a parade for almost two hundred years, New York and Boston celebrated St. Patrick's Day in the 1700's. In Chicago, the river is dyed green!
Dublin has a four day St. Patrick's Festival with music, street performers, fun fair for kids, and a huge parade through the city that ends at St. Patrick's Cathedral.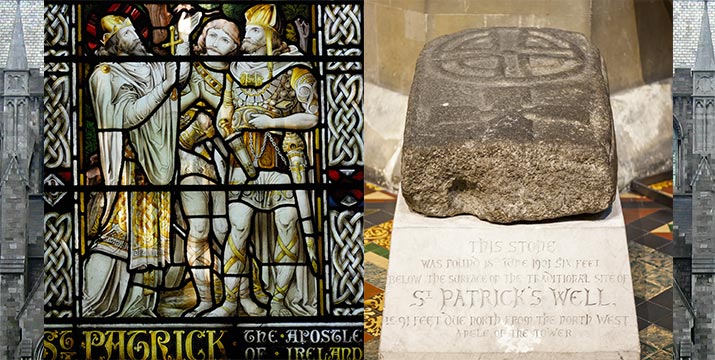 St. Patrick's Cathedral sits on an ancient site – there's been a church here since the 5th century, the current cathedral is 13th century.
When you visit the cathedral, don't miss the majestic statue of St. Patrick in the north aisle, and glowing stained glass windows with scenes from the life of St. Patrick.
The stone Celtic cross was found under a well, over 1000 years old, where it's believed St. Patrick baptized people when he visited Dublin.
St. Patrick's Day is filled with green – green shamrocks, leprechauns, flowers, hats, and pots of gold (might be gold foil covered chocolates).
And traveling around Ireland, it really is the Emerald Isle, lush green fields and rolling hills everywhere you go.
Children's books
Here's our favorite books to read about St. Patrick's Day:
St. Patrick's Day by Gail Gibbons.
History and legends of St. Patrick, why people wear green, all about shamrocks, shillelaghs, harps and other symbols, and how the holiday is celebrated. (Picture book)
A Fine St. Patrick's Day by Susan Wojciechowski, Tom Curry.
In Tralee, everyone is painting the town bright green to win the prize on St. Patrick's Day. When a mysterious visitor asks for help, the townspeople generously stop painting to rescue his cows – the next morning, there's a sparkling green miracle. (Picture book)
St. Patrick's Day in the Morning by Eve Bunting, Jan Brett.
Jamie is excited when he wakes up on St. Patrick's Day, but he's too little to be in the parade. So he takes his flute, and walks through town to the top of Acorn Hill, making his own parade. Beautifully illustrated, feels like you're in the Irish countryside. (Picture book)
Happy Saint Patrick's Day, Curious George by H.A. Rey.
Curious George loves Saint Patrick's Day – wearing green, a pot of gold hunt (chocolate coins), Irish dancing, luck of the four leaf clover, traditional food, and a big parade. (Board book)
The Luckiest St. Patrick's Day Ever by Teddy Slater, Ethan Long.
The Leprechaun family joins a St. Patrick's parade, Bedelia swings a shillelagh, Timothy has a pot of gold, Aunt Rose carries shamrocks, there's dancing (even the pig dances), fife and drum music, then it's home for mulligan stew and green apple punch, everyone is welcome. (Picture book)
Saint Patrick by Tomie dePaola.
Read about Saint Patrick, patron saint of Ireland. Born in Britain, Patrick was captured and taken to Ireland as a slave. He believed his calling was to convert the Irish to Christianity, and built churches all over Ireland. Plus legends of Saint Patrick. (Board book)
Stickers and decorations
Roll with 1000 different stickers – shamrocks, pots of gold, rainbows, green hats, leprechauns – waterproof and removable. Decorate cards, gift bags, craft projects, windows and more.
Leprechaun footprint floor stickers, gold coins and shamrocks to decorate your house. Do the footprints lead to a pot of gold?