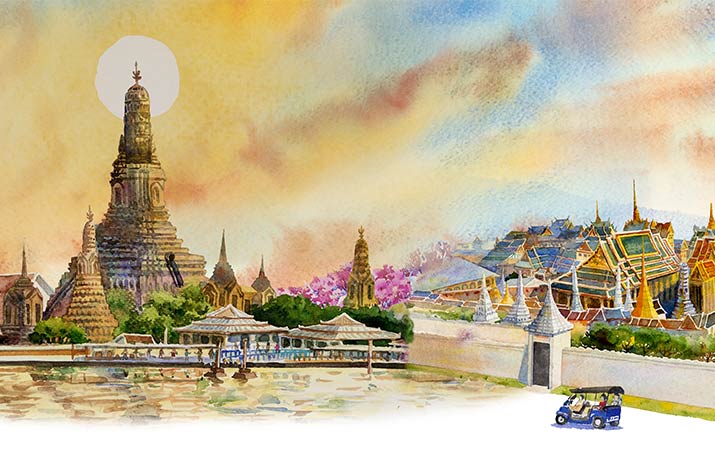 Travel tips for families visiting Bangkok – before you go, while you're there – transportation on boats and tuk tuks, getting around the city, visiting temples, Buddhism and the Ramayana, food and fun places to stay.
Before you go
It's helpful to have some background in Buddhism and the epic story of the Ramayana (Ramakien), before visiting the Grand Palace and temples in Bangkok.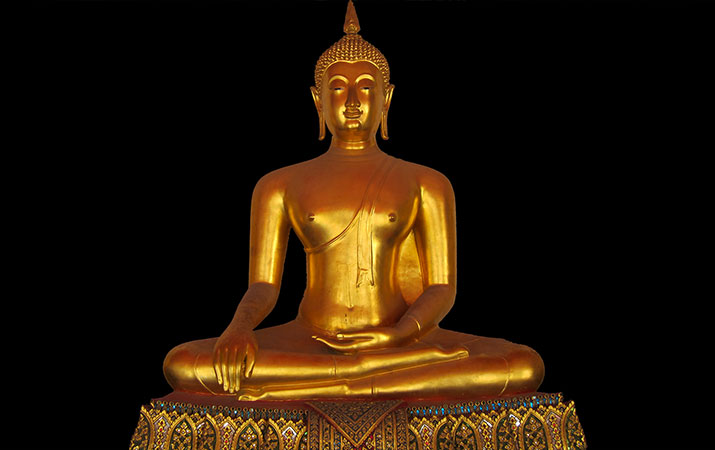 Learn about Buddhist symbols, and different features and poses in Buddha statues.
For example, the Buddha's long earlobes are a symbol of his wisdom and spirituality, a flame on top of his head represents the light of knowledge.
One of the most common poses is a seated Buddha with his right hand pointing down (shown above).
This gesture is called "calling the Earth to witness" – the Earth goddess appeared to confirm the many good deeds of the Buddha.
In temples, lotus flowers are an offering and refer to spiritual growth, umbrellas are a symbol of sacred protection.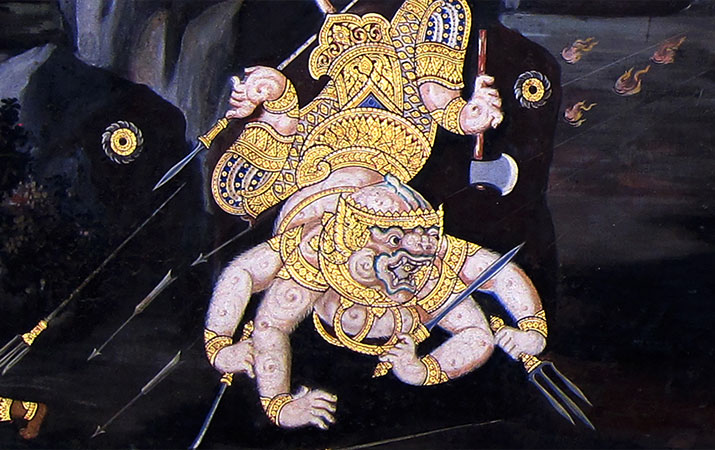 The Ramayana (Ramakien) is portrayed in murals and statues in many Bangkok temples.
Thai culture and art integrated the Hindu epic, and it's a great story, with fabulous characters – Rama (re-incarnation of Vishnu), his beautiful wife Sita, demon of demons Ravana (Tosakanth), Hanuman, the white monkey king (shown above).
Getting around
Bangkok is spread out, and one of the main "freeways" is the Chao Phraya River.
In the downtown area, a modern Skytrain (BTS) and subway (MRT) are quick and fast.
However, as Skytrain and subway only reach certain areas, taxis and tuk tuks come into the picture.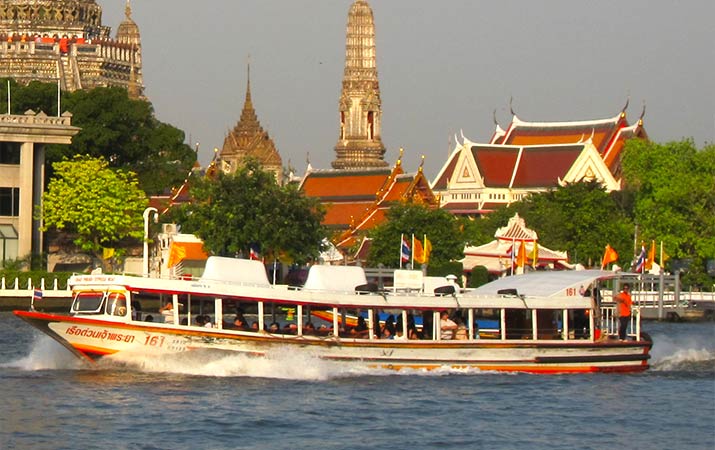 Chao Phraya Express Boat – Chao Phraya Express Boat runs often and all day, and is convenient for sightseeing stops (Grand Palace, Wat Pho, Chinatown, Central Pier for Skytrain etc.) and hotels.
At morning and afternoon rush hour, boats can get crowded (standing room only).
If you have a stroller, fold it up – don't try to carry the stroller with a sleeping child from the boat to the dock.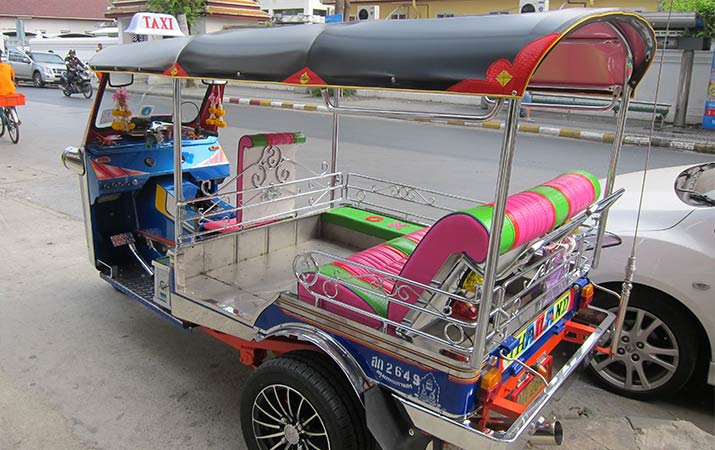 Tuk Tuks – For kids, a ride in a three-wheel tuk tuk is something colorful, new and fun.
However, tuk tuks are best used for short hops, particularly in the old city, where streets are clogged and filled with buses belching exhaust, your driver smoking a cigarette while sitting at stoplight for 10 minutes because traffic can't move even when the light is green.
Be sure to agree on flat fee price with the driver before going off.
Taxis – Taxis will take you where you want to go, best for longer journeys through the city, but always ask the taxi driver to turn on the meter.
With a meter, and multiple people in the taxi, it's a good deal. Bangkok taxis are usually equipped with meters, but taxi drivers may not want to turn them on. If the taxi driver doesn't turn on the meter, then bargain for a flat rate to your destination.
On foot – Bangkok is not a great walking city. Streets are heavily congested with nobody-is-in-a lane traffic.
Many intersections don't have crossing lights, and even with a "walk" sign it's difficult to navigate busy downtown streets.
Motorcycles run in and out of clogged traffic, looking for an opening, including driving on sidewalks!
Walking along, when you cross driveways or side streets, look carefully for traffic that may zip out across your path without stopping.
In the downtown area, take advantage of the elevated walkways at the Skytrain (BTS) stops.
The Skytrain walkways go for blocks and blocks – use them to cross streets (better than using stoplights) and avoid chaotic traffic.
Visiting temples
Temples have a dress code, which is no short shorts, mini-skirts, tops with spaghetti straps, and preferably not sleeveless.
At the Grand Palace, if you're not dressed up to standards, they'll send you to an area for a sarong to cover your legs or shoulders.
Also, remember that you'll be taking shoes on and off, so wear convenient footwear.
Don't do too many big temples in one day.
After you've visited Wat Phra Kaew at the Grand Palace, don't rush next door to Wat Pho. Both wats are "biggies" and kids will lose interest with too many glittering mosaics and golden chedis.
If there is a temple near to your hotel, go visit early in the morning.
Neighborhood wats are lovely in the morning light, with people stopping on their way to work to pay their respects.
Food
One of the great things about Bangkok is all day dining. Any hour of the day, food is available, and the locals are always snacking.
There's plenty of Thai food kids will like – wide noodle dishes with chicken, shrimp, pork, vegetables, pad thai, sate on skewers.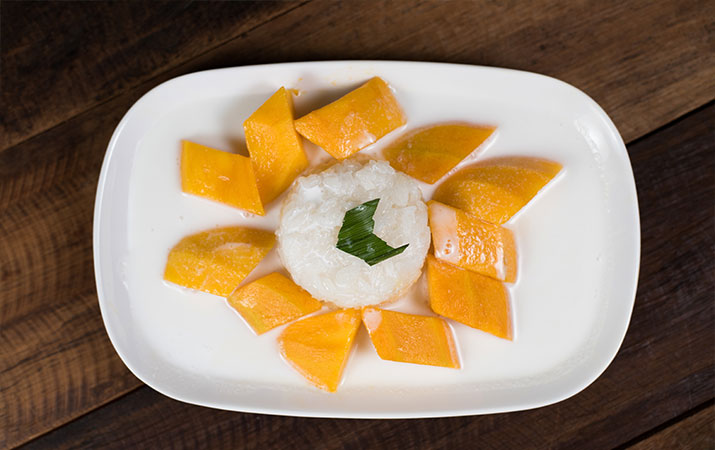 And lots of different fresh fruit cut into all kinds of shapes. One of our favorite snacks is sticky rice with fresh mango.
Traditional Thai food is chili hot, so you may want to ask for food to be seasoned less hot.
Also, go easy on the four condiments set out on the table. These include chilies pickled, smushed, ground up, to be added to your noodles.
If kids eat too many hot chilies, the best remedy is not glasses of water – milk, orange juice, rice, bread will help.
In the downtown area, the big shopping centers such as the Emporium, Siam Paragon, CentralWorld, Terminal 21, have lots for choices for international cuisine.
Grab some sandwiches from the supermarkets or delis, and have a picnic in the park.
Fun places to stay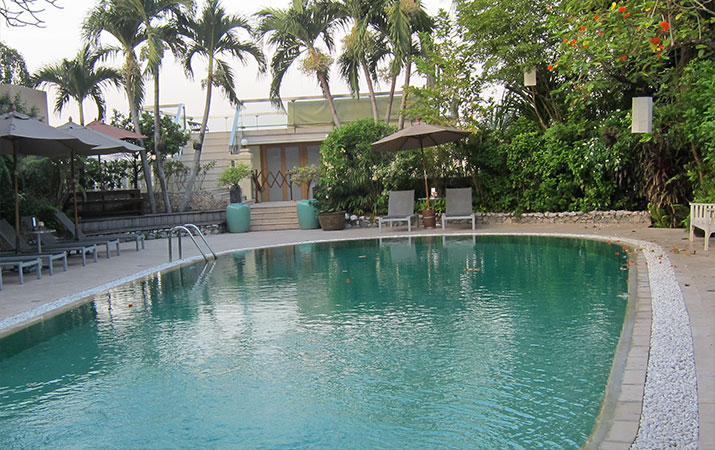 Travel for Kids has lots of fun things to do with kids in Bangkok, but you'll need a fun place to stay.
Here's our own Travel for Kids hand-picked list of family friendly hotels and apartments in Bangkok, all styles and price ranges, near to places you'll want to explore.
Accommodations are selected for their amenities for families, such as swimming pools and kid's pools, restaurants, supermarkets, convenience stores in the neighborhood, accommodations that sleep up to 6, apartments with kitchens and washing machines, and more:
Bangkok family hotels & apartments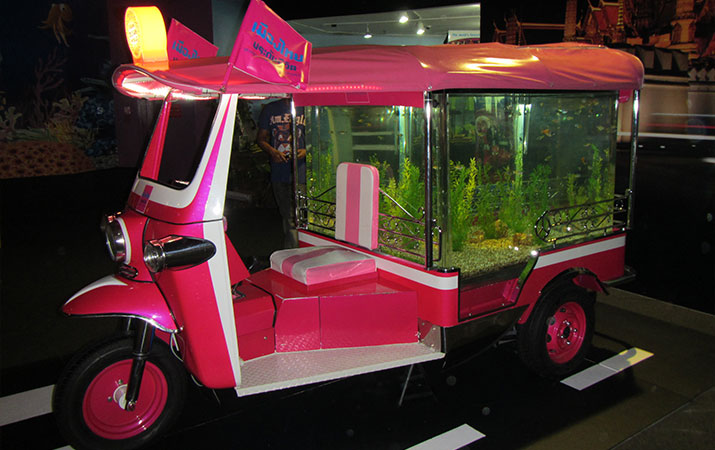 And more fun things to do with kids, check out Travel for Kids Bangkok.