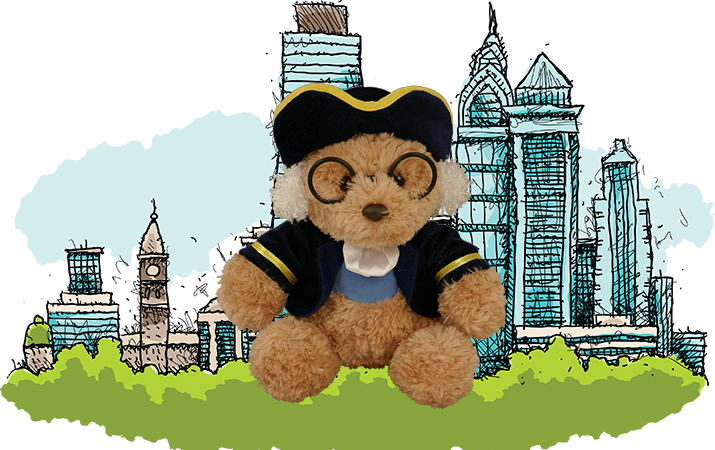 Tips for family trips to Philadelphia with kids – visiting Independence National Historic Park, how to reserve tickets for Independence Hall, security lines, hours, fun food.
Independence Hall tickets –
It's free to visit Independence Hall, to see where the Declaration of Independence and Constitution of the United States were created. However, a timed entry ticket is required March to December.
It's best to reserve online in advance. Or, you can go to the Independence Visitor Center at 8:30am on the day you'd like to visit, tickets are given out on a first come, first serve basis. Available tickets are usually gone in fifteen minutes.
Even with the online reservation, on the day of your tour, you will need to go to the Visitor Center "Will Call" to pick up the paper tickets. Come at least one hour earlier than your timed entry (this is so you have ample time to pick up the tickets at the Visitor Center, then walk down to Independence Hall and go through the security line in time for your tour).
Liberty Bell Center – The Liberty Bell is free, but go early in the morning (9am) or later in the day to avoid school groups and long lines through security.
Restrooms – For Independence Hall and Liberty Bell Center, no restrooms are available once you've gone through the security line. Nearest restrooms are in the Independence Visitor Center.
Independence National Historic Park hours can change – Many sites are free as they are part of the national park; however hours sites are open can change, some things are closed completely, others only open on the weekends etc. Check for current information online, or go to the Visitor Center.
Security lines – To visit Independence Hall, the Liberty Bell, US Mint, etc., you will need to go through security lines. Closed water bottles are okay, but not open drinks. Allow time to go through the security lines.
Plan a family itinerary –
Based on the age and interest of kids, make your own family itinerary for historic sites. With teens and older kids who have a background in American history, they will get the most of out of visiting Independence and Congress Halls, National Constitution Center, Museum of the American Revolution.
It's possible to take a stroller into Independence Hall, but there's not much to see for toddlers. For younger kids, visit the Betsy Ross House, Liberty Bell Center, Fireman's Hall Museum, go out to Franklin Square to ride on the big eagle in the carousel.
Fun food –
At Reading Terminal Market in Center City, look for big soft pretzels, chocolate covered pretzels, Italian sweets such as cannoli and pizzelle, watch doughnuts made by hand, and try Amish cookies and baked goods, regional specialties.
The market has a wide variety of eating options – deli and diner dishes, seafood, bar-b-que, Thai, Middle Eastern, salads, hoagies (sandwiches) and Philly cheesesteaks.
Family-friendly hotels –
So many fun things to do with kids in Philadelphia, you'll need a place to stay. Check out Travel for Kids hand-picked list of Philadelphia family hotels. Hotels are selected for their amenities for families, such as swimming pools, breakfast is included in the room rate, proximity to restaurants, cafes in the neighborhood, coin-operated laundry, and located convenient to all the sites to see.